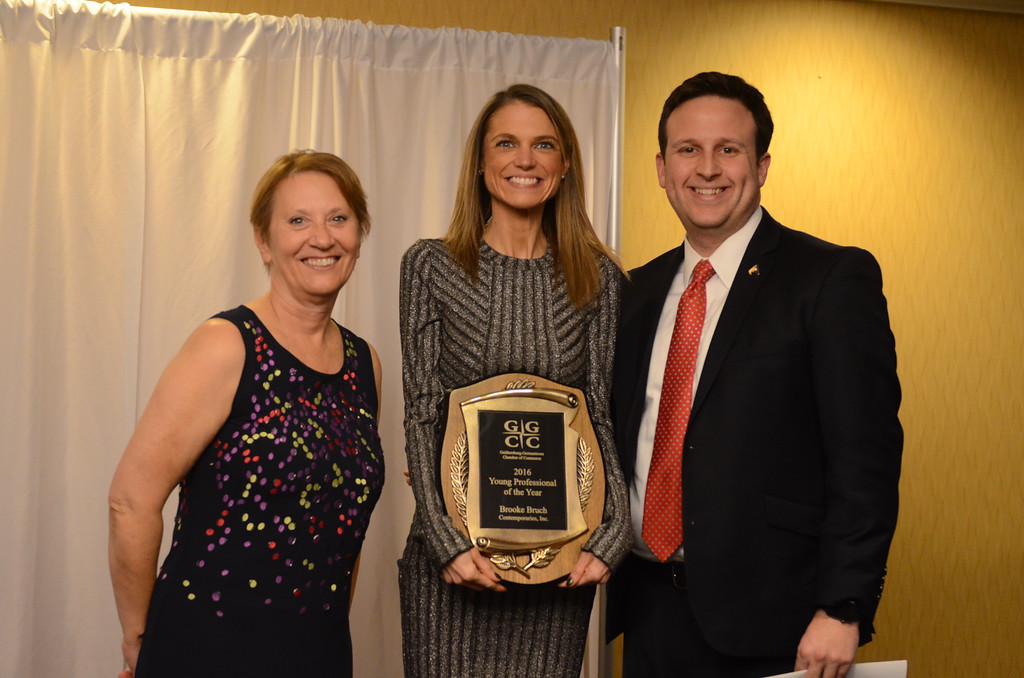 Gaithersburg-Germantown Chamber Awards the 4th Annual Young Professional of the Year Award
The Gaithersburg-Germantown Chamber (GGCC) awarded Brooke Bruch, Client Relations Manager at Contemporaries, Inc.  as the recipient of the 4th Annual Young Professional of the Year Award (YPG) at their Annual Celebration Dinner & Awards Ceremony. The award was presented by Jonathan Sachs of Adventist HealthCare Shady Grove Medical Center, the sponsor of this year's Young Professional of the Year award.
"Brooke is very deserving of this honor. She is accomplished in her career and has been a great asset to the Chamber," said Marilyn Balcombe, GGCC President / CEO.
The Young Professional of the Year Award recognizes and celebrates the accomplishments of a highly motivated, emerging leader of the Chamber's Young Professional's group.
Bruch has been with Contemporaries for nearly seven years and has a strong commitment to her profession, consistently exceeding her job expectations. She strives to grow and expand her skills in the industry, by remaining up to date on current industry news, events, and changes in employment regulations, working with a business consultant and having regular consultative meetings with her clients.
She is a leader. People often come to Contemporaries looking for a job right out of college and have never stepped foot in an office before. As a leader, she helps individuals design their resume and cover letter, dress professionally, go on an interview and ultimately land a job. She also counsels clients by educating them on the best recruitment and retention practices. Her goal is not to fill one position and move onto the next, but to become a trusted partner to her clients. She is a giver too, active with charitable organizations such as Relay for Life, and the Ronald McDonald House in Baltimore.
Bruch is a an active member of the Chamber's Young Professional Group, Membership & Event committees and serves on the Celebration Dinner planning committee. She serves on the board of the Maryland Chapter, Construction Financial Management Association, and is a member of the Montgomery County Society for Human Resources Management and the Women Presidents' Educational Organization, to name a few.
The GGCC's Young Professionals program is a networking group of dedicated young professionals ranging in age from 21-40. Through the GGCC, young professionals can engage with other like-minded business professionals to further their career, strengthen their professional image or just meet new friends. The mission of the group is to make the Gaithersburg-Germantown communities and surrounding areas a great place to live and work by harnessing the strength of our communities to make positive change. Learn more about the program at: www.ggchamber.org/get-involved/young-professionals.
The GGCC is active in providing business-to-business networking opportunities throughout the year: a collective voice in local, regional, and state legislative affairs, professional development opportunities and other services that enhance the business environment.
The GGCC is located at 910 Clopper Road, Suite 205N, Gaithersburg, MD. To learn more about the GGCC visit us at www.ggchamber.org. Find us on Facebook at: http://www.facebook.com/pages/Gaithersburg-Germantown-Chamber-of-Commerce/64339954570. And on Twitter at @GGCCNEWS.