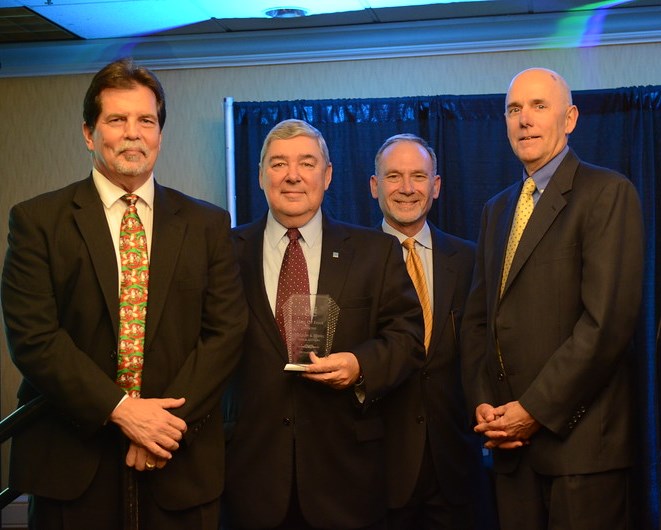 Gaithersburg-Germantown Chamber Inducts DeLeon and Stang into Hall of Fame
The Gaithersburg-Germantown Chamber (GGCC) inducted DeLeon & Stang, CPAs & Advisors into its Hall of Fame on December 3, as a part of their Annual Celebration Dinner & Awards Ceremony.
In 1999 the chamber celebrated its 50th anniversary and established the Hall of Fame to recognize members and companies who had made extraordinary contributions of time, talent and service to the chamber over the years. The purpose of the Hall of Fame Award is to recognize and honor a GGCC member who demonstrates outstanding service, commitment and involvement in the Gaithersburg-Germantown Chamber for at least three years.
"The Hall of Fame is considered our highest honor. We don't give it every year and we only give it to a company or individual who is truly deserving. DeLeon and Stang, CPA & Advisors certainly meets the criteria. They are a fantastic business and have been very supportive of the Chamber through the years," said Marilyn Balcombe, GGCC President /CEO.
The award was presented to DeLeon & Stang, CPAs & Advisors Partners Allen DeLeon & Rich Stang by Jim Hyatt of the Law Offices of James A. Hyatt & Jim Muir, Vice President of Hughes Network Systems, LLC.
BHyatt has been a chamber member for 30 years and had the honor of serving as Chairman of the Board. He was inducted into the Hall of Fame in 2006. Hughes has been a chamber member for 25 years and Muir has served as Chairman of the Board and continues to serve on the board as a Chair Emeritus. Muir was inducted into the Hall of Fame in 2009. There is a tradition that Hall of Fame members have the honor of introducing a new Hall of Fame inductee.
DeLeon & Stang has been a member of the chamber for 26 years. They support the GGCC as a corporate sponsor, a celebration dinner sponsor, a golf tournament sponsor, and as a regular event attendee by several of the firm's employees and managing partners.
Both DeLeon & Stang partners—DeLeon & Stang– have served on the chamber's Board of Directors for several years. And as of December 3, we welcomed the firm's Financial Planner Brett Friedman to the board.
DeLeon, has and continues to, serves as the chair of the chamber's Business Golf Classic and is essential to the planning and success of the annual tournament.
DeLeon & Stang is very involved in the community and looks for every opportunity to build up the neighborhoods around them and improve the financial lives of those they live beside every day.
Learn more about DeLeon & Stang, CPAs & Advisors at: www.deleonandstang.com.
The GGCC is active in providing business-to-business networking opportunities throughout the year: a collective voice in local, regional, and state legislative affairs, professional development opportunities and other services that enhance the business environment.
The GGCC is located at 910 Clopper Road, Suite 205N, Gaithersburg, MD. To learn more about the GGCC visit us at www.ggchamber.org. Find us on Facebook at: http://www.facebook.com/pages/Gaithersburg-Germantown-Chamber-of-Commerce/64339954570. And on Twitter at @GGCCNEWS