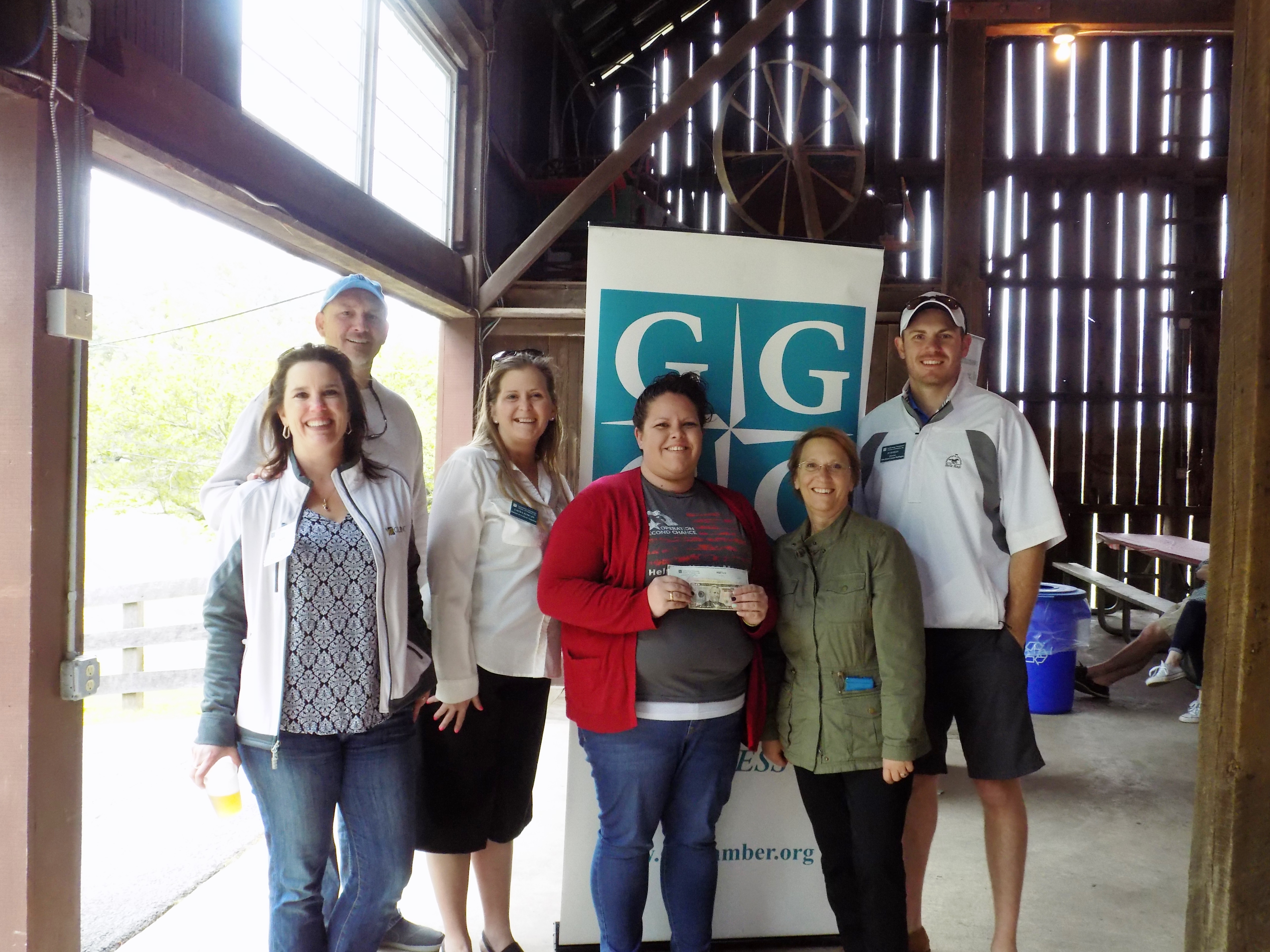 Gaithersburg-Germantown Chamber Young Professionals Celebrate 5 Years While Supporting Operation Second Chance
Gaithersburg-Germantown Chamber of Commerce (GGCC) members and guests gathered at Smokey Glen Farm Barbequers in Gaithersburg to celebrate the five-year anniversary of the Chamber's Young Professional Group (YPG).
The Chamber's YPG is packed with lots of enthusiasm and high aspirations. The mission of the group is to make the Gaithersburg-Germantown communities and surrounding areas a great place to live and work by harnessing the strength of our communities to make positive change.
Over the past year, the group held several happy hours to strengthen their connections and improve their networking skills at various Chamber Member locations such as Alta Liberty Mill Apartments, Ted's Montana Grill, & Harvest Plates & Pints. In the fall of 2017, they held a Regional Young Professional Group Happy Hour with the Silver Spring, Rockville, and Bethesda-Chevy Chase Chambers & Leadership Montgomery's Emerging Leaders. Last winter, they named their 4th Annual Young Professional of the Year, Brooke Bruch of Contemporaries, Inc., and raised funds for Girls on the Run of Montgomery County.
Five years later, the Chamber's emerging leaders successfully hosted the 1st Annual "Cornhole 4 Charity" Tournament in conjunction with the picnic.
"Once again our Young Professionals show how important it is to give back to the community. Not only did they plan a great networking event, but they made sure that giving back was an integral part of the event," said Marilyn Balcombe, GGCC Executive Director.
The purpose of the tournament was twofold – increase awareness for the Chamber's Young Professional Group & raise funds for a local charity. The group chose GGCC Member Operation Second Chance as the beneficiary this year.
"With an increase in the amount of emergency assistance requests from wounded, injured and ill veterans, OSC very much appreciates the support from this year's GGCC Corn Hole Tournament and would like to thank everyone that participated," said Cindy McGrew, President & Founder, Operation Second Chance.
Operation Second Chance supports wounded servicemen and women recovering at Walter Reed National Military Medical Center (Bethesda, MD) and assists them as they transition back to duty or civilian life. Learn more about them at: www.operationsecondchance.org.
The event was sponsored by: Apex Home Loans, Inc.; PJ Horan – Mass Mutual Greater Washington; Quincy CFO, LLC; and Sonabank.
The 2017 GGCC Young Professionals Group Title Sponsor is M&T Bank, a financial services company providing banking experiences while developing relationships with their customers. Learn more about them at: www.mandtbank.com.
Before the evening ended the group was excited to announce that on Friday, October 27 it will host its first educational seminar entitled "Level Up". The seminar is a professional development event focused on growing members as an individual both personally and professionally, while providing opportunities to build skill sets and advance to the next level. All members of the Chamber will be invited to hear Jeff Miller, President of Jeff Miller Consulting Alliance, present "A Winners Mindset" that touches on mindful leadership, goal setting, and mastery at Johns Hopkins University Montgomery County Campus.
The Chamber's Young Professional program is a networking group of professionals ranging in age from 21-40 and designed to help emerging leaders further their career and strengthen their professional image. Learn more at: www.ggchamber.org/get-involved/young-professionals.
The GGCC is active in providing business-to-business networking opportunities throughout the year: a collective voice in local, regional, and state legislative affairs, professional development opportunities and other services that enhance the business environment.
The GGCC is located at 910 Clopper Road, Suite 205N, Gaithersburg. To learn more about the GGCC visit us at www.ggchamber.org.
Find us on Facebook at: http://www.facebook.com/pages/Gaithersburg-Germantown-Chamber-of-Commerce/64339954570. Or on Twitter at: @GGCCNEWS.