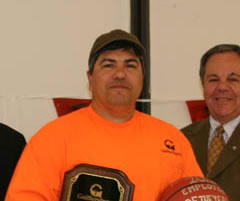 Gaithersburg Honors Exceptional Employees (Photos)
Gaithersburg recognized outstanding employees at the city's annual luncheon on March 22.
Al Guzman was named the 2012 City of Gaithersburg's Carl Webb Employee of the Year.
The Team of the Year Award went to the Facilities Maintenance Team. They were selected from a pool of quarterly winners reviewed by the city's Employee Recognition Committee.
The employee award was presented to Al Guzman, Lead Maintenance Worker for the Public Works Department. He was recognized for continually going above and beyond his job duties and providing ongoing contributions to the department. Al volunteered to become the Commercial Driver's License (CDL) Trainer for Public Works and has maintained that responsibility over the years, saving the city thousands of dollars in training fees. He was recognized for staying abreast of applicable laws and guidelines and taking the extra step of accompanying trainees to the Motor Vehicle Administration. This, coupled with his desire to assist new employees in obtaining a CDL license within their first year of employment, has ensured the success of his trainees and the city's compliance with mandatory requirements. His coworkers see him as an asset to the department and recognize the difficult task he performs.

The Facilities Maintenance Team comprised of Justin Storm, Rob Barclay, Alberto Aguilar-Solano and Kerry Bodmer from the Public Works Department, was recognized for the quality customer service they deliver on a daily basis. The unit is small in relation to the overall work requirements, increasing the difficulty of its responsiveness. Yet the team, led by Justin Storm, exceeds expectations on a regular basis by working together very closely, by complementing each other's skill sets, and by communicating effectively with customers. The team demonstrated its fine work on numerous occasions over the past year, including timely opening of the newly renovated Water Park and Miniature Golf Course and helping to prepare the Gaithersburg Upcounty Senior Center for an important Housing and Urban Development inspection, all while being responsive to daily requests with a positive "get it done" attitude.