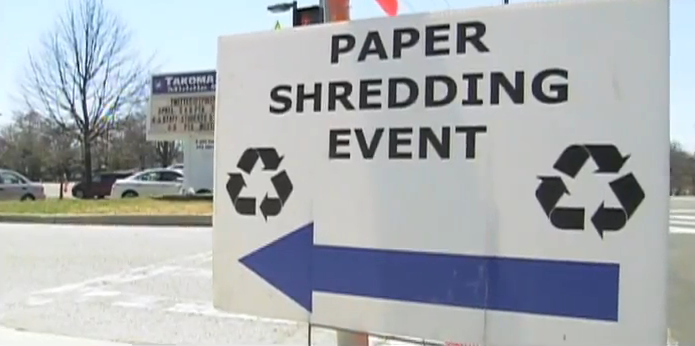 Gaithersburg Plans Shredding Event
Gaithersburg-area residents are encouraged to bring paper and select electronics for secure shredding and disposal to a free Community Shredding and Electronics Recycling Event on Saturday, Sept. 22.
It takes place from 9 a.m. to noon at the Activity Center at Bohrer Park, 506 S. Frederick Ave., in the parking lot next to the Water Park.
The event is presented by the City of Gaithersburg in partnership with the Gaithersburg Environmental Affairs Committee, Clean Cut Shredding and eAsset Solutions.
Although the shredding services are free, food donations to support the efforts of the Gaithersburg HELP pantry would be very much appreciated.
This is a free, drive-through event for individuals and small businesses. You won't need to leave your car as staff transports your materials for secure on-site shredding and disposal.
Acceptable items for shredding include all types of paper, including receipts, tax and medical records, and financial and legal documents. Paper with staples and paperclips (no binder clips) will be accepted, as will envelopes with plastic windows. If paper is in 3-ring binders or is spiral bound, please remove the bindings before you come to the event. Learn more about shredding at www.gtownpaper.com.
eAsset Solutions accepts just about any computer-related electronics of any age, including mobile phones, CPUs, CDs, towers, monitors, laptops, tablets, printers, scanners, LCD, LED and Plasma TVs, telephone equipment, used printer cartridges, VCRs, and DVD players. Note that hard drives from computer devices will be removed. Electronic items NOT accepted for recycling at this event include light bulbs, alkaline batteries, other types of televisions, vacuum cleaners, kitchen appliances, and refrigerators. Learn more about e-recycling at www.eassetsolutions.com.
Donations of nonperishable food items to benefit the Gaithersburg HELP food pantry are encouraged. Suggested items include canned soup, canned vegetables, canned tomatoes with low salt, fruit cup up in its own juice, cereal, fortified pastas, rice and dried beans of all kinds, baby food, macaroni and cheese mixes, canned tuna, peanut or other nut butters, gluten free pastas, and spaghetti sauce. No fruit juices, please. Learn more about the organization at www.gaithersburghelp.org.
For more information about the Community Shredding event please contact the Environmental Services Division at 301-258-6370 or visit www.gaithersburgmd.gov.