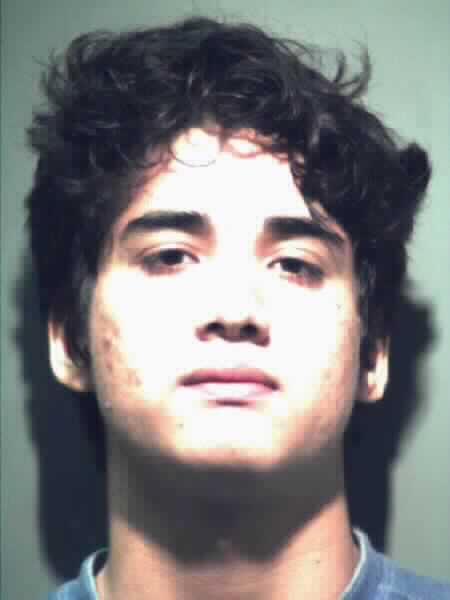 Gaithersburg Teen Charged With Synagogue Vandalism in Gaithersburg (PHOTO)
An 18-year-old from Gaithersburg faces charges in connection with the vandalism at the Shaare Torah Synagogue in the Kentlands area of Gaithersburg.
Sebastian Espinoza-Carranza, 18, of the 16700 block of Sioux Lane, was arrested on April 14 and charged with property damage to a religious institution, defacement of a religious property, and malicious destruction of property over $1,000.
According to a news release, on April 7 at approximately 7:10 a.m., a Montgomery County police officer was traveling in the area of the Shaare Torah synagogue, (located at 1409 Main Street), when the officer was flagged down by a resident who wanted to report a vandalism that had occurred to the religious building. Officers arrived to the scene and observed spray painted swastikas, "KKK", and other hate-based graffiti on the walls, windows and doors of the synagogue.
Images of two suspects were captured on the synagogue's surveillance system between 2:40 and 3 a.m. on April 7. Detectives located additional video surveillance of a group of males in their late teens in one of the nearby 24-hour businesses before and after the crime occurred. One of the males in the group appeared to be one of the suspects seen on the synagogue surveillance video. Subsequently, several of the teenage males in the video were identified and interviewed, to include Sebastian David Espinosa-Carranza, according to police.
On April 14 at approximately 11:30 p.m., Espinosa-Carranza met detectives at the 6th District Station for an interview. He was arrested and confessed to the crimes, according to police.
Detectives have identified juvenile suspects in this vandalism and additional charges are anticipated, according to police.
"These kinds of cases are often difficult to solve. I appreciate the tireless detective work by those who investigated this atrocious act. The response to this incident has been loud and clear, and has been heard from nearly every segment of our diverse community. We don't tolerate hate, and we will not be intimidated by ignorance," said Montgomery County Police Chief Tom Manger.
Espinoza-Carranza has been released on bond.
"The City of Gaithersburg and Montgomery County is an inclusive community and one that prides itself on diversity. When such a despicable crime occurs, it impacts the entire community irrespective of religion, race or ethnicity. As such, detectives worked tirelessly to bring this case to a successful resolution and to hold those responsible accountable for their actions," said Chief Mark Sroka of the Gaithersburg Police Department.
Related: