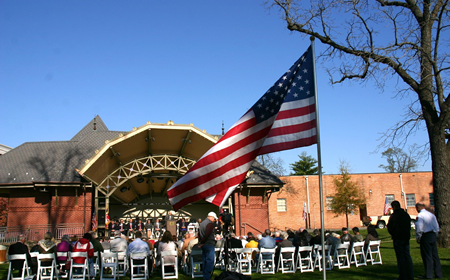 Gaithersburg Veterans Day Observance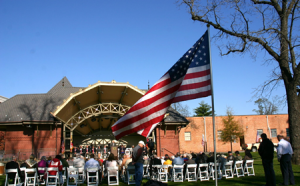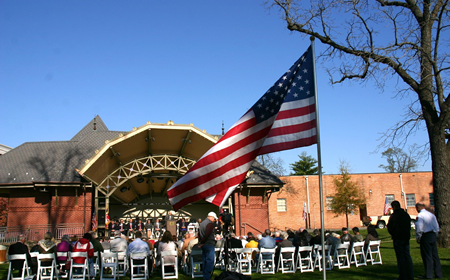 The city of Gaithersburg will honor and recognize all U.S. military personnel Nov. 11 at the annual Veterans Day Observance. The observance takes place at 11 a.m. at the City Hall Concert Pavilion, 31 South Summit Avenue in Gaithersburg.
City officials and members of local veterans groups will be on hand to honor those who have served in all branches of the military. Officials, veterans and community organizations will also participate in a solemn wreath laying ceremony, followed by a reception inside City Hall.
Veterans Day remarks will be delivered by Lieutenant Colonel Lee Miller. Colonel Miller graduated from West Point in 1958 and served in Artillery/Infantry command with two tours in Vietnam and two in Germany. He is one of the founders of the West Point Wounded Warrior Mentoring Program, an all-volunteer nonprofit charitable organization that assists combat wounded and ill and injured servicemen and their spouses.
The city of Gaithersburg supports the efforts of the Veterans of Foreign Wars (VFW), which adopts various units deployed overseas. At the observance the city will be collecting items to send as part of the Adopt-A-Unit program. Items most needed include: Powdered drink mixes, Silly String (to detect lasers in a room), cherry flavored lip balm, medium weight mid-calf socks, men's undershirts, boxers and briefs, envelopes, tablets, pens and pencils, store bought packaged cookies, flypaper, cans of salted nuts and cheese dips, canisters of potato chips, travel size toothbrushes, toothpaste, baby wipes, soaps, shampoos and lotions, disposable razors, shaving cream, sealable gallon plastic bags, trail mixes, energy bars, hard candy, disposable cameras, and AA and AAA batteries.
The VFW also accepts monetary donations, which they use to purchase postage and calling cards in bulk at a discounted price. Tax-deductible donations can be dropped off between 4 and 9 p.m. at the VFW John M. Carter Post #9862, 211K N. Frederick Avenue, Gaithersburg, MD 20877, 301.948.0781. Please make checks payable to VFW Post #9862 and mark in the memo field "Adopt-a-Troop."
For more information on Gaithersburg's Veterans Day Observance please call 301.258.6350 or visit the city's website at www.gaithersburgmd.gov.