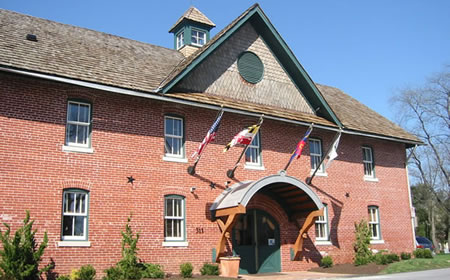 Gaithersburg's Arts Barn Presents Breast in Show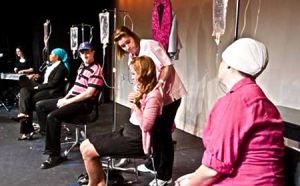 In partnership with Eileen Mitchard/VoiceBC, the Arts Barn presents Breast in Show, a live stage musical that combines humor and tenacity to triumph over breast cancer, written by Lisa Hayes with music and lyrics by Joan Cushing. The show runs September 12 through 27, 2014, with performances on Fridays and Saturdays at 8 p.m. and Sundays at 2 p.m. at the Arts Barn, 311 Kent Square Road. Tickets range from $20 to $25. This show contains mature themes and is appropriate for those 13 and older. For tickets and information call 301.258.6394 or visit the Gaithersburg website.
Using humor and laughter, Breast in Show explores the lives of five very different people, in various stages of life, who have just been diagnosed with breast cancer. When these strangers meet at the "ChemoCafé," they quickly become friends, sharing similar experiences and an unforgettable journey of laughter and tears on the road to healing. Conceived by Eileen Mitchard, this poignant and triumphant musical is based on interviews its creators conducted over a two year period with patients, medical personnel and family members. Join these warriors on a life-affirming emotional rollercoaster in the show one reviewer called "the must-see new musical that brings humor to the tumor."
"If anyone was going to tackle making a musical out of the breast cancer experience, it ought to have been this company. And if you or anyone could ever be tempted to attend such a show, it should be this one," says the Washington City Paper.
"Breast in Show is a thoughtful production that asks us to stand up and support the fight against breast cancer. Going off the standing ovation they received at curtain call, I think they've got it," says DC Theatre Scene.
Breast in Show was recently recognized at the 2014 Capital Fringe Festival with several awards including "Most Heartfelt Performance by an Ensemble" and "Scene-Stealer" for Gracie Jones' performance as "Chelsea."
Come early to the Arts Barn Pub to enjoy wine by the glass, Flying Dog beer, and non-alcoholic beverages in a bistro setting. The Pub is open one hour before the show and during intermission. No alcohol is served on Sunday.
Schedule of Performances:
Friday, Sept. 12 at 8 p.m.
Saturday, Sept. 13 at 8 p.m.
Sunday, Sept. 14 at 2 p.m.
Friday, Sept. 19 at 8 p.m.
Saturday, Sept. 20 at 8 p.m.
Sunday, Sept. 21 at 2 p.m.
Friday, Sept. 26 at 8 p.m.
Saturday, Sept. 27 at 2 p.m.
Saturday, Sept. 27 at 8 p.m.
The Friday, September 19 performance will be sign interpreted.