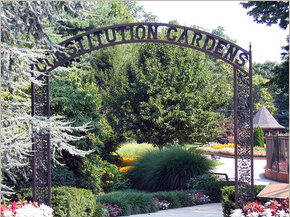 Gaithersburg's Constitution Gardens to Close for Renovations
Gaithersburg's Constitution Gardens, a municipal park at the intersection of Brookes and Park avenues in Olde Towne, will undergo a complete renovation in the coming months that will force officials to close it from Nov. 3 until spring.
The redesigned park will celebrate the past, present and future of Gaithersburg, weaving together threads of sustainability with elements inspired by the cultural, economic and natural history of the area, according to a press release from the city. Unique elements include the Lost Library, a story circle featuring benches and a lending library box, harkening back to when the Gaithersburg Library was located on this site into the early 1980's. The Log Town element (the original name of the Gaithersburg community in the mid 1700's) will feature natural climbing elements, a sand play area, log animals, and a sensory garden, while the Great Seneca Creek element will feature a fallen tree for climbing, loose parts for building, and a dry creek with a hand pump.
The City of Gaithersburg will regularly post information, photos and videos documenting the progress and evolution of the site on the City Projects page at www.gaithersburgmd.gov. During the time of closure, the site will only be accessed by City of Gaithersburg staff, J&G Landscape, Inc. and its subcontractors.
Questions and comments about the renovation of Constitution Gardens may be directed to Public Works Operations Administrator Adam Newhart at 301.258.6370 ext. 103 or via email to anewhart@gaithersburgmd.gov.