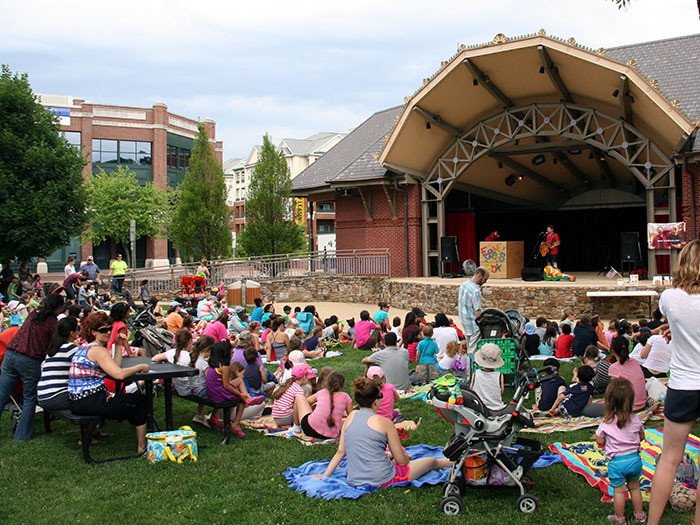 Gaithersburg's Kids Entertainment Series Begins This Month
The City of Gaithersburg offers free outdoor entertainment for children during the summer months at the City Hall Concert Pavilion. The series of nine performances known as "Thursday Morning Kids Concerts" includes storytellers, puppets, magic shows, comedy and more all intended for the younger crowd and their families. Each concert begins at 10:30 a.m. on Thursday mornings from June 4 through July 30.
Schedule of performances:
June 4 – Noa Baum – Storyteller
Noa Baum is an award-winning storyteller who combines performance art with practical applications of storytelling and brings stories to life with her animated and energetic style.
June 11 – DinoRock – Puppets
This performance group for family audiences introduces children to the world of science through the one subject that seems to excite everyone's imagination…dinosaurs!
June 18 – Mutts Gone Nuts – Dog Show
Mutts Gone Nuts is a comedy dog thrill show that promotes the adoption of rescue animals.
June 25 – Jay Mattioli – Magician
Experience a unique combination of stunning visual magic with comedy, audience interaction, a touch of dance, and an unsurpassed style.
July 2 – Uncle Devin – Percussion
The Uncle Devin Show is a live, participatory musical experience for children by renowned drummer and author, Devin Walker. This interactive show connects with children through drumming and the art of storytelling.
July 9 – Mr. Gabe & The Circle Time All-Stars – Music
Mr. Gabe performs nursery rhymes, folk songs and modern favorites for children up to age six.
July 16 – Brian Curry – Magic/Comedy
Brian Curry combines magic and comedy in one incredible entertaining show.
July 23 – Yosi Meets Eugene – Music and Puppets
Eugene is a super-exuberant monster who is misunderstood. Award-winning children's recording artist Yosi and puppeteer/actor Johnny Beirne use songs, stories and humor to bring kids closer to understanding that being different is not just good, it's fantastic.
July 30 – Opera Kids – Opera
Opera Kids introduces young audiences to the world of opera with arias, storytelling and audience participation.