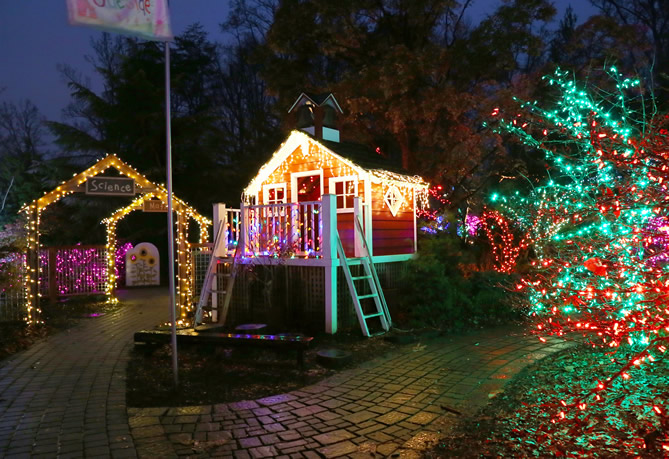 Garden of Lights Display Opens Nov. 24 at Brookside Gardens in Wheaton
The Garden of Lights returns to Brookside Gardens for its 19th season. This walk-through holiday light display features more than one million dazzling colorful lights shaped into hand-crafted, original art forms of flowers, animals and other natural elements.
In addition to the lights, train enthusiasts will enjoy the G-Scale model trains that wind through a seasonal landscape in the Conservatory.
Nightly musical performances are featured at the Visitors Center. Light food and drink selections are available for purchase in the Visitors Center.
Garden of Lights is open from Friday, Nov. 24 through Monday, Jan. 1. The display hours are Sunday through Thursday from 5:30 to 9 p.m., Friday and Saturday from 5:30 to 10 p.m. Closed Dec. 24 and Dec. 25.
Tickets are available for advanced purchase now at the Gift Shop.
Save on admission with $5 coupon available at all Montgomery County Whole Foods locations from now to Nov. 26.
Sign up for CultureSpot MC's weekly drawing for a chance to win free admission to the Garden of Lights.
Brookside Gardens is located at 1800 Glenallan Avenue in Wheaton. For more information, visit Garden of Lights webpage or call 301.962.1453.
Photos courtesy Montgomery Parks

Dates
Nov. 24 to Jan. 1, 2018
Closed Nov. 24 and Nov. 25
Hours
Sunday through Thursday: 5:30 – 9:00 p.m.
Friday through Saturday: 5:30 – 10:00 p.m.
Location
Costs
$25 Sunday through Thursday
$30 Friday and Saturday
Schedule of Musical Performances
November 24:  Martha Doyle Trio (Celtic Folk)
November 25:  The Chromatics (Eclectic Mix)
November 26:  Faber and Friends (Pop and Folk)
November 27:  Cantanti Singing Ensemble (Opera and Broadway)
November 28:  Eclectiks (Celtic Fusion)
November 29:  David Ziegele (Guitar)
November 30:  Jim Dronenburg (Classical Harpist)
December 1:  JPJazz (Jazz)
December 2: Rockville Swing Band (Swing)
December 3:  Ron Emrit (Steel Drums)
December 4:  Singchronicity and Now or Never (Acapella Harmony)
December 5:  Carillon (Classical and Folk)
December 6:  Columbia Brass Quintet (Brass Arrangements)
December 7:  D.C. Flutes
December 8:  Silver Winds Flutes
December 9:  Renaissance Revelers (Madrigals)
December 10:  Silver Strings (Violin)
December 11:  Jim Dronenburg (Classical Harpist)
December 12:  Close Enough for Jazz (Jazz)
December 13:  Rockville Swing Band (Swing)
December 14:  Harpers Bizarre (Harpists)
December 15:  A Band for All Seasons (Jazz)
December 16:  Djangolaya (Gypsy Jazz)
December 17:  Seraphim (Renaissance Madrigals)
December 18:  Sister Uke & Friends (Pop, Country, Folk, Irish music)
December 19:  Washington Recorder Society (Recorder)
December 20:  Symphony of the Potomac (Orchestra)
December 21:  Samovar (Ukranian, Russian, Israeli and Greek music)
December 22:  Eclectiks (Celtic Fusion)
December 23:  Flower Hill String Band (Bluegrass Americana)
December 24:  Closed
December 25:  Closed
December 26:  Bedlam (Early-American music)
December 27: The Mighty Keltones (Folk Harp, Guitars, Banjo, Violin)
December 28: Consort Anon (Renaissance and Medieval)
December 29:  Eclectiks  (Celtic Fusion)
December 30: Wheaton Old Time Musicale  (Traditional tunes of Appalachian origin)
December 31: Martha Doyle Trio (Celtic, Folk)
January 1: Jim Dronenburg (Classical Harpist)
Related Posts: