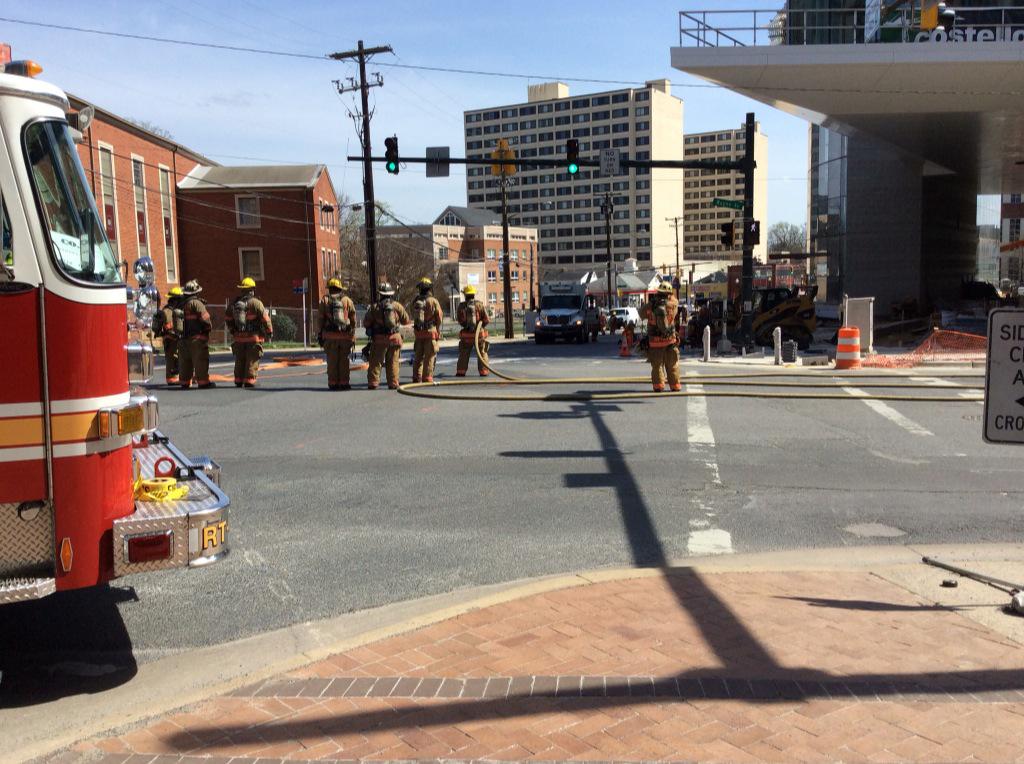 Gas Leak in Silver Spring (PHOTOS)
UPDATED Montgomery County police and firefighters were called to a gas leak in Silver Spring on Monday afternoon.
Fire and Rescue Spokesperson Pete Piringer said there were evacuations in the area of Wayne Avenue and Fenton Street.
According to Piringer, a backhoe struck a 4-inch, high pressure natural gas line near the site of the new library.
Montgomery County Police report multiple road closures because of the gas leak.
Piringer reported before 4:30 p.m. that all roads in downtown Silver Spring were reopened.
PHOTOS | MCFRS
<blockquote class="twitter-tweet" lang="en"><p>Update – <a href="https://twitter.com/hashtag/mcfrs?src=hash">#mcfrs</a> units &amp; Gas Co equipment is all clear – ALL area DT Silver Spring streets &amp; roads are OPEN <a href="http://t.co/UY85QuwdmP">pic.twitter.com/UY85QuwdmP</a></p>&mdash; Pete Piringer (@mcfrsPIO) <a href="https://twitter.com/mcfrsPIO/status/587708881763172356″>April 13, 2015</a></blockquote>
<script async src="//platform.twitter.com/widgets.js" charset="utf-8″></script>
Due to gas leak following will be closed: 900 block of Wayne St, 800 block of Whole Foods, Colesville, Cedar, Fenton St, Wayne/Georgia Av.

— Montgomery Co Police (@mcpnews) April 13, 2015
Update – area of Wayne Avenue and Fenton Street, being evacuated due to natural gas leak

— Pete Piringer (@mcfrsPIO) April 13, 2015
Update – Wayne Av & Fenton St, Silver Spring, backhoe struck 4″ high pressure natural gas line near new library pic.twitter.com/d3QiNSvvli

— Pete Piringer (@mcfrsPIO) April 13, 2015
Update – area of Wayne Avenue and Fenton Street, being evacuated due to natural gas leak
— Pete Piringer (@mcfrsPIO) April 13, 2015