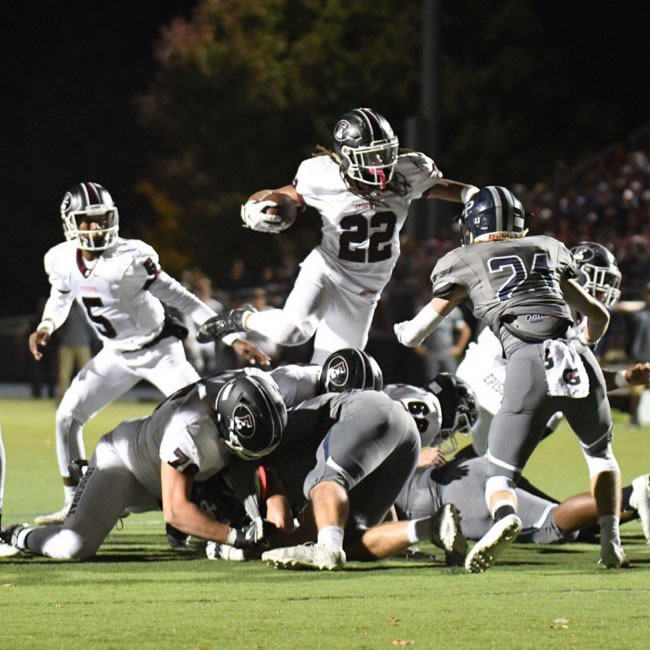 Episcopal Beats Georgetown Prep to Win IAC Title (PHOTOS)
Episcopal outscored Georgetown Prep 17-7 to win the Interstate Athletic Conference title Friday night in North Bethesda.
The Georgetown Prep Little Hoyas scored first with a touchdown run by Owen Wright late in the 1st quarter, making the score 7-0.
Episcopal scored next with a field goal in the 2nd quarter. Going into halftime, Georgetown Prep led Episcopal 7-3.
For the first time in the game, Episcopal took the lead in the 3rd quarter when they recovered a Georgetown Prep fumble in the end zone. Score 10-7, Episcopal.
Late in the 3rd, Episcopal's Perris Jones ran the ball in for a touch down to make the score 17-7.
PHOTOS | Phil Fabrizio
Episcopal wins. They are the IAC champs going undefeated 8 -0. Beat Prep 17-7. @mymcmedia pic.twitter.com/n9rEvGf0yR

— Phil Fabrizio (@Photoloaf) November 5, 2016
Perris Jones scores for Episcopal making it 17-7 with 3 min left in the game. @mymcmedia pic.twitter.com/FrJWC2TDJA

— Phil Fabrizio (@Photoloaf) November 5, 2016
Here is the hit and Prep FUMBLE in the end zone on the score. @mymcmedia @georgetownprep pic.twitter.com/b1SFbDoYFU

— Phil Fabrizio (@Photoloaf) November 5, 2016
Episcopal stuffs Prep in the end zone Prep FUMBLES and Episcopal recovers. 10-7. @mymcmedia pic.twitter.com/5IGqdva272

— Phil Fabrizio (@Photoloaf) November 5, 2016
Blocked FG. Episcopal holds as score remains 7-3 in the 3rd QTR. @mymcmedia @georgetownprep pic.twitter.com/56Znrf0jeC

— Phil Fabrizio (@Photoloaf) November 5, 2016
End of the half. 7-3 Little Hoya's up over Episcopal @mymcmedia @georgetownprep pic.twitter.com/9japfJiIT5

— Phil Fabrizio (@Photoloaf) November 4, 2016
Trau makes it 7-3 with an Episcopal FG @mymcmedia pic.twitter.com/TNIiQDsbCw

— Phil Fabrizio (@Photoloaf) November 4, 2016
End of 1 in Rockville its Georgetown Prep 7-0 over Episcopal @mymcmedia pic.twitter.com/778QXXRixc

— Phil Fabrizio (@Photoloaf) November 4, 2016
Hoya's Owen Wright scores with 1:01 left in the 1st. 7-0 Prep. @mymcmedia @georgetownprep pic.twitter.com/ub3tQOE5DX

— Phil Fabrizio (@Photoloaf) November 4, 2016
Prep's Horrigan on the tackle for the lost. @mymcmedia pic.twitter.com/Jxc98kT5Kw

— Phil Fabrizio (@Photoloaf) November 4, 2016
No score in the 1st. Trading pints on 3 and outs. @mymcmedia pic.twitter.com/wNrfmbLMb7

— Phil Fabrizio (@Photoloaf) November 4, 2016
Hoya's enter the stadium. @mymcmedia @georgetownprep pic.twitter.com/jgaVCtgVi7

— Phil Fabrizio (@Photoloaf) November 4, 2016
Almost game time. It's Episcopal vs Georgetown Prep in a top DMV match up on FNL @mymcmedia @georgetownprep pic.twitter.com/DjJLUbboGZ

— Phil Fabrizio (@Photoloaf) November 4, 2016
It's Senior Night and It's FNL for @mymcmedia from Georgetown Prep pic.twitter.com/uHb86fzUep

— Phil Fabrizio (@Photoloaf) November 4, 2016