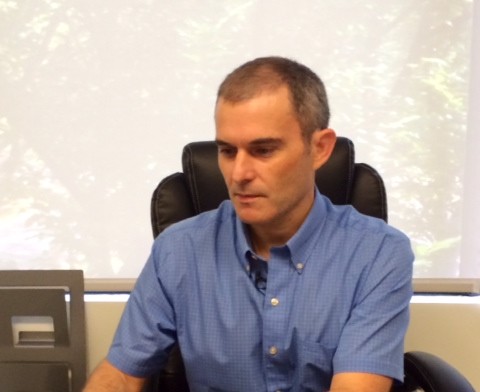 Germantown Doctor Heads to Sierra Leone to Work on Ebola Diagnostic Test
UPDATED The co-founder of Zalgen Labs in Germantown is on his way to eastern Sierra Leone to test a diagnostic platform for detection of active Ebola virus infections.
Dr. Luis Branco took off on Nov. 11 for Kenema to work at the Lassa fever laboratory at the Kenema Government Hospital.
"My mission is to validate a rapid, inexpensive, robust diagnostic platform for detection of active Ebola virus infections," said Branco before he left. "I am the only member of Zalgen Labs that will go on this trip. I have been associated with the viral hemorrhagic fever program, which now includes Ebola virus as well, for almost ten years. I have been to the same laboratory in Kenema perhaps a dozen times over this time frame, so I know the setting and logistics as well."
According to Branco, there is a "dire need for rapid diagnostics in the region of west Africa currently affected by the Ebola outbreak."
His task is to validate the diagnostic platforms in the laboratory.
"Although a number of companies or consortia are working on Ebola diagnostic platforms ours is perhaps one of the most advanced and nearing deployment status," said Branco. "I hope to validate the assays, derive statistics on its performance and prepare all documentation necessary to help the consortium apply for FDA emergency use authorization of the test."
Branco said he will not be working directly with Ebola patients but he will handling thousands of patient samples, many of whom have had Ebola.
So is he apprehensive?
"I am apprehensive, yes," said Branco. "The strain of Ebola currently circulating in west Africa appears to be highly infectious although it has been less pathogenic and lethal than Ebola strains from previous outbreaks. This means that it may be easier to contract this Ebola strain, although this has not been scientifically proven."
Branco said his team is carrying a comprehensive set of personal protective equipment (PPE) with up to five changes per day per person. "We will rely on our longtime experience working with viral hemorrhagic fever viruses to remain vigilant and safe," he said.
According to Branco, it's important to do this work now.
"The consortium rapid test is only now approaching final development, so it's the time to test it in the field to assess its robustness," Branco said. "The rapid test being developed by the viral hemorrhagic fever consortium diagnoses active Ebola infections in 15 minutes or less. The current information from sources on the ground in Sierra Leone indicate a lag time of three to five days between collection of blood samples for testing and the availability of PCR [polymerase chain reaction] results. The infrastructure on the ground cannot presently accommodate faster turnaround times, which has helped Ebola spread rapidly. If this exercise is successful, we may be in a position to deploy these diagnostics within the next month or two, which will likely impact outbreak containment positively."
Branco said his family has been "highly supportive" of his work, "although they are apprehensive as well."
He plans to be vigilant and cautious when he returns home, too.
"I will be in a self imposed quarantine after my return for 21 days, during which time I will not have contact with my family," he said.
You can watch our earlier report on Zalgen Labs here.


Related: