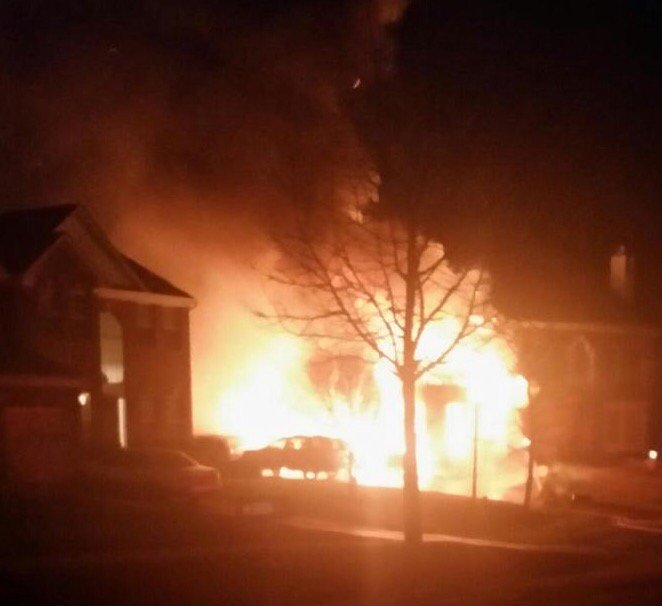 UPDATED Boyds House Fire Causes $1 Million in Damages (VIDEOS & PHOTOS)
UPDATED Montgomery County firefighters responded to a heavy house fire in Boyds on Thursday, March 10 that has displaced a family, according to a Fire and Rescue officials.
Fire and Rescue Spokesperson Pete Piringer said the the two-story single family house fire on 18300 block Aspen Dale Court began in the garage and extended into the home.
The first arriving firefighters encountered heavy fire and requested a task force, Piringer said. Fire and Rescue officials said the fire caused a room above the garage, a brick wall of the garage, and parts of the roof to collapse. Officials said that the fire also damaged a neighbors home and four cars.
A family of five and their two dogs were alerted by a smoke alarm and escaped safely. Firefighters used heavy duty hose streams and large capacity nozzles to put out the fire, Piringer said. One firefighter sustained non-life-threatening injuries and was transported to a local hospital for a check-up, officials said.
According to officials, the two-story house blaze caused an estimated $1 million in damages including; $750,000 in structure and vehicle damage. A neighboring home also sustained $75,000 in heat related damages, a fire official said. Officials said the fire is under investigation and the exact cause is undetermined at this time.
TONITE (6p) MCFRS FFs re-visit Germantown neighborhood 'After-the-Fire', SMK ALARMS WORKED pic.twitter.com/GyiWnhmh pic.twitter.com/AhtEMyHR4A

— Pete Piringer (@mcfrsPIO) March 11, 2016
ICYMI (9p 3/10) 18303 Aspen Dale Ct, 5 ppl & pets displaced; 1 FF NLT inj; Cause, under investigation; Damage $1M pic.twitter.com/B3Dtjljq3p

— Pete Piringer (@mcfrsPIO) March 11, 2016
Aspen Dale Ct house fire also damaged 4 cars & a neighbors house, 1st arriving FFs encountered heavy fire conditions pic.twitter.com/H2Ae3yLmYd

— Pete Piringer (@mcfrsPIO) March 11, 2016
MCFRS Fire Chief Scott Goldstein w/ very brief synopsis of Aspen Dale Ct house fire this evening (3/10) pic.twitter.com/P3oDHG7s9Q

— Pete Piringer (@mcfrsPIO) March 11, 2016
Germantown house fire under investigation, smoke alarms alert a family & guests, all escaped w/o injury# pic.twitter.com/0Aafzm1IOy

— Pete Piringer (@mcfrsPIO) March 11, 2016
MCFRS Fire Chief Scott Goldstein talks to media about how a smoke alarms saved lives on Aspen Dale Ct, Germantown pic.twitter.com/qp9btLV5iL

— Pete Piringer (@mcfrsPIO) March 11, 2016
18303 Aspen Dale Ct, 1 FF injury, NLT; 5 occupants escaped (& pets), alerted by smoke alarm, significant damage pic.twitter.com/BqspwrGxj6

— Pete Piringer (@mcfrsPIO) March 11, 2016
(9p) Aspen Dale Ct, Germantown, FFs arrived & encountered heavy fire, 5 occupants (& pets) got out unharmed pic.twitter.com/Jqq2llsTKP

— Pete Piringer (@mcfrsPIO) March 11, 2016
Update – Aspen Dale Ct, Germantown, occupants escaped unharmed, major damage to 2-sty, single-family house pic.twitter.com/JZkzLMWQ4g

— Pete Piringer (@mcfrsPIO) March 11, 2016
Update – Aspen Dale Court, ladder pipes in operation, bulk of the fire is knocked

— Pete Piringer (@mcfrsPIO) March 11, 2016
Update – Aspen Dale Ct, heavy fire, partial collapse, no injuries

— Pete Piringer (@mcfrsPIO) March 11, 2016
More….Aspen Dale Ct, heavy fire, FFs protecting exposures (neighboring houses), using heavy duty hose streams (blitz fire nozzles)

— Pete Piringer (@mcfrsPIO) March 11, 2016
Update – Aspen Dale Ct, 2-sty single family house; garage, 1st & 2nd floors of house involved, large capacity nozzles & ladder pipes set up

— Pete Piringer (@mcfrsPIO) March 11, 2016
Update – Aspen Dale Ct, occupants are out & accounted for, garage fire 'fully involved' extended into house

— Pete Piringer (@mcfrsPIO) March 11, 2016
Update – Aspen Dale Ct, occupants are out & accounted for, garage fire 'fully involved' extended into house

— Pete Piringer (@mcfrsPIO) March 11, 2016
Update – Aspen Dale Ct, 2-sty house, FFs arriving with/ heavy fire, Task Force requested, transitional attack, FFs searching for occupants

— Pete Piringer (@mcfrsPIO) March 11, 2016
Update – Aspen Dale Ct, multiple calls

— Pete Piringer (@mcfrsPIO) March 11, 2016
18300blk Aspen Dale Ct, Germantown, 2-sty single family house, FFs investigating smoke coming from house

— Pete Piringer (@mcfrsPIO) March 11, 2016