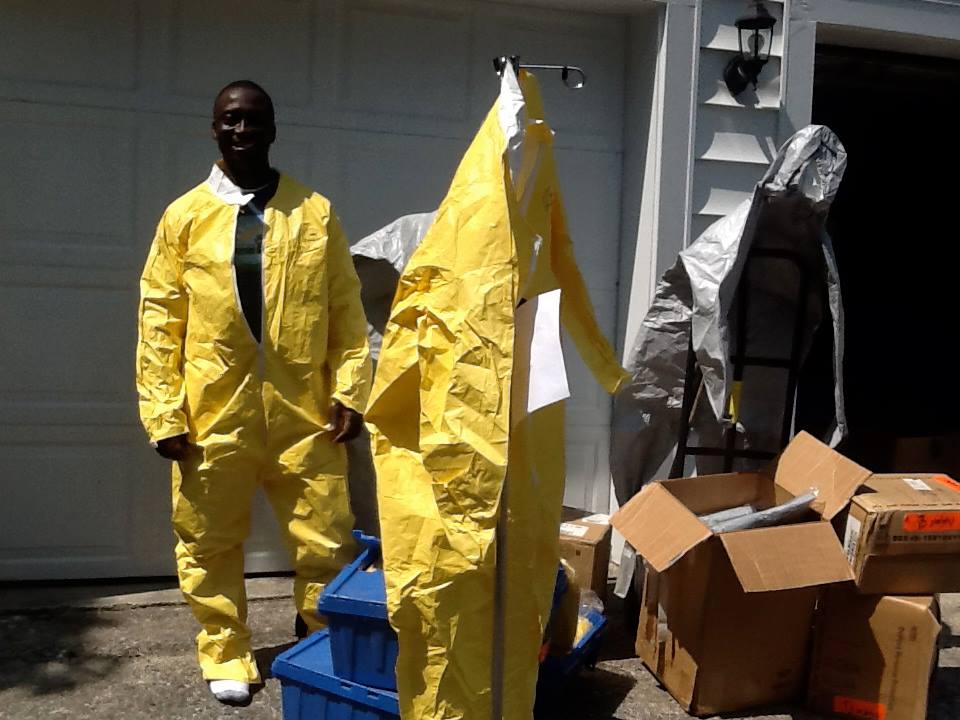 Germantown Man Leads Effort to Help with Ebola Outbreak in Sierra Leone
By Sierra Leone standards Bobby Smith should already be dead. At 49 he's lived two years past the life expectancy for a man in his home country.
And with the Ebola outbreak hitting that country, had he still lived there the chances of making it to 50s would be even slimmer. Smith, a surgical tech who now lives in Germantown, is working to try to save the people in his homeland. He started the nonprofit Hope for Lives in Sierra Leone and today worked with another nonprofit called Brother's Brother Foundation to fill a 40-foot shipping container full of medical supplies to help doctors fight the outbreak.
"I know if I was there I would be dead by now. This is the reason I said to myself I can't let this happen," Smith told MyMCMedia Thursday from the loading dock in Virginia. Here volunteers will pack the container full of gloves, masks, hospital beds and other supplies headed for Connaught Hospital in Freetown, Sierra Leone.
This is the second medical shipment sponsored by Hope for Lives in Sierra Leone. The shipment includes donated supplies from Johns Hopkins Health System, MedStar Health, AVID Medical and , according to Luke Hingson, president of Brother's Brother Foundation. At least five more 40-foot container shipments will be sent by BBF Pittsburgh in October with additional gowns, gloves, masks, soap and other requested supplies. Over the past three and one half years BBF has sent 77 containers of supplies and simple medical equipment (almost 500 tons) for use among 220 hospitals and clinics in Africa, including 73 medical facilities in Sierra Leone and Liberia.
"This outbreak is just frightening," Hingson told MyMCMedia, adding that the lack of protective supplies for medical personnel is adding to the problem.
According to the Centers for Disease Control, by the end of September there were approximately 8,000 cases of Ebola in Sierra Leone and Liberia, or as high as 21,000 cases if corrections for underreporting are made. Without additional interventions or changes in community behavior, CDC estimates that by January 20, 2015, there will be a total of approximately 550,000 Ebola cases in Liberia and Sierra Leone or 1.4 million if corrections for underreporting are made, according to the website.
Cases in Liberia are currently doubling every 15-20 days, and those in Sierra Leone and Guinea are doubling every 30-40 days. According to the CDC, halting the epidemic requires that approximately 70 percent of Ebola cases be cared for in Ebola Treatment Units or, if they are at capacity, at home or in a community setting in which there is a reduced risk of disease transmission and safe burials are provided.
Smith said he gathers medical supplies from friends and coworkers storing them in a facility in Dickerson until he's gathered enough to make a shipment.
Before the Ebola outbreak, Smith traveled to Sierra Leone a few times a year to lend his medical skills. But, a recently planned trip was cancelled due to the Ebola outbreak, he said.
"I had to focus on another way of helping," he said of the effort to gather medical supplies.
Smith said one of the issues in controlling the spread is that some living in Sierra Leone are in denial about the disease or believe it is an evil force instead of a medical issue. Yesterday, he said, a head nurse at the Connaught Hospital died of Ebola. And, he fears as Sierra Leone trying to get hold of the outbreak there, the outbreak in Liberia will trickle the disease back in.
To help his organization visit the Hope for Lives in Sierra Leone website.

Related: