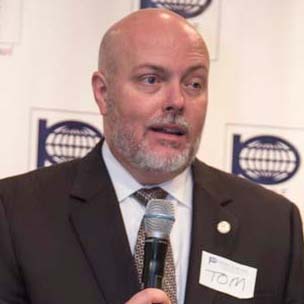 Germantown Republican Seeks Council Seat
A 50-year-old Germantown Republican has entered the District 2 Montgomery County Council race with a "bring jobs home" campaign.
"Thousands of jobs crawl down I-270. Those jobs aren't local anymore," said Tom Ferleman, who unveiled his campaign Friday.
Ferleman, a strategy and innovation consultant for Booz Allen Hamilton, said he wanted to boost the county's competitive advantage so the area can compete with Virginia and the District.
The Council's District 2 includes Germantown, Montgomery Village, Clarksburg, Barnesville and Damascus.
Councilmember Craig Rice, a Democrat, now represents District 2. Rice said he hasn't decided on whether to run for re-election or to run for county executive.
In addition to jobs, Ferleman is running on three other issues: rolling back the Council's 2016 tax increase that raised property taxes 8.7 percent, ensuring county high school graduates have jobs after graduation and reducing traffic congestion.
His website — ferleman.com — presents five options for each of the four issues.
On taxes, Ferleman said he'll take County Executive Ike Leggett at his word: that the budget has been trimmed as much as it can and the county has raised taxes as much as it can.
For a budget to exceed the charter limit — in which the budget grows faster than the pace of inflation — "means we're out of money," Ferleman said.
Instead, Ferleman said he would build the county's commercial base. The county also needs to improve its relationship with Gov. Larry Hogan.
"We don't have money. We're backed into a corner. We don't have options," Ferleman said.
He would strategically plan to widen the I-270 spur, widen I-270 and to plan for another bridge over the Potomac River.
Ferleman grew up in the area, and when he was younger, the stretch along I-270 was called a technology corridor.
"When I was growing up we were considered the pinnacle, the envy of the nation," he said.
He also pointed out the empty Comsat building off I-270.
"The big Comsat building has been vacant for 15 years. It looks horrible," he said. He would have recruited an Apple, an Amazon or an eBay to put their businesses there, he said.
He said he won't use the county's public financing system to fund his campaign. To draw from the county's fund, council district candidates need to collect 125 contributions for a total of $10,000.
"There are simply not enough Republican donors or moderate Democrats to meet the threshold," Ferleman said.