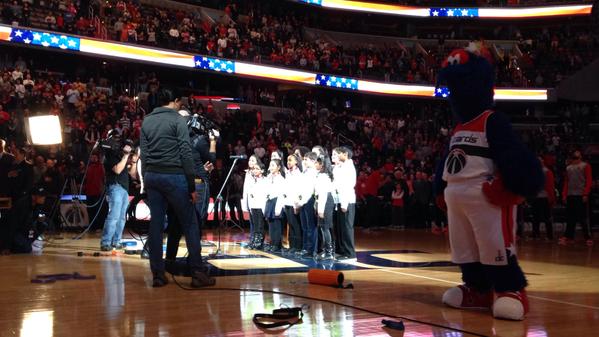 Germantown's Spark Matsunaga Elementary Students Sing at Wizard's Game (VIDEO)
Before the Washington Wizards took on the Toronto Raptors, the Safety Patrol group and choir from Spark Matsunaga Elementary School in Germantown and Officer John Johnson MCP School Safety Police Coordinator sang the American and Canadian National Anthems. The performance was part of Safety Patrol Night with the Washington Wizards held at the Verizon Center January 31.
"Not only do these safety patrollers brave the cold and the heat to protect their peers every school day, but they can also sing!" said John B. Townsend II, Manager of Public and Government Affairs for AAA Mid-Atlantic. "AAA is proud of the accomplishments of these young students. The safety patrols will be permitted to wear their AAA neon yellow-green belts to the game and will be recognized on the big screen."
The School Safety Patrol program, administered by The Mid-Atlantic Foundation for Safety and Education, instills traffic safety through this one-of-a-kind peer leadership program. Many famous Americans have held the position of AAA School Safety Patrol Officers including former Presidents Jimmy Carter and Bill Clinton, five current and former Supreme Court Justices, five Olympic Gold Medalists and 21 astronauts.
Historically, the AAA School Safety Patrol program is one of the motor club's oldest programs. More than 630,000 children throughout the country participate in the program. Approximately 100,000 patrols are in the AAA Mid-Atlantic service area. Schools utilize Patrols in many different ways including positioning them at street corners that lead into the school, on school buses, at parent pick-up/drop-off areas, and helping coordinate arrival and dismissal.