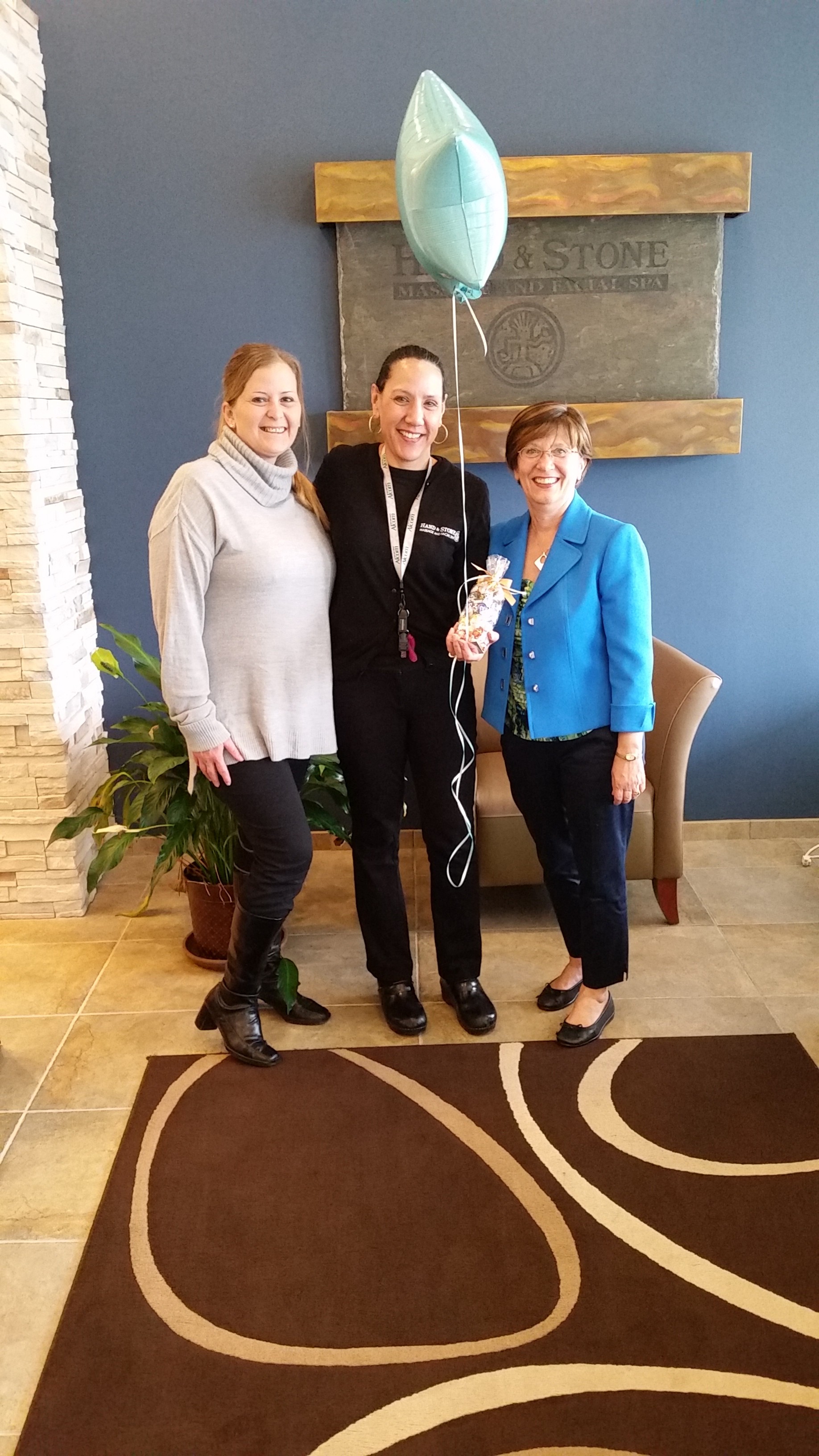 GGCC Celebrates National Small Business Week (PHOTO)
National Small Business Week recognizes the contributions of America's entrepreneurs and small business owners. More than half of Americans either own or work for a small business, and they create about two out of every three new jobs in the United States each year.
This year, the IRS marked the Small Business Association's National Small Business Week from May 1-7. Here at the Gaithersburg-Germantown Chamber Commerce (GGCC), we thought we would celebrate National Small Business Week by showing our appreciation to our members.
In honor of this week, the of GGCC took the opportunity to highlight the impact of its entrepreneurs & small business owners and made daily visits to them donned with balloons and chocolates compliments of Lindt Chocolate Shop to show our support and recognize their hard work, dedication and impact they have on our community.
"We appreciate our small businesses every week of the year, it's just that sometimes we do it with balloons and chocolates. It was great fun to pop in and surprise a few of our members this week," said Marilyn Balcombe, GGCC Executive Director.
Our first visit was to Crown Trophy in Gaithersburg. Crown Trophy has been a GGCC member for 17 years and is one of the chamber's special event sponsors. They provide awards for all occasions & offer engraving on premises. Learn more about his business at: www.crowntrophy.com.
Then GGCC President, Marilyn Balcombe, & GGCC Director of Events & Marketing were treated to some ice cream when they visited Owner Bob Fischer of Bruster's Real Ice Cream in Gaithersburg. Bruster's has been a GGCC Member for 10 years and is currently the #1 Bruster's franchise. Bruster's is passionate about ice cream and fast, friendly service at their shop & over 30 flavors are made fresh daily. Learn more about them at: www.brusters.com.
CF Alliance Insurance is a relatively new member but Owner / Vice President John Cabrera has been a valuable GGCC Member since he joined. He attends events regularly and not only refers, but uses other GGCC members when he looks for a product or service. He is also instrumental in the community. CF Alliance provides auto, property, life, health & business insurance needs. Learn more about them at: www.cfalliance.com.
We visited 21-year member John Keith Photography. Owner John Keith is an active member of the GGCC serving on the events committee and occasionally is the photographer of the chamber's annual membership directory. Keith has 20 years of location coverage for weddings, brochures and portraits. Learn more about his business at: www.keithpix.com.
We were off to visit PhotoLoaf™ – Live. Love. Play. Loaf, which has been in business for 30 years. Phil Fabrizio, a 5-year GGCC Member, generously offers his time annually to take photos of the chamber's public safety awards breakfast. Like Keith, he too is occasionally the photographer of the chamber's annual membership directory. And he provides corporate and personal event photography throughout the metro DC/MD/VA area. Learn more about PhotoLoaf at: www.photoloaf.com.
Friday, we ventured out to the Kentlands to visit with owner Kay Hechler of Hand and Stone Massage and Facial Spa. Hand & Stone has been a terrific member donating to the chamber's silent auction and other events. Additionally they offered chair massages at the GGCC's golf tournament. They are also dedicated to the community and show their support in a variety of ways. If you are searching for massage and/or facial services at affordable prices, please consider Hand & Stone Massage. Learn more about them at: www.handandstone.com.
Congratulations to all of the County's Small Businesses, especially those that are members of the Gaithersburg-Germantown Chamber of Commerce. This week we salute and thank you – America's Entrepreneurs!
We encourage you to please visit your local small businesses and say "thank you for being here" and remind you to shop small, shop local.
Throughout National Small Business Week, events will be live-streamed and focused on a variety of entrepreneurial topics. To view the events, visit: www.sba.gov/nsbw/webinars.
The GGCC is active in providing business-to-business networking opportunities throughout the year: a collective voice in local, regional, and state legislative affairs, professional development opportunities and other services that enhance the business environment.
The GGCC is located at 910 Clopper Road, Suite 205N, Gaithersburg, MD. To learn more about the GGCC visit us at www.ggchamber.org. Find us on Facebook .
#NSBW16
@GGCCNEWS
#