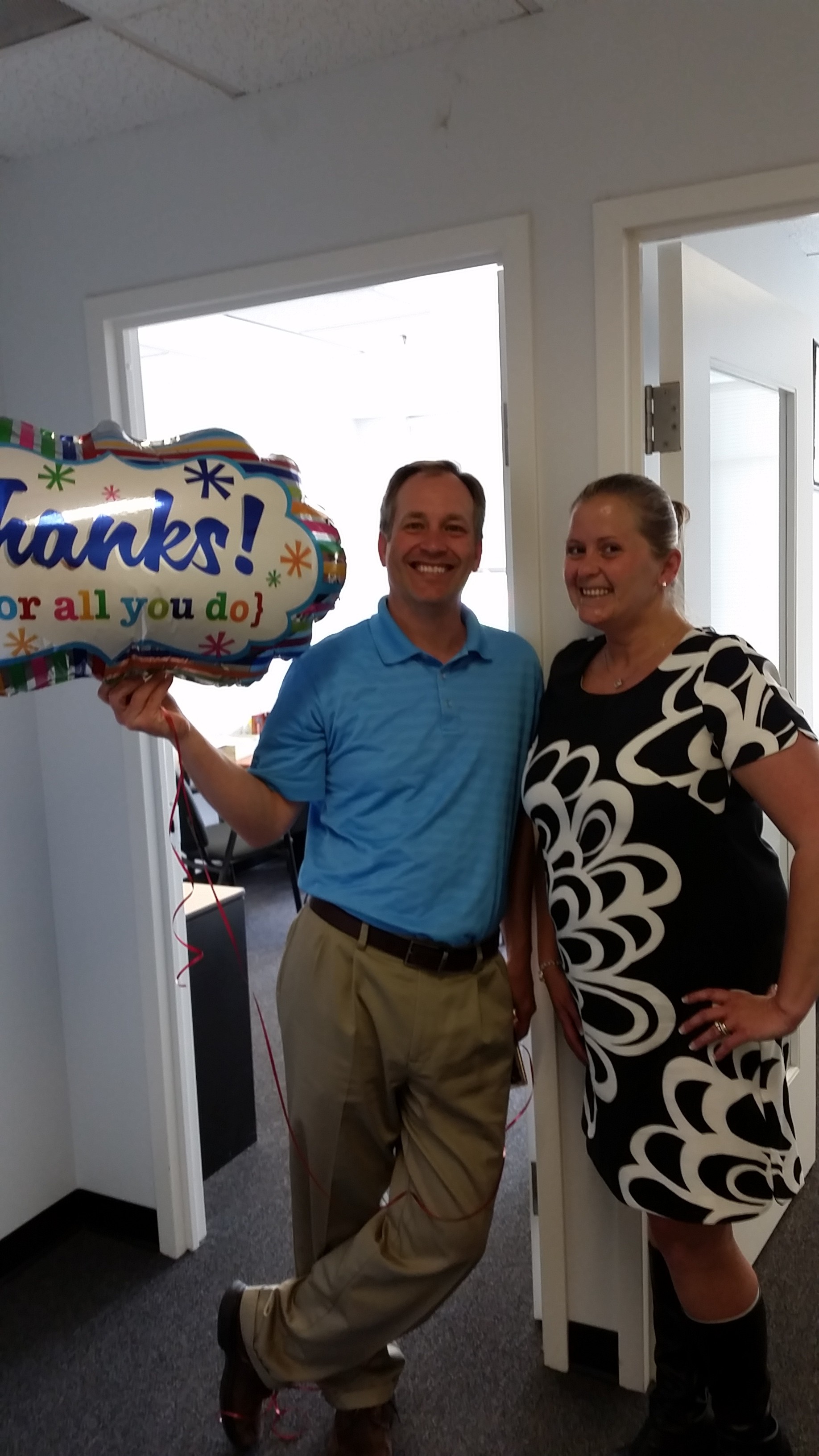 GGCC Celebrates National Small Business Week
According to the Small Business Administration, more than half of Americans either own or work for a small business, and they create about two out of every three new jobs in the U.S. every year.
The IRS marked the Small Business Association's National Small Business Week (May 4-8) by featuring some of its most popular educational products for small business owners, self-employed individuals and entrepreneurs. Here at the GGCC, we thought we would celebrate National Small Business Week by showing our appreciation to our members.
In honor of this week, the of Gaithersburg-Germantown Chamber Commerce (GGCC) is making daily visits to small business members donned with balloons and chocolates compliments of SPAGnVOLA to show our support and recognize their hard work, dedication and impact they have on our community.
"Small businesses are the backbone of our economy. It was wonderful to see our small businesses receive the recognition they deserve," said Marilyn Balcombe, GGCC Executive Director.
Our first visit was to The Jennings Business Group, LLC in Germantown. President Ron Jennings has been very active with the GGCC and always there to lend a hand. Learn more about his business at: www.jenningsbg.com.
The second day saw representatives of many Chambers of Commerce and small business groups gathering in Rockville to join in the County Council's recognition of National Small Business Week. Councilmember Roger Berliner presented a proclamation to the groups on behalf of the Council.
Day three, we visited 10-year member Riverstone Wealth Management located in the Kentlands in Gaithersburg. President Scott Leishear has been active with the GGCC serving on the membership, events & golf committees.
Stiles Dentistry – a 6-year member – was surprised on Thursday, May 7th. Dr. Denis Stiles, DDS has been a committed member of the GGCC even before the GGCC existed, as a member of the Germantown Chamber before the two towns merged. At Stiles Dentistry they blend art, science, and technology to create a strong foundation for great smiles. Learn more about them at: www.stilesdentistry.com.
The GGCC plans to visit one more business tomorrow – Tuckers Air Conditioning, Heating & Plumbing, LLC. They were founded in 1995 and are dedicated to residential air conditioning and heating problem solving. Tuckers Air Conditioning and Heating proudly serves Montgomery County and vicinity. Their vision is to strive to enhance the company's image as a provider of value and one of the reasons they are being recognized this year. Learn more about them at: www.tuckersac.com.
This year's Small Business Administration's theme is "Dream Big, Start Small." In the County Council's proclamation presented on Tuesday, May 5 it states "…theme of 'Dream big, Start Small' embodies the promise that: if you have a good idea and are willing to with hard enough, you can succeed." We couldn't agree more.
Congratulations to all of the County's Small Businesses, especially those that are members of the Gaithersburg-Germantown Chamber of Commerce. This week we salute and thank you – America's Entrepreneurs!
Throughout National Small Business Week, events will be live-streamed and focused on a variety of entrepreneurial topics. To view the events, visit www.sba.gov/nsbw.
The GGCC is active in providing business-to-business networking opportunities throughout the year: a collective voice in local, regional, and state legislative affairs, professional development opportunities and other services that enhance the business environment.
The GGCC is located at 910 Clopper Road, Suite 205N, Gaithersburg, MD. To learn more about the GGCC visit us at www.ggchamber.org. Find us on Facebook at: http://www.facebook.com/pages/Gaithersburg-Germantown-Chamber-of-Commerce/64339954570.