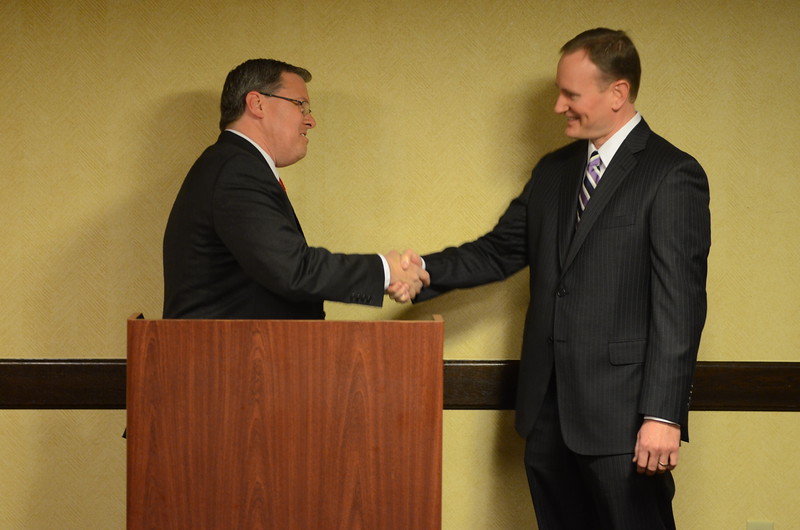 GGCC Names Barr Their Board Chairman (PHOTO)
The Gaithersburg-Germantown Chamber of Commerce (GGCC) has named Stuart Barr their 2016 Board of Directors Chairman. Barr is a land use and zoning attorney at Lerch, Early & Brewer, Chartered.
"Stuart Barr will be an excellent Chair. He is thoughtful, engaged, and strategic. We also found out he has a great sense of humor," said Marilyn Balcombe, GGCC Executive Director.
Barr has been a GGCC Board Member for five years. He is a member of the Maryland and Montgomery County Bar Associations.
In the community, Barr has recently volunteered his legal services to help Habitat for Humanity of Montgomery County on a significant townhouse development in Gaithersburg. He also serves on the board of The Corridor Cities Transitway Coalition and participates on the County's Sustainability Working Group.
He received his Bachelor of Arts from Lawrence University in Appleton, Wis., and earned his Juris Doctor, with honors, from the University of Maryland School of Law.
The GGCC is active in providing business-to-business networking opportunities throughout the year: a collective voice in local, regional, and state legislative affairs, professional development opportunities and other services that enhance the business environment.
The GGCC is located at 910 Clopper Road, Suite 205N, Gaithersburg, MD. To learn more about the GGCC visit us at www.ggchamber.org. Find us on Facebook at: http://www.facebook.com/pages/Gaithersburg-Germantown-Chamber-of-Commerce/64339954570. And on Twitter at @GGCCNEWS.