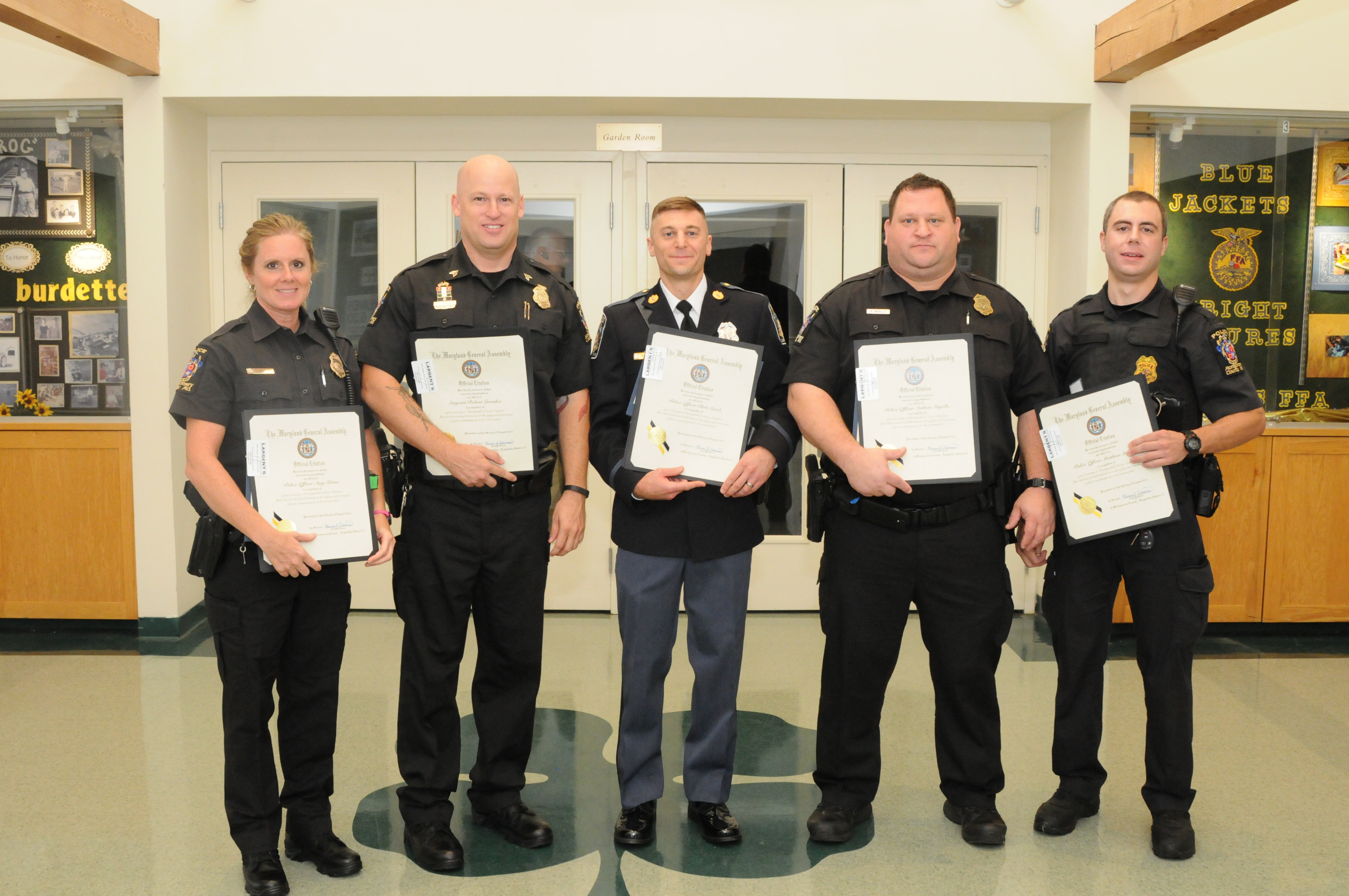 GGCC Public Safety Awards Breakfast Honors 57
The Gaithersburg-Germantown Chamber of Commerce honored Upcounty Police Officers, Firefighters and Paramedics at their 19th Annual Public Safety Awards Breakfast.
The event was held on Friday, August 8 at the Montgomery County Fairgrounds in Gaithersburg. This year we honored 57 of the County's, National Institute of Standards and Technology Fire Department & the City of Gaithersburg's finest men & women in following categories: Citation for Bravery, Distinguished Service Citation and Meritorious Service Citation.
Over 200 people were in attendance as several members of the Gaithersburg Police Department, Montgomery County Police 5th & 6th Districts & Montgomery County Fire & Rescue and National Institutes of Standards and Technology Rescue Services were recognized for their service. This annual awards program provides the business community with an opportunity to publicly thank those who help maintain the quality of life in the Gaithersburg and Germantown area.
The Chamber recognizes the heroic deeds of our local law enforcement and fire-rescue workers in four categories: Medal of Valor, Citation for Bravery, Distinguished Service Citation & Meritorious Service Citation. These men and women go above and beyond the call of duty to serve our local community and the GGCC wants them to know we appreciate them and their hard work.
 "We are honored to have these heroes in our community, the very least we can do is to thank them for their service," said Marilyn Balcombe, GGCC President.
Fifty-seven Public Safety Officials were awarded in total in cases ranging from a residential shooting involving a police officer, a mother who was performing an exorcism on her children, children who were stuck in an icy pond, and a head-on automobile collision where a patient was ejected from an automobile.
Each awardee received a citation from Senator Brian Feldman, Senator Roger Manno and Congressman John Delaney, as well as a token of our appreciation.
For the seventh year in a row, Paul Davis Restoration & Remodeling, www.pdrmontgomery.com, was the Title Sponsor of the event. For more than 40 years, Paul Davis Restoration & Remodeling craftsmanship and care has helped families and businesses overcome the devastating setbacks inflicted by fire, flood and wind.
"Once again we salute all the first responders in Montgomery County for their unwavering   dedication to keep our citizens safe. So many times we forget how important it is to thank the men and woman who give us the comfort that our family is safe. Congratulations to all of this year's award winners," said Tom Plant, Paul Davis Restoration and Remodeling Managing Partner.
Other Public Safety sponsors include:
Shining Silver:
City of Gaithersburg
The Gazette
Hughes Network Systems, LLC
Mid-Atlantic Federal Credit Union
Montgomery County Employee Federal Credit Union
Table:
Asbury Methodist Village
Berman, Sobin, Gross, Feldman & Darby LLP
Gaithersburg Police Foundation
Holy Cross Hospital
Johns Hopkins University Montgomery County Campus
Kaplan University
Lerner Enterprises / Black Hills Development
OBA Bank
PEPCO
Robert Cowdrey
Shady Grove Adventist Hospital
Therrien Waddell, Inc.
Walmart
Public Safety Official Sponsor:
A Cat Clinic
GeneDx
Lerch, Early & Brewer, Chtd.
Linowes & Blocher, LLP
Maryland Leadership Workshops
Randy Scritchfield, CFP
Robert Cowdrey
Scheer Partners, Inc.
Sonabank
Strive Business Solutions, LLC
Gift:
Buca di Beppo
Cafe Rio
Copper Canyon Grill
Corner Bakery Gaithersburg
Largent's Restaurant & Bar
Melting Pot Gaithersburg
Pasha Restaurant
Official Photography Donated by / Sponsored by:
Sugarloaf Photography by Fabrizio
Elected & public safety officials in attendance included:
Representing Congressman John Delaney's office Kevin Mack
Representing State Senator Ben Cardin's office Ken Reichard
State Senator Brian Feldman – District 15
Representing Senator Barbara Mikulski's office, Laurie Edberg
State Delegate Charles Barkley – District 39
Montgomery County Councilmember Phil Andrews
City of Gaithersburg Mayor Sidney Katz
City of Gaithersburg Councilmember Cathy Drzyzgula
City of Gaithersburg Councilmember Henry Marraffa
City of Gaithersburg Councilmember Michael Sesma
Upcounty Regional Services Center Director Cathy Matthews
Montgomery County Assistant Police Chief Luther Reynolds
Montgomery County Assistant Police Chief Darryl McSwain
Montgomery County Fire Department Chief Steve Lohr
Montgomery County Fire Department Operations Chief Scott Goldstein
Montgomery County Police Sheriff's Darren Popkin
Montgomery County Police Sheriff Chief Deputy Mark Bonanno
National Institute of Standards and Technology Fire Chief Stephen Shahan
National Institute of Standards and Technology Director of Emergency Services Mark Spurrier
Montgomery County Police, 5th District, Commander David Gillespie
Montgomery County Police, 6th District, Lt. David McBain
Gaithersburg Police Department Police Chief Mark Sroka
Gaithersburg Police Department Commander Robert Wilkes
Gaithersburg Police Department Commander Tom Stanton
Gaithersburg Police Department Lt. Curtis Pettaway
Gaithersburg Police Department Corporal Shawn Eastman
Germantown Volunteer Fire Department, Inc. Fire/Rescue Chief Joe Chornock
Gaithersburg-Washington Grove Fire Department, Inc. Deputy Chief Ken Knopp
Barbara Crews, Assistant Executive Director, Community Relations from Johns Hopkins University Montgomery County Campus & GGCC Board member. was the master of ceremonies.
The GGCC is active in providing business-to-business networking opportunities throughout the year: a collective voice in local, regional, and state legislative affairs, professional development opportunities and other services that enhance the business environment.
Related: