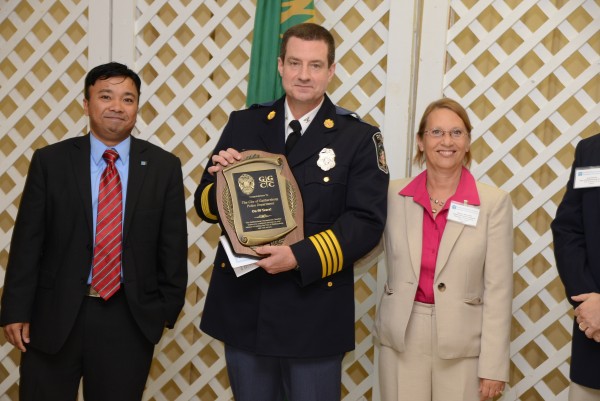 GGCC Public Safety Awards Breakfast Will Honor 57 on August 8
The
Gaithersburg-Germantown Chamber of Commerce
will honor Upcounty Police Officers, Special Operations Teams, Firefighters and Paramedics at their
19th Annual Public Safety Awards Breakfast
.
The event will be held on Friday, August 8 from 7:30-10:30 a.m. at the Montgomery County Fairgrounds, Harvest Building, 16 Chestnut Street, Gaithersburg.
This year we will honor 57 of the County's, National Institute of Standards and Technology Fire Department & the City of Gaithersburg's finest men & women in following categories: Citation for Bravery, Distinguished Service Citation and Meritorious Service Citation.
This annual awards program provides the business community with an opportunity to publicly thank those who help maintain the quality of life in the Gaithersburg and Germantown area.
"This is one of the most important events we do each year. Our public safety personnel work very hard day in and day out to keep our community safe. The very least we can do is to honor them once a year," said Marilyn Balcombe, GGCC Executive Director.
In 2013, nearly 200 people were in attendance as we honored 35 public safety officials from the Gaithersburg Police Department, Montgomery County Police 5th & 6th Districts, Montgomery County Fire & Rescue and five AAA Safety Patrol Lifesavers from local schools.
We invite you to come and join us as we recognize the heroic deeds of our local law enforcement and fire-rescue workers. These men and women go above and beyond the call of duty to serve our local community and we want them to know we appreciate them and their hard work.
For the seventh year in a row, Paul Davis Restoration & Remodeling, www.pdrmontgomery.com, is the Title Sponsor of the event. For more than 40 years, Paul Davis Restoration & Remodeling craftsmanship and care has helped families and businesses overcome the devastating setbacks inflicted by fire, flood and wind.
Tickets for this event are $30 for Members and $60 for Non-Members. Sponsorships -including: Shining Silver, Table & Sponsor a Public Safety Official- are also available. Please visit our website, www.ggchamber.org, for further details.
The GGCC is active in providing business-to-business networking opportunities throughout the year: a collective voice in local, regional, and state legislative affairs, professional development opportunities and other services that enhance the business environment.