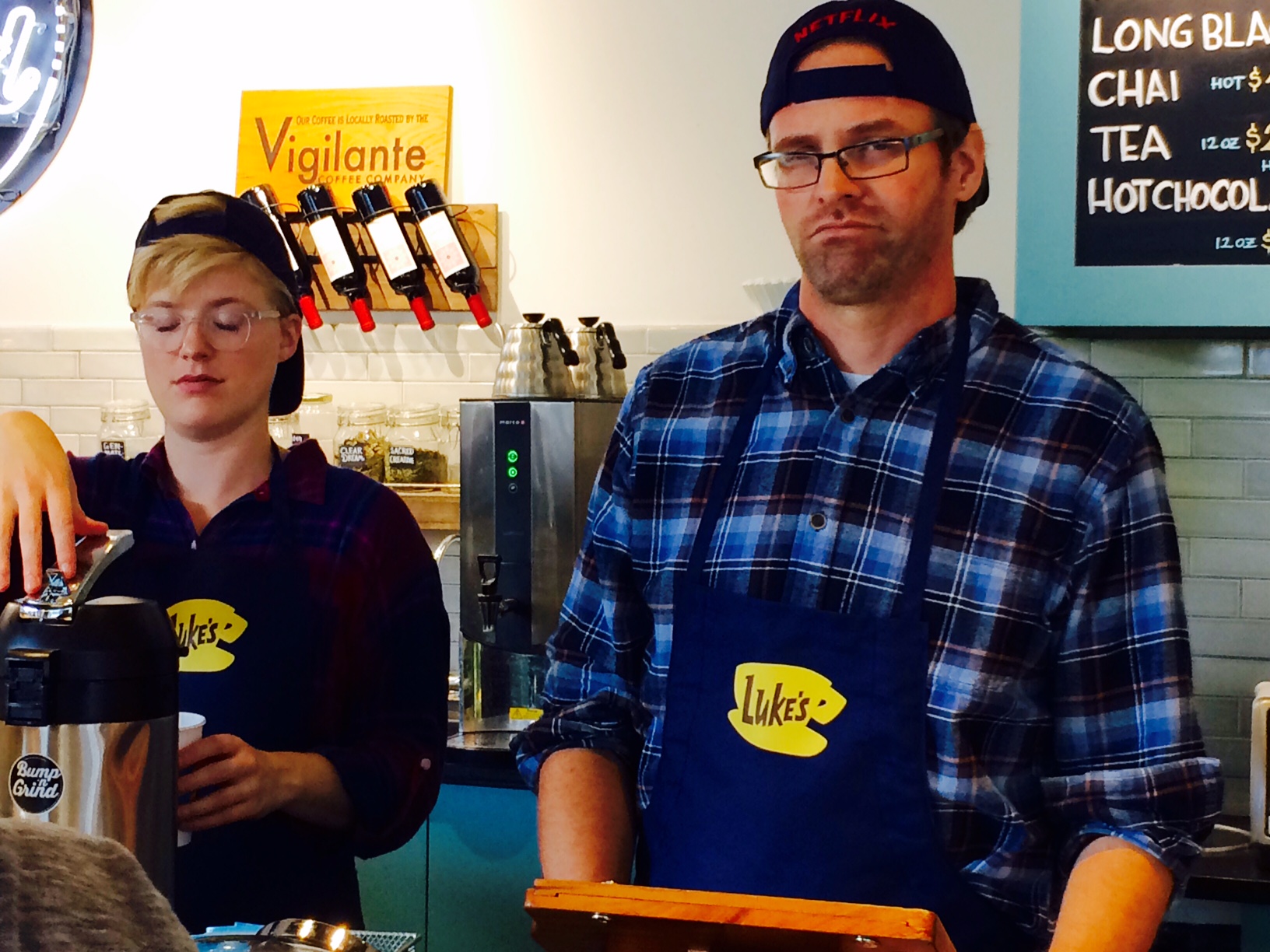 Gilmore Girls' Luke's Diner Pops-Up in Silver Spring (VIDEO & PHOTOS)
The Bump 'n Grind coffee shop in Silver Spring made dozens of Gilmore Girls fans dreams come true today. The boutique coffee shop transformed into Luke's Diner, along with 200 others nationwide.
Fans of the popular television show were greeted by barrista's dressed up as Luke Danes, wearing plaid shirts, Luke's Diner aprons, baseball caps, and of course Luke's infamous scowl. The pop-up diner theme is a part of Netflix's marketing campaign promoting its revamp of the show.
"Netflix just came to us and asked if we'd be a part of it and we were thrilled," David Fogel, owner of Bump 'n Grind said. "Business has been wild today, it's definitely like our busiest day ever and it's been a lot of fun. People have been really excited and I think it's been great for the County and certainly for our shop," Fogel said. "Hopefully…a lot of people now know about us and see us as another neighborhood spot like Luke's is in the show ," he said.
Some fans even scheduled their whole day around visiting "Luke's Diner." Kristie Thomas, is from Chevy Chase and said she mapped out her route the night before. Thomas has been a fan of the show since it first debuted.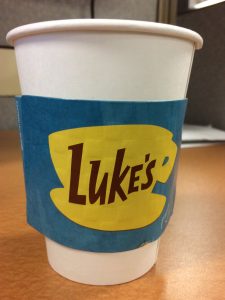 "I love the show and wanted to come and have a little bit of Stars Hollow here," Thomas said.
Alyse Carter is from Howard County and works in College Park, and routed her morning to commute to pick-up a cup of coffee from Luke's. Carter said she's a fan of Bump 'n Grind and wanted to stop by for the Gilmore Girl's experience. "I mean I know it won't be Luke's Diner just because…it's not Gilmore Girls, but just to call it that is kind of neat. It's just a really neat idea," Carter said.
Gilmore Girls is scheduled to premiere on Netflix on Nov. 25th.
Had so much fun visiting a small piece of #starshollow today @BumpNGrindCafe #lukesdiner #gilmoregirls pic.twitter.com/fDjgKnZsUC

— Maureen Chowdhury (@MediaMaureen) October 5, 2016
The sign for Luke's! There are also cups with a logo. @mymcmedia @BumpNGrindCafe pic.twitter.com/XS58pcsIdl

— Maureen Chowdhury (@MediaMaureen) October 5, 2016
Gilmore Girls fans are lining up outside @BumpNGrindCafe 2 catch a glimpse of Luke's Diner here in #MoCo @mymcmedia pic.twitter.com/4J6sqJDIOf

— Maureen Chowdhury (@MediaMaureen) October 5, 2016