Give and Ride Success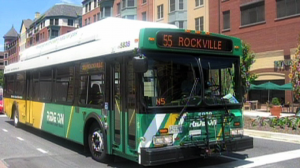 Montgomery County's Ride On bus system collected nearly 8,800 pounds of food and other items, a nearly 50 percent increase from last year, during its 25th annual "Give and Ride" food drive that took place the week of April 22. Bus passengers received free rides by donating canned or nonperishable food, disposable diapers, formula, baby or toddler food, and juice.
"I am very proud of Ride On's continuing commitment to helping those in need in our community," said Montgomery County Executive Isiah Leggett. "Ride On is more than a bus service – it's a family of caring individuals who reach out to make a difference in the lives of others. We appreciate the efforts of our passengers and employees who made the food drive a success, especially during this time of economic hardship."
All food donations were sent to the Manna Food Center, a Gaithersburg-based non-profit organization that distributes food to the county's neediest residents. Manna requested that Ride On hold its annual food collection drive in the spring to better meet community food distribution needs. Manna feeds about 3,000 families every month. Eligible clients in need of emergency food assistance may receive food every 30 days.
"Manna appreciates the ongoing partnership with Ride On," said Kim Damion, director of development for Manna Food Center. "The growing number of families in need have placed a heavy demand on our resources at the food bank. Hunger never takes a holiday, and this is one way that we keep our shelves stocked year-round to address the hunger we see in our community every day. We want to thank each of the drivers and the riders of Ride On for their support in this 25th year."
"As county employees, Ride On strongly believes in public service and in giving back to the community in which we work," said Ride On General Manager Carolyn Biggins. "Year after year, our customers demonstrate their generosity, and that has proven to be even more important than ever during these especially tough economic conditions. I am very proud of our passengers and county employees who are so generous to those in need. "