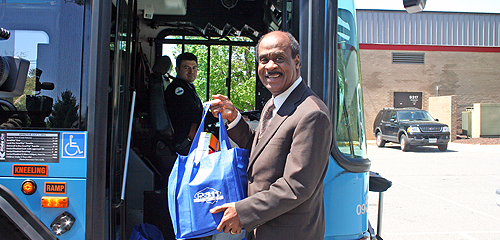 Give and Ride with Ride On Starts This Weekend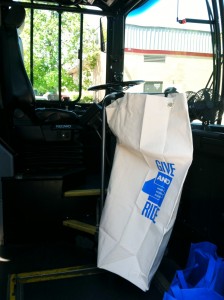 Ride On bus passengers can help needy families and receive a free bus ride by donating canned or nonperishable food during Ride On's annual food drive. The food drive, started by a group of bus drivers over 20 years ago, goes from Sunday, April 22, through Saturday April 28, 2012. During the week, food collection bags will be placed near the fare boxes on all Ride On buses. Donated food will then be dropped off at Manna!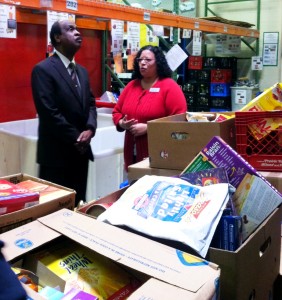 To kick off the event, County Executive Ike Leggett came by Manna Food Center on April 25 to donate food and funds and receive a tour of our warehouse. Mr. Leggett was impressed by the amount of food Manna receives, but saw how empty our shelves are this season. With help from the Ride On passengers and bus drivers, Manna can replenish our shelves before the summer months.
Need a wish list of donated items we need most? Click here for our handy list! We always appreciate whole grain pastas, cans of no salt added vegetables, and proteins like tuna and canned salmon. Dried goods and even produce from your garden are great, too.
Don't ride the bus? You can always drop off food at Manna 8am – 4pm Monday through Friday or the second Saturday of the month between 11am and 1pm. We are located at 9311 Gaither Rd, Gaithersburg, right down the street from Home Depot.