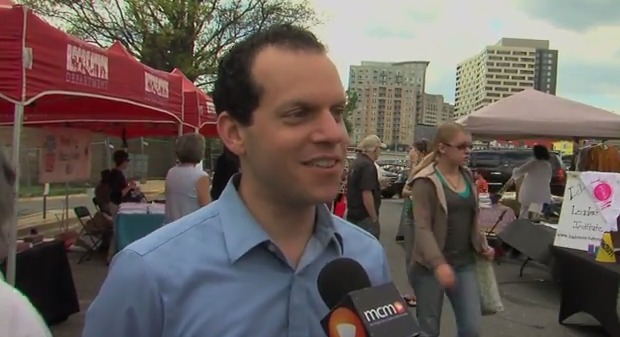 Glass Named Executive Director of Gandhi Brigade
Evan Glass, who has been serving as interim director at the Gandhi Brigade has now been appointed its executive director.
Glass takes on the official title starting April 1.
"It's an honor and a privilege to be chosen to lead Gandhi Brigade Youth Media as the organization heads into this next growth phase of reaching new and diverse audiences," Glasss said in a news release. "The work we do at Gandhi Brigade helps our youth find their voice to make our schools, neighborhoods and society better through the expression of positive social change. Community collaboration and building relationships are the keys to a non-profit's organizational growth. This was a hallmark of Richard's success and one of the reasons that he and I became friends and allies."
Glass, a Silver Spring community activist and former CNN producer, took on the IInterim executive director role at Gandhi Brigade last summer after the death of founding Executive Director Richard Jaeggi. During an extensive search by a committee of both board members and community leaders, Glass asked to be considered for the permanent executive director position and was selected by the Board, according to a news release from the organization.
Glass is the former chair of the Silver Spring Citizens Advisory Board and the co-founder of the South Silver Spring Neighborhood Association. He also ran for the District 5 seat on the Montgomery County Council, losing to Tom Hucker.
His commitment to Gandhi Brigade began in 2009 when he volunteered to help the youth improve their interviewing techniques and media skills as they investigated stories in the community, according to the organization. During the time he served as interim executive director he successfully pursued and integrated new programming for Gandhi Brigade, including organizing and launching a cyber-civility media project with both county and non-profit partners.
"Evan's strengths as a media professional and a community activist make him the right person to lead Gandhi Brigade. I'm confident he will carry on Richard's vision of empowering young people to use the force of media to promote community and affect social change," said Gandhi Brigade Board Member Vicki Warren.
Gandhi Brigade, founded in 2005, helps young people realize their inner and collective power to become the champions of the common good. Using video production, photography and graphic design as vehicles for personal and community change, the organization focuses on the development of a core group of youth, teaching them critical thinking and communication skills, and then providing opportunities to practice these skills in authentic social change projects.
Related :