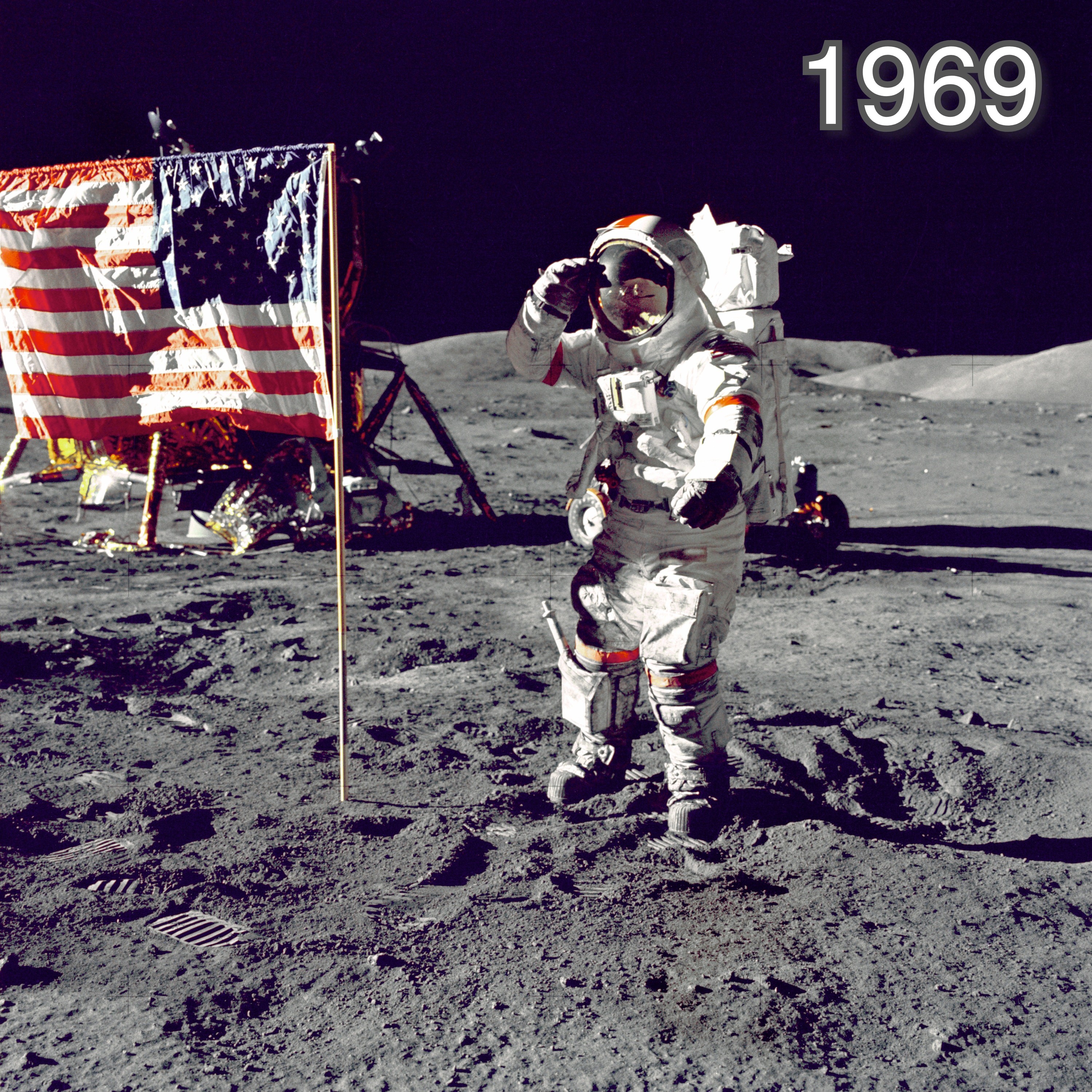 Goin' Back to 1969. 50 Years in the Mirror.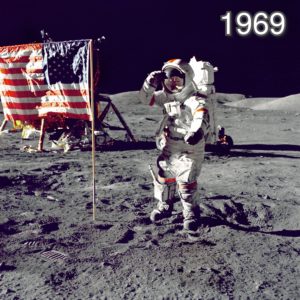 What makes the year 1969 so over the top colorful in the time capsule kaleidoscope rooted view?  Yes, it was 50 years ago, and a lot has happened since. But, for those who may read this blog many may not recall or know of the events that closed out the 60's decade here in the U.S.  So, let's have Mr. Peabody stroke up his WABAC Time Machine and go back in time and look at those synaptic roots.
Most Memorable events of 1969 – choose one from below:
July 20th – when Astronaut Neil Armstrong fulfills a John F Kennedy 1960 promise and steps foot on the moon.
ARAPNET was created and two computers shared communications – foretelling the coming of the internet age.
Woodstock Music Festival on August 15th was held on a farm in upstate New York.
The Godfather by Mario Puzo was released.
New York Mets won the World Series.
All of the above.
Livin' in the USA – what was it like in 1969 (versus now) – choose your favorite:
Average price/gallon of gas was $0.35 – today it's $2.69.
Top grossing film – Butch Cassidy & the Sundance Kid – today – Avengers: Endgame.
Richard Nixon takes the Office of the President – Donald Trump holds that position now.
Top TV Show was Laugh-In – today there are too many channels and choices – probably G.O.T.
#1 Billboard music sales hit was Sugar, Sugar by the Archies – today it is Sweet But Psycho by Ava Max.
Firsts' in 1969 – A compendium of those things first opened or started in 1969 and still going today in 2019.
Wendy's Hamburgers; Capri Sun's soft drinks; Sesame Street; Reese's Peanut Butter Cups; the Montreal Expos started a franchise that is today's Washington's Nationals; Cracker Barrel Restaurants; Wal-Mart is Incorporated; transplants of human eyes; TV reruns of Gunsmoke, Mayberry R.F.D, Easy Rider, True Grit and Paint Your Wagon, the 60's channel on SirusXM where you can listen to Dizzy by Tommy Roe, Build Me Up ButterCup by the Foundations or Crimson and Clover by Tommy James and The Shondells.
1969 had its ugly moments too.  This year was unlike 1968 when riots tore apart U.S. Cities including Washington D.C. after the assassination of Martin Luther King followed by that of Robert Kennedy.  However, the darker side of the world around the USA showed up on evening TV news with Walter Cronkite.  There was the apparent never-ending war in Vietnam, the reinstitution of the conscript draft (which ended in 1973), the Chappaquiddick affair involving Senator Edward Kennedy, the Charles Manson cult murder of five in Los Angeles; death at Altamont Raceway with the Rolling Stones and Hells Angels as their enforcers, and the 2nd most intense hurricane, Camille hits the U.S. Gulf Coast killing 248.
Culturally, following the summer of love (1967) at no other time in U.S. history did music and film play such a role in changing how we felt about going forward.  Take for instance the movie Midnight Cowboy, released in 1969, it was and remains the only X-Rated film to receive a Best Picture Academy Award (it got three awards in 1970).  From the same movie the title song (written in 1967) Everybody's Talkin performed by Harry Nilsson wins the Grammy Award.
Then there is Woodstock.  Nearly a half million people converge to celebrate peace, love and happiness in the rain.  Acts such as Jimi Hendrix, Janis Joplin and Big Brother and the Holding Company, Country Joe McDonald and the Fish, Blood, Sweat and Tears, Santana, and the Who to name just a few acts made their bones that August.  Many acts did not survive the 70's but today certain renditions of Santana, The Who and BS&T still perform to thousands.  They even made the live concert into a movie.
Unseen and not so easily recognized at the time in 1969 across the pond were the last public appearances of the Beatles on the roof top of Apple Records.  Then in mid-year the creation of the first musical supergroup, Blind Faith, with Ginger Baker and Eric Clapton from Cream, Steve Windwood from Traffic and Ric Grech from Family.  This would set the tone for all rock groups to step into the Beatles void – breakups to create supergroups.  Blind Faith only lasted for one historic album.
Meanwhile, in 1969 Los Angeles super groups were already gathering steam to release the musical forces for the next four decades. The group Poco came together and pioneered the country rock genre only to change partners to recreate The Eagles.  Also in LA at the time was a fledging band called Little Feat.  Little Feat would find a home on the East Coast predominately in the confines of Washington DC.  Their approach to music, a five beat bogey New Orleans styled county, would go on to influence and impress the aforementioned Eric Clapton, the Rolling Stones and the Allman Brothers (Band) from Atlanta, who were also a 1969 alum.
One's myopic view of Montgomery County in 1969 would reveal that the biggest traffic jams occurred around Gaithersburg.  The local farmers would overtake Route 355 north of Rockville when moving hay or tractors along this roadway.  There was no I-270 just I-70S.  It was a two-lane highway in both directions connecting Frederick with the Capital Beltway (I-495).  It was free of traffic congestion unless it snowed.  Today it is still the same two-lane highway, now just between Clarksburg and Frederick.
National Institute of Standards and Technology was in the middle of nowhere. Bethesda Naval Hospital was a short hop and skip from the District.  Walter Reed Main Hospital was just across the city line from Silver Spring.  The shopping mall of distinction was the very large Wheaton Plaza.  At Giant Foods you could not find Italian bread only Wonder Bread.  The county controlled liquor sales (whoops, they still do).  Blue laws limited shopping to six days a week – no Sunday shopping.
Montgomery Village Avenue ended at Centerway Road and only 100 families lived in the village built by the Kettler Brothers (remember them).  There were apartments near Montgomery Village not far from the lakes.  Oh, did I say lakes.  Why yes, there was a huge lake where the LakeForest Mall is now, perhaps it might just return one day soon.
Shady Grove was not a stop on the Metro's Red Line, rather it was property owned by a city forefather called Sam Eig.  He also owned two large 18 hole championship golf courses and a music fair arena pretty much on the spot where the RIO complex is today. Poolesville still looks like Poolesville, thank goodness for the Ag Farm designations.  Bethesda was a sleepy little town with a great FM format radio station soon to be called WHFS.  Jimmie Cones was in Damascus and still is.  I can't speak of any changes north of Wheaton because it was hard for me to determine where one farm ended and the next one started.  Rockville's Rockville Pike was a shopping mecca along the lines of Rodeo Drive in LA.  You could always find what you wanted in any of those strip malls, the best being Congressional Mall, where there once was a JC Penney's.
Mr. Peabody just tapped me on the shoulder and said that its time to come back to 2019 reality now.  Can I take that Boeing 747 over there back, Mr. Peabody?   Or, how about that Pontiac Firebird Trans Am? I promise to return them.   Unfortunately, not, says Mr. Peabody?  I guess I am going back courtesy of Gerry Goffin and Carole King (1966).
I think I'm goin' back
To the things I learned so well in my youth
I think I'm returning to
Those days when I was young enough to know the truth
Phil Fabrizio