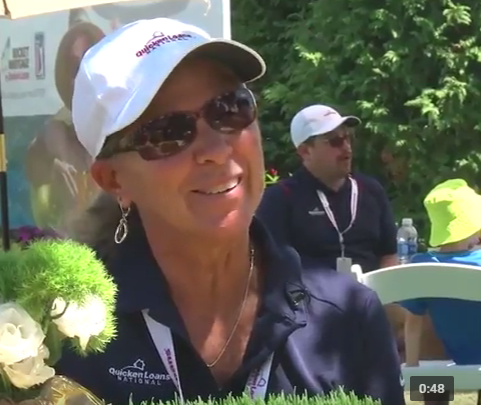 Golf Fans Flock to Quicken Loans National, Tickets Still Available (VIDEO)
The $7.1 million Quicken Loans National takes place from June 29- July 2 at TPC Potomac at Avenel Farm and golf fans are flocking to the tournament to see their favorite golfers.
During the Pro-Am, some veterans and volunteers shared their thoughts (see video, below) about the tournament, that honors the military, and their favorite golfers.
"What a beautiful day to be out here," John LaRaia said.  LaRaia, a Virginia resident, said he has attended the tournament many times before, and he's always impressed with the military salute.
Another Virginia resident, Pat Sherfey said she is volunteering this week at the tournament as a marshal. A golf fan, she's cheering for Rickie Fowler to win the tournament.
Matthew Cale, a Marine, caddied for Brendan Steele on Wednesday during the Pro-Am and he was impressed with his golf.
"He got a birdie on the 16th hole," Cale said.
Cale was invited to participate in the Pro-Am thru the military program.
"It's a fabulous golf course," he said, noting that he hopes to come back this weekend.
Dave Roland hails from Detroit, Michigan. He was in Montgomery County on Wednesday to play in the Pro-Am where he was paired with the tournament's defending champion, Billy Hurley III.
"I'd like to see Billy win," Roland said, when asked who he was cheering for this week.
"I'm a Rickie Fowler fan," said Dylan Peterson, who got to meet Fowler at the Pro-Am. Peterson, who is also a veteran, said he plans to be at the tournament everyday. He will introduce the players on Sunday morning. "I can't wait, I am excited," he said.
In case you are wondering, there are 120 golfers vying for a $1,278,000 winner's prize and tickets to watch the action are still available.
Tournament director Mike Antolini said the beautiful, new course is in perfect condition. According to Antolini,  the course will test the professional golfers which should make for an exciting tournament.
"Come one, come all," Antolini said.
It's the 11th year for the tournament, and Antolini said the excitement and momentum for the golf event builds each year. Not surprisingly, he said, the weekend is traditionally the busiest time for the tournament.
If you are worried about the heat, there are plenty of amenities available at the event so fans can keep cool.
Parking is available at Rocks Springs Park in Bethesda for $20. You can find more information about parking and what items are prohibited at the tournament's website here.