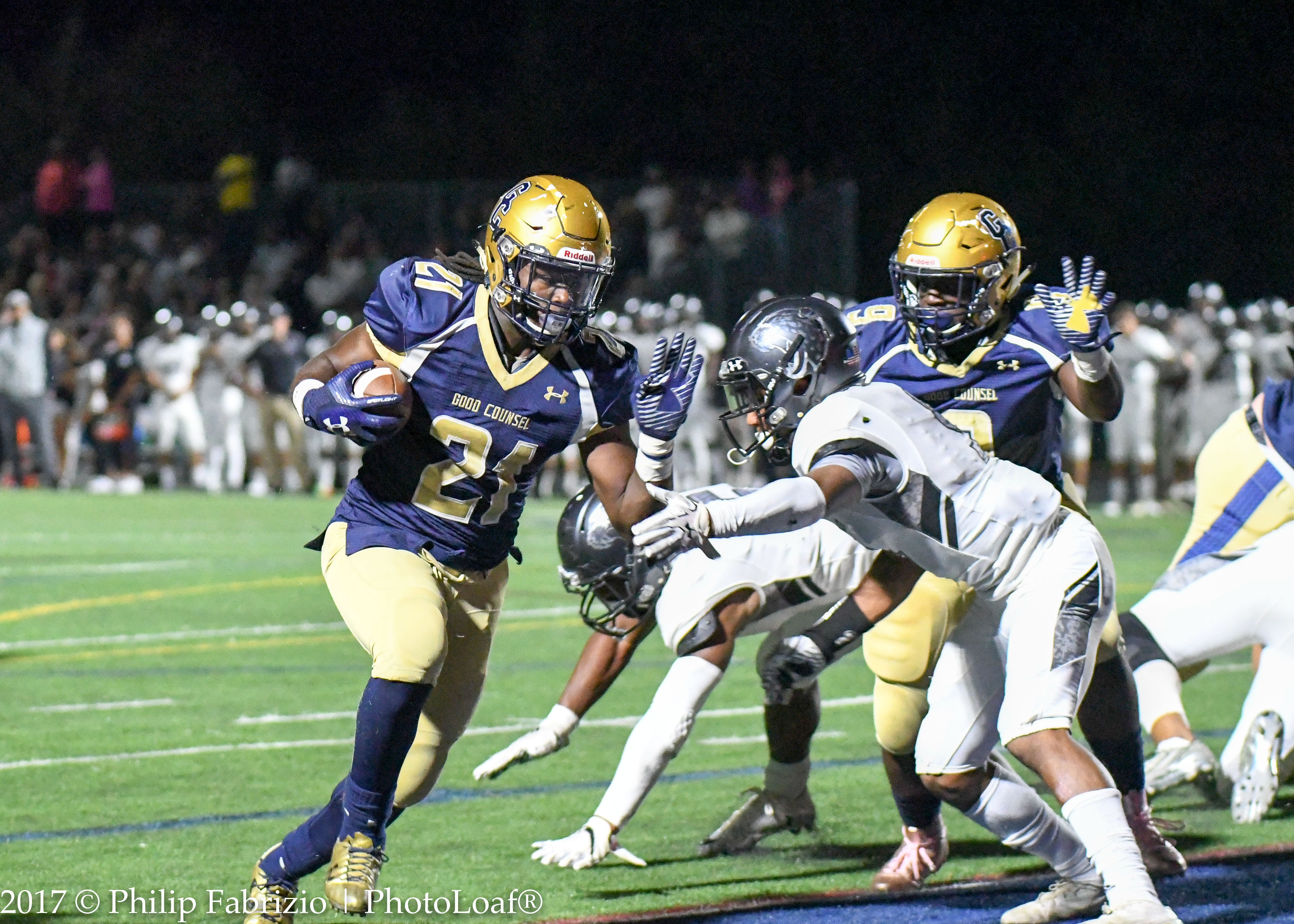 Good Counsel Powers Over Northwest, 58-21 (PHOTOS)
In what is the final in-county 2017 season football contest between private and public schools, Good Counsel Falcons (4-1) preserves it's #10 ranking in the DMV by powering over Northwest Jaguars (4-1) at 58-21. Good Counsel took advantage of great field position in the first quarter to set the stage for this win.  Good Counsel's special teams locked in on a punt that ended up on Northwest's three-yard line.  Two plays later Northwest's quarterback Chris Craddock was swallowed up by defenders Rocco Francis, Tyler Baylor and Jalen Green for a safety and a 9-6 lead that held until the last of the quarter.  Earlier in that same quarter, Craddock connected with AJ Woods on a 69-yard pass to bring Northwest close, 7 to 6.
Power running was the main event for Good Counsel. Against an improving Northwest defense running backs Tremayne Stott, Latrele Palmer and Sy'Veon Wilkerson found open space and the end zone numerous times during the game for Good Counsel.  At halftime the Falcons led 23-6.
The second half was more of the same, field position and running for Good Counsel.  Northwest, for its part responded in the third quarter using its talented receiving corps like Alphonso Foray and the fleet feet of Juwon Farri who returned a Good Counsel kick-off 96 yards.  This would be the closest the Jaguars would come to decreasing the deficit which at the end of the third was 37 -21,  Good Counsel.
The game stretched for about nine minutes into the fourth quarter when after Ethan Arias, Good Counsel's fourth running back to score, made it 58-21 and the clock ran down from that three-minute mark and Northwest took its first defeat of the season.
For both teams the challenge of this mid-season game was to prepare them for the beefy part of their schedules.  Good Counsel and St. John's face off next week as the short Washington Catholic Athletic Conference season begins.  St. John's (2-2), ranked number five in the DMV, is smarting from two losses to highly ranked California teams and will be looking to make a statement with this match up next week.
Northwest must look forward to a future match up with Quince Orchard and get themselves in position for the Maryland Public Secondary Schools Athletic Association 4A playoffs.  The game against the Falcons was good preparation for what they could meet down the road should they make the playoffs.
Photos below
All photos 2017 © Phil Fabrizio | Photoloaf® for MCM