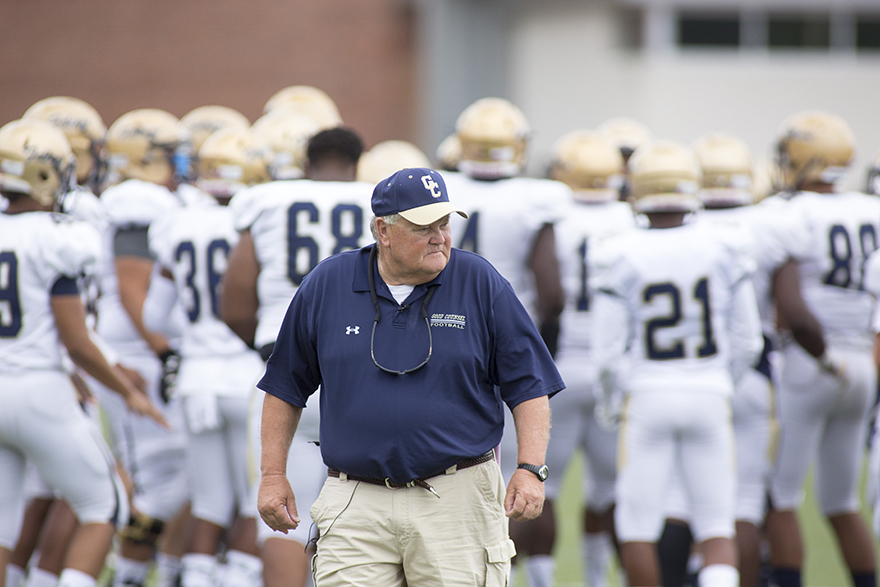 Good Counsel's Bob Milloy Retires from Coaching Football, Most Football Wins of Any Coach in Maryland
Our Lady of Good Counsel High School's football coach, Bob Milloy, is retiring.
According to a news release, Milloy career spans 47 years and ends with 405 wins, the most of any coach in the history of high school football in Maryland. He started coaching JV football at DeMatha High School in 1967. Walt Whitman High School was his first stop in Montgomery County, followed by successful stints at Springbrook High School and Sherwood High School. His teams have won a record eight Maryland State Championships. Four of his county teams finished their season ranked number one by The Washington Post.
For the last sixteen years, Milloy has directed the football program at Good Counsel in Olney. He led Good Counsel to four consecutive WCAC Championships from 2009-2012 finishing number one in The Washington Post each of those years. The undefeated 2011 team earned a number four national ranking by ESPN. His winning percentage at Good Counsel is 78 percent with a record of 142-41. His teams played in the WCAC championship game 11 times. Ten of his 16 teams were ranked in the top ten at the end of the season by The Washington Post.

Milloy shared his retirement news with Good Counsel players on Wednesday.
"It was an honor to play for such a legendary coach with over 400 wins," said senior Josh Paschal. "Not many people can say that. It was a blessing to be coached by him."
"I learned a lot while being one of his players," said senior Nassir Watkins. "To get the perspective of someone who has been doing this for so many years, someone who knows what it is like to have success, just molded me into the player I am today."

Throughout his career, Milloy has received many honors. The Pigskin Club of Washington DC named him, "Coach of the Year" in 1981, 1990, 1996, and 2007. He was honored by the Touchdown Club of Washington, DC as "Coach of the Year" in 1980, 1986, 1995, and 2012, as well as "Coach of the Decade 1990." He is a member of the DC Sports Hall of Fame, Maryland High School Football Coaches Hall of Fame, National High School Football Coaches Hall of Fame and the Springbrook High School Hall of Fame. Milloy completes his career ranked number 16 in the United States on the all-time win list.
After 47 years and 405 wins, Coach Bob Milloy has announced his retirement. https://t.co/LSxMSOmrsL pic.twitter.com/68bNWVy7B2

— Good Counsel (@OLGCHS) February 16, 2017
Milloy told his team Wednesday afternoon: "That's an emotional moment. If I knew they liked me that much, I never would have retired."

— AllMetSports (@allmetsports) February 15, 2017
STORY: Longtime Good Counsel football Coach Bob Milloy retires after 47 years, 405 wins https://t.co/lsrYvRF2Y8 pic.twitter.com/hzXsgR9JFS

— AllMetSports (@allmetsports) February 15, 2017