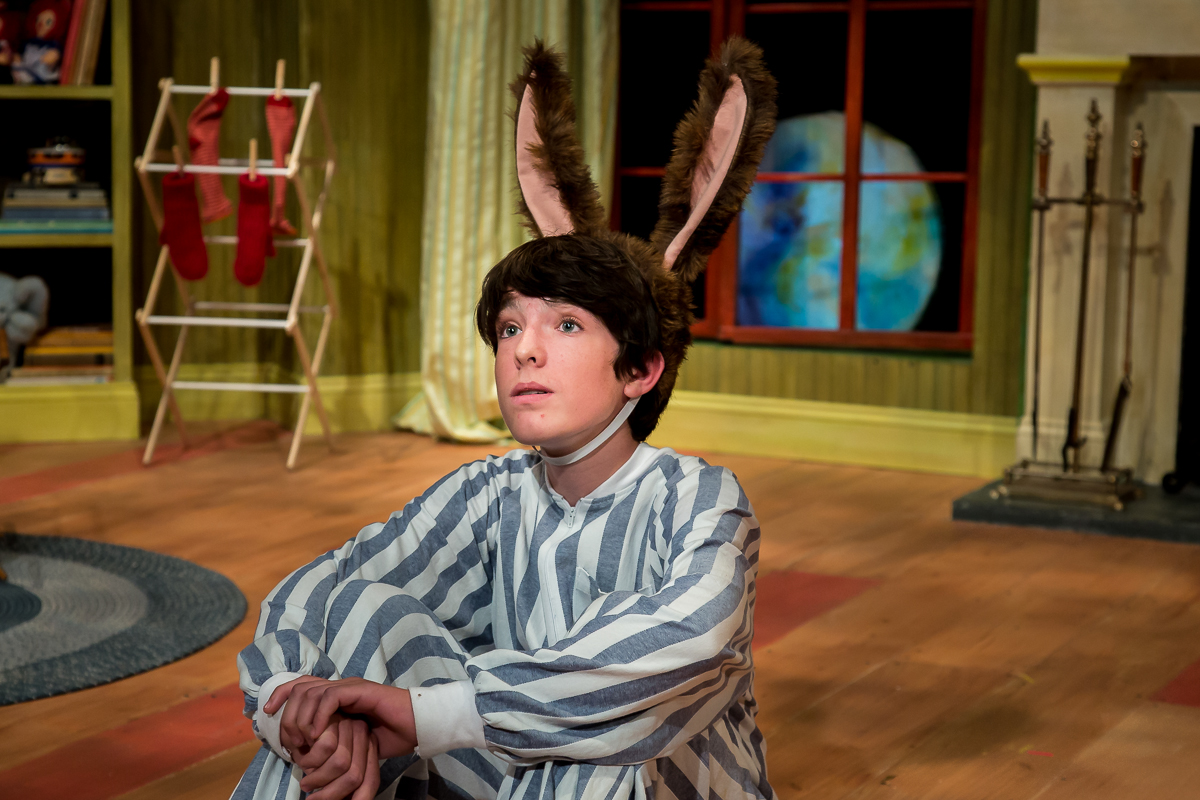 Goodnight Moon at Adventure Theatre (photos)
Goodnight Moon runs Sept. 20 through Oct. 27 at Adventure Theatre in Glen Echo Park. This children's musical is based on the book by Margaret Wise Brown. Goodnight Moon is directed by Roberta Gasbarre, and features Anissa Hartline as the Little Old Lady Whispering Hush in addition to Adventure Theatre MTC's youth performers as the Bunny and his friend Mouse. Goodnight Moon tells the story of a Little Old Lady trying to get a bunny to go to sleep at bedtime. The humorous antics of a very nocturnal bunny, his magical room, dancing bears, and a red balloon bring to life this endearing children's book.
Tickets are $19 and may be purchased online at www.adventuretheatre-mtc.org or by calling 301.634.2270. Appropriate for all ages.
Goodnight Moon Production Photos | Mike Horan
Performances of note:
Pajama Party– Sept. 20 at 7 p.m.
Sensory/Autism Friendly Performance- Oct. 19 at 2 p.m.
American Sign Language Performance – Oct. 5 at 2 p.m.
Cast (In Alphabetical Order)
Colin Cech – Bunny – Red Cast
Jake Foster – Bunny – Green Cast
Maya Brettell – Mouse/Bear/Dish
Anissa Hartline – Old Lady Whispering Hush/Cow
Dorea Schmidt – Cat/Bear/Star Princess/Puppeteer
Samuel Edgerly – Dog/Tooth Fairy/Bear/Puppeteer
Mary Beth Luckenbaugh – U/S – Old Lady/Cow/Cat/Bear/Star Princess/Puppeteer
Chris Rudy – U/S – Dog/Tooth Fairy/Bear/Puppeteer
Caroline Coleman – U/S – Mouse/Bear/Dish
Production Crew
Roberta Gasbarre – Director
Tyler Herman – Asst. Director
William Yanesh – Music Director
Michael J. Bobbitt – Choreographer
Deborah Wheatley – Set Designer
Frank Labovitz – Costume Designer
Andrea "Dre" Moore – Props Designer
Matt Reckeweg – Puppet Designer
Jedidiah Roe – Lighting Designer
Neil McFadden – Sound Designer
Will Richardson – Stage Manager
Ashley Chen – Asst. Stage Manager
Pallas Bane – Scenic Charge
John Rose-Caron – Master Electrician