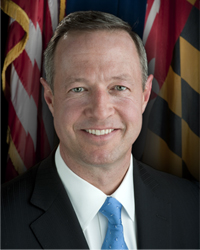 Governor Applauds Passage of Firearm Safety Act
Maryland Governor Martin O'Malley is applauding the final passage of SB 281- The Firearm Safety Act of 2013. The legislation, sponsored by his administration, is described as a comprehensive approach to addressing gun safety and violence prevention in Maryland.
"With today's vote, Maryland has chosen to enact a comprehensive, common sense approach to licensing and gun safety, a ban on the sale of military-style assault weapons and high capacity magazines, and meaningful improvements to mental health treatment and data-sharing – striking a balance between protecting the safety of law enforcement and our children, and respecting the traditions of hunters and law-abiding citizens to purchase handguns for self-protection," said O'Malley. "We appreciate the hard work of Senate President Miller, Speaker Busch, floor leaders Senator Brian Frosh and Delegate Kathleen Dumais, and members of the General Assembly. Together, with a strong coalition of advocates, and the people of Maryland who overwhelmingly support policies to reduce gun violence, we've chosen to take action by advancing the strategies that work to save lives."
Lt. Governor Brown led the O'Malley's administration's community outreach efforts on the Firearm Safety Act. In addition to testifying in support of the proposal alongside the Governor, he held several public town halls around the state where he engaged hundreds of Maryland residents on the need to improve the safety of our communities, strengthen mental health and protect our schools.
"As leaders, we have a responsibility to keep Maryland safe; to prevent senseless violence from threatening our collective potential – violence that takes our children from us too soon and destroys our neighborhoods," said Brown. "The Firearm Safety Act of 2013 is an essential tool in that effort, and makes Maryland a safer place to live, work, and raise a family. Today, with the General Assembly, we took an important step towards making our schools safer and reducing gun violence throughout our state. I want to thank the General Assembly for taking action on this critical legislation, as well as the advocates and community members whose hard work made the passage of this bill possible."
Gun Safety
The legislation includes a ban on assault weapons; a limit on the capacity of a magazine from 20 to 10 rounds; fingerprint licensing requirements on future handgun purchases; and restrictions on possession of firearms and ammunition by persons prohibited by prior criminal offenses and mental health disqualifications.
"From a law enforcement perspective, we know that common sense reforms like requiring licenses to purchase handguns work," said Jim Johnson, Chief of the Baltimore County Police Department, and Chair of the National Law Enforcement Partnership to Prevent Gun Violence. "I applaud Governor O'Malley and the General Assembly for taking these important steps to make Maryland's families safer."
"Governor O'Malley has a history of driving down violent crime by focusing on strategies that work," said Prince George's County State's Attorney Angela Alsobrooks. "I commend the Governor and the General Assembly for focusing on common sense initiatives that will make our families, our neighborhoods, and our communities safer."
Mental Health
State officials said the legislation passed on April 4 provides a comprehensive approach to safeguarding mental health and making improvements to services to ensure that individuals are not deterred from seeking treatment, but those identified as dangerous are prohibited from possessing firearms. The plan includes information sharing among federal and state partners for background checks, improving mental health services in Maryland, and establishing a Department of Health and Mental Hygiene-led Task Force to Improve Continuity of Care for Individuals in the Community Mental Health System.