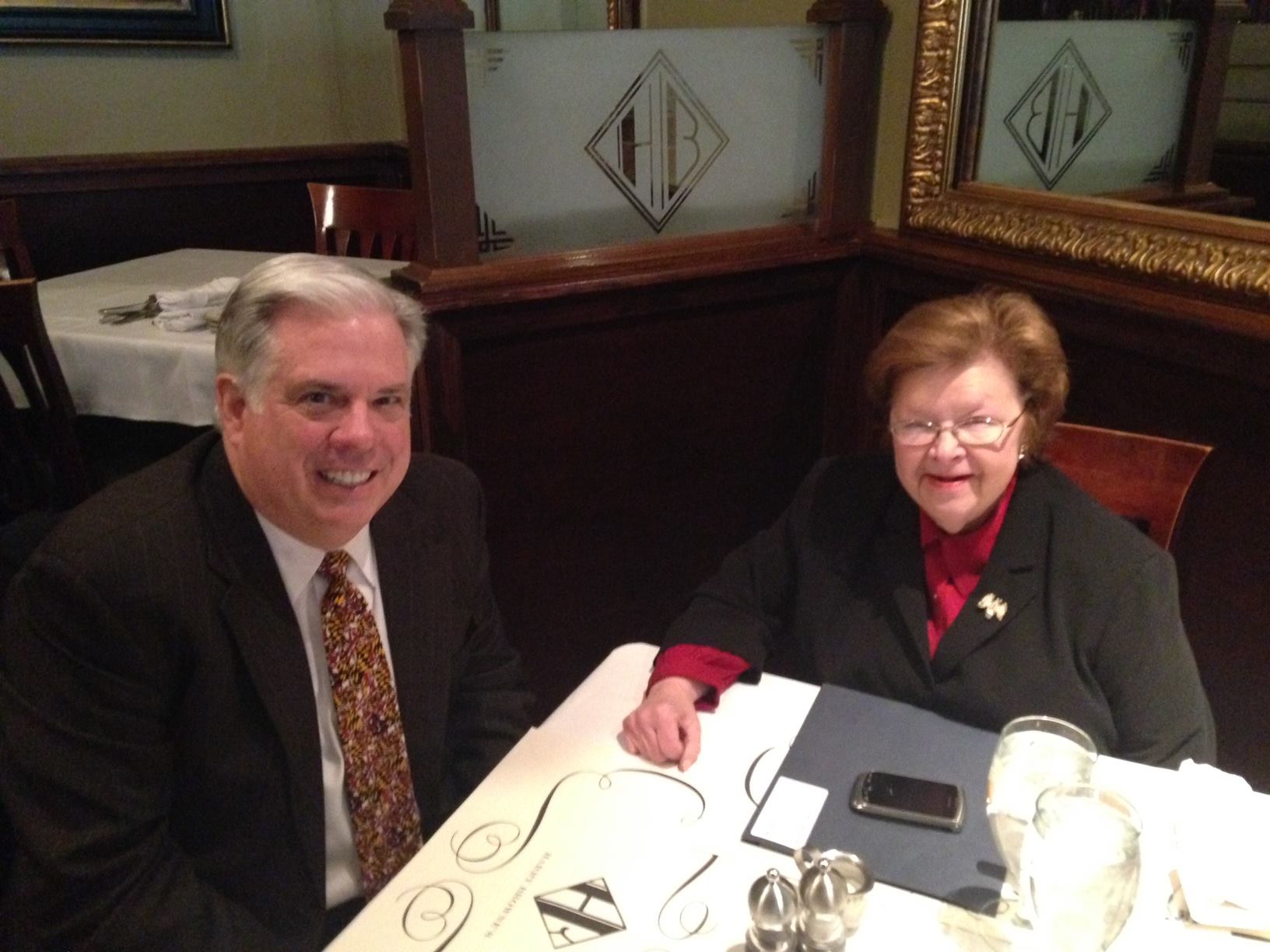 Governor-elect Hogan Meets with Senator Barbara Mikulski (PHOTO)
Maryland Governor-elect Larry Hogan met with senior Maryland Senator Barbara Mikulski on Jan. 14 at Harry Brown's restaurant in Annapolis before he greeted legislators for the first day of the Maryland General Assembly.
"I was very pleased to have the opportunity to meet with Senator Mikulski today, and we had a very productive discussion," said Hogan.
"As the Dean of the Maryland Congressional Delegation, I'm ready to work with Governor-Elect Hogan to support jobs and opportunity for Maryland families," Senator Mikulski said. "We want to be Team Maryland, from the State House to Washington. Once he is sworn in, I look forward to bringing together Maryland's Congressional Delegation with the Governor to move forward with mutually agreed upon priorities for jobs and opportunity. I will continue to fight for the day-to-day needs of Marylanders, working as hard for them as they work for their families each day."
Governor-elect Hogan has met with lawmakers from both sides of the aisle during this transition period. Other Democratic figures the governor-elect has met with include Governor O'Malley, Lt. Governor Brown, Comptroller Peter Franchot, Treasurer Nancy Kopp, Attorney General Brian Frosh, Prince George's County Executive Rushern Baker, Montgomery County Executive Ike Leggett, Frederick County Executive Jan Gardner, former Howard County Executive Ken Ulman, and Baltimore Mayor Stephanie Rawlings-Blake.
Had a great meeting in #Annapolis today with @SenatorBarb! #mdpolitics #mdreps #mddems #bipartisan pic.twitter.com/q94iCpeDnV

— Larry Hogan (@Hogan4Governor) January 14, 2015