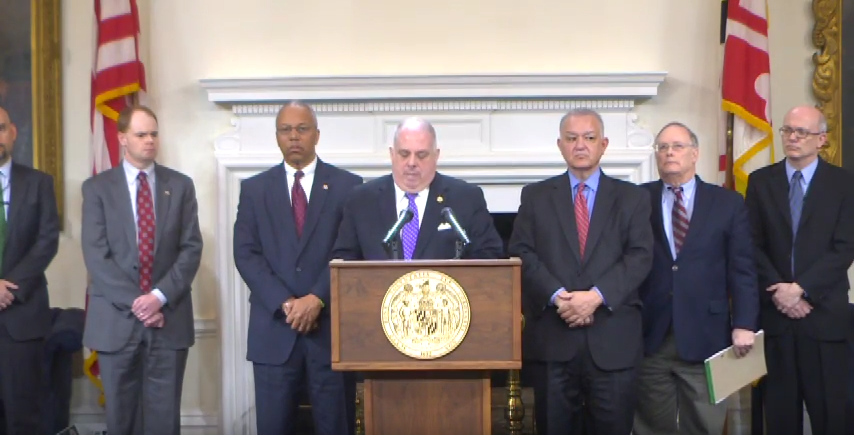 Governor Hogan Presents Fiscal Update (VIDEO & PHOTO)
Maryland Governor Larry Hogan presented updates on Maryland's fiscal outlook, ahead of the Fiscal Year 2017 budget at a news conference held on Thursday.
Hogan's proposed budget fully funds all General Assembly statutory obligations, which accounts for 83 percent of the operating budget. The Hogan administration plans to introduce a bill aimed to control mandated spending increases in years when revenues are down.
You can view a video clip from the news conference below:
According to a news release, Hogan announced that the FY 2017 operating budget will total $17.1 billion and will include a Rainy Day Fund balance of $1.1 billion, along with a cash balance of $440 million heading into FY 2018. The budget will also fully fund all General Assembly's statutory spending.
The news release also noted that in 2015 the Hogan administration faced $5.1 billion in accumulated structural deficits, which included $2.1 billion deficit in 2015 and 2016. The Hogan administration has since lowered the $5.1 billion deficit by approximately 90 percent last year.
"Our administration has said repeatedly that we would bring fiscal restraint back to Annapolis, hold the line on spending, and increase funding for top priorities like education and infrastructure. This year's budget accomplishes all those things," Hogan said. "I hope that it will set the stage for bipartisanship, cooperation, and continued fiscal responsibility," he said.
Hogan also announced plans for providing tax relief to an estimated one million Maryland citizens and more than 300,000 small businesses over five-years totaling approximately $400 million. The governor's proposed budget also includes; $6.3 billion for K-12 education, $314 million for new school construction, $7.3 billion in aid to local governments, and sets the capital debt limit at $995 million.
Following Hogan's remarks, Maryland Democratic Party Executive Director Pat Murray issued a statement:
"Last year, Governor Hogan made deep cuts to public education, the state workforce, and services for the developmentally disabled, and raised college tuition. 'Mandate relief' is Hogan-speak for 'larger class sizes' or 'higher tuition bills.' In the absence of a real plan that the public can consider, the Governor is just making noise."
The governor will submit his Fiscal Year 2017 budget to the General Assembly during the upcoming legislative session.