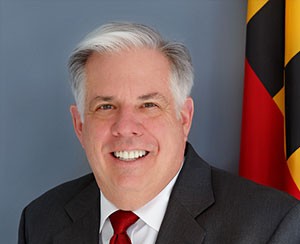 Governor Hogan's State of the State Address (VIDEO)
Maryland Governor Larry Hogan delivered his second State of the State speech today to the Maryland General Assembly. Maryland Public TV filmed the address and you can watch the speech in its entirety, here:
Education and transportation were highlighted in Governor Hogan's address, including; increases in per-pupil spending state-wide and moving forward with a cost-effective version of the Purple Line. The address was also live-tweeted on Governor Hogan's Twitter page.
We'll be live tweeting Governor Hogan's State of the State address today starting at 12 PM. Join in the discussion with the hashtag #SOTS16!

— Larry Hogan (@LarryHogan) February 3, 2016
Together, we are stronger. Together, we can continue on this bold new path. And together, we can and we will change Maryland for the better.

— Larry Hogan (@LarryHogan) February 3, 2016
Let's continue to embrace that middle temperament, which truly defines this great state of ours.

— Larry Hogan (@LarryHogan) February 3, 2016
Let's work together and come up with real, bipartisan, common-sense solutions. #SOTS16

— Larry Hogan (@LarryHogan) February 3, 2016
Let's work together and come up with real, bipartisan, common-sense solutions. #SOTS16

— Larry Hogan (@LarryHogan) February 3, 2016
Let us continue to blaze that new path for Maryland, with the full knowledge that the people of our great state stand strongly behind us.

— Larry Hogan (@LarryHogan) February 3, 2016
We did not let the bitter and rancorous politics that divide our nation divide our state – and we put the people we serve first.

— Larry Hogan (@LarryHogan) February 3, 2016
This past year, we ushered in a new era of bipartisanship in Maryland. One filled with hope and optimism.

— Larry Hogan (@LarryHogan) February 3, 2016
…traits that can sometimes drag down even the most well-intentioned of us. But that has not been our path.

— Larry Hogan (@LarryHogan) February 3, 2016
Pope Francis challenged us to act "without prejudice, without superiority, and without condescension"…

— Larry Hogan (@LarryHogan) February 3, 2016
No milestone was more extraordinary than when I had the honor of being blessed by Pope Francis on behalf of cancer patients around the world

— Larry Hogan (@LarryHogan) February 3, 2016
…It's because I care so much about this state, its people, and our future. #SOTS16

— Larry Hogan (@LarryHogan) February 3, 2016
Last year when I stood before you, I was very direct about the challenges that were facing us…

— Larry Hogan (@LarryHogan) February 3, 2016
As you may know by now, I'm a man who speaks candidly. It's the only way I know how.

— Larry Hogan (@LarryHogan) February 3, 2016
Began the process of stopping urban blight; and we have been fostering improved economic development strategies. #SOTS16

— Larry Hogan (@LarryHogan) February 3, 2016
Invested an additional $135 million to improve the City's transit system; finally closed down the notorious Baltimore City Jail…

— Larry Hogan (@LarryHogan) February 3, 2016
We launched school-to-career opportunities for Baltimore youth; improved educational options for college-bound students…

— Larry Hogan (@LarryHogan) February 3, 2016
…we knew that the work of healing and revitalizing Baltimore was just beginning.

— Larry Hogan (@LarryHogan) February 3, 2016
The entire country was witness to the events that shook Baltimore last April. But when those dark days ended, and peace was restored…

— Larry Hogan (@LarryHogan) February 3, 2016
Our efforts on behalf of the people of this great state must address the challenges facing the city that is at the very heart of Maryland.

— Larry Hogan (@LarryHogan) February 3, 2016
We are moving forward with a more cost-effective version of the Purple Line, as well as a transformation of the transit system in Baltimore.

— Larry Hogan (@LarryHogan) February 3, 2016
We are investing an unprecedented $2 billion into "shovel ready" infrastructure projects.

— Larry Hogan (@LarryHogan) February 3, 2016
…for every Marylander. We cannot afford to leave anyone behind. #SOTS16

— Larry Hogan (@LarryHogan) February 3, 2016
These reforms can help us break the cycle of incarceration, and create an environment of economic opportunity…

— Larry Hogan (@LarryHogan) February 3, 2016
We look forward to working closely with the General Assembly on the recommendations from the Justice Reinvestment Coordinating Council.

— Larry Hogan (@LarryHogan) February 3, 2016
Thank you to @BoydKRutherford and members of the Maryland Heroin and Opioid Emergency Task Force for their countless months of hard work.

— Larry Hogan (@LarryHogan) February 3, 2016
Help us defend that very foundation of American democracy, by finally making Maryland elections fair elections.

— Larry Hogan (@LarryHogan) February 3, 2016
Let's come together in bipartisanship, to protect the most fundamental right of every American: the right to free and fair elections.

— Larry Hogan (@LarryHogan) February 3, 2016
Let 2016 be a year in which we continue to work together to protect our environment.

— Larry Hogan (@LarryHogan) February 3, 2016
Let's set aside political gamesmanship, and work together for the sake of our children. #SOTS16

— Larry Hogan (@LarryHogan) February 3, 2016
On education, we increased spending to record-high levels, adding a total increased investment of $830 million more in K-12 education.

— Larry Hogan (@LarryHogan) February 3, 2016
This past year, we set aside our differences and delivered real results.

— Larry Hogan (@LarryHogan) February 3, 2016
Our most sacred duty as elected leaders is to work tirelessly to improve the quality of life for those we serve…

— Larry Hogan (@LarryHogan) February 3, 2016
Let's work together to reduce mandated spending increases in years when revenues don't keep pace. #SOTS16

— Larry Hogan (@LarryHogan) February 3, 2016
In addition to reining in spending, taxes, tolls and fees, let's rein in how much the state borrows.

— Larry Hogan (@LarryHogan) February 3, 2016
…and belt-tightening all across state government, we have made tremendous progress toward solving our state's fiscal problems.

— Larry Hogan (@LarryHogan) February 3, 2016
By improving our economy, creating jobs, standing up to special interest groups, holding the line on new spending…

— Larry Hogan (@LarryHogan) February 3, 2016
We have had several consecutive, robust quarters – we're adding jobs at one of the fastest rates in the entire country.

— Larry Hogan (@LarryHogan) February 3, 2016
Let's reach across the aisle, and continue to do everything we can to help our state compete in the region and throughout the nation.

— Larry Hogan (@LarryHogan) February 3, 2016
Let's build on that progress, and continue to make Maryland a more competitive, and a more business-friendly state. #SOTS16

— Larry Hogan (@LarryHogan) February 3, 2016
Thanks to your help, Maryland is now open for business. Over the past 12 months, Maryland businesses had their best year in eight years.

— Larry Hogan (@LarryHogan) February 3, 2016
We ask you to join our efforts by reducing or eliminating another dozen fees that are set in statute, saving another $71 million.

— Larry Hogan (@LarryHogan) February 3, 2016
For working families, let's deliver on a popular bipartisan issue and accelerate the Earned Income Tax Credit. #SOTS16

— Larry Hogan (@LarryHogan) February 3, 2016
And which will improve the lives of those who need it most: working families, retirees, and small business owners.

— Larry Hogan (@LarryHogan) February 3, 2016
Let's find those areas where modest and reasonable tax cuts will have the biggest positive impact on our economy…

— Larry Hogan (@LarryHogan) February 3, 2016
We are already delivering $600 million back into the pockets of Maryland's taxpayers.

— Larry Hogan (@LarryHogan) February 3, 2016
For the first time in nine years, working together we adopted a budget that did not include a single tax hike.

— Larry Hogan (@LarryHogan) February 3, 2016
We have made incredible progress, and we have the will and the support of the people solidly behind us. #SOTS16

— Larry Hogan (@LarryHogan) February 3, 2016
I challenged each of us to put aside partisanship and to work together on behalf of all Marylanders, and together we answered that call.

— Larry Hogan (@LarryHogan) February 3, 2016
I am pleased to report that the state of our state is now strong, and getting stronger every day.

— Larry Hogan (@LarryHogan) February 3, 2016
Time and time again over the past year, we have chosen compromise over conflict, and for that I say thank you.

— Larry Hogan (@LarryHogan) February 3, 2016
By working together we have put Maryland on a new path, and we are changing Maryland for the better. #SOTS16

— Larry Hogan (@LarryHogan) February 3, 2016
We were Marylanders with our eyes fixed forward, working together for a better tomorrow.

— Larry Hogan (@LarryHogan) February 3, 2016
Together, we have been tested. But in the face of adversity, we were not Democrats of Republicans looking backward…

— Larry Hogan (@LarryHogan) February 3, 2016
While mindful of the challenges facing us and the uncertainties that we shared. #SOTS16

— Larry Hogan (@LarryHogan) February 3, 2016
A year ago I stood before you, confident in our collective ability to usher in a new era of cooperation and prosperity for Maryland…

— Larry Hogan (@LarryHogan) February 3, 2016