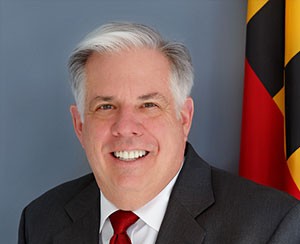 Maryland Governor Larry Hogan Announces He Has Cancer (VIDEO)
Surrounded by his family, Maryland Governor Larry Hogan held a news conference today to announce that he has an advanced form of cancer.
"A few days ago I was diagnosed with cancer," Hogan said. "I will face this challenge with the same energy and determination I've relied on to climb every hill and overcome every obstacle that I've faced in my life."
Hogan said he would begin aggressive treatment and chemotherapy immediately. He said he would continue working for Marylanders but noted that he may miss a few meetings.
"Over the coming months, I'll receive multiple treatments, but I will not stop working to change Maryland for the better," Hogan said.
According to Hogan, he has been diagnosed with Non Hodgkins Lymphoma.
When asked what stage the cancer was, Hogan said it was at least advanced stage three and may be stage four.
Throughout the news briefing, Hogan kept his sense of humor noting that he was determined to beat the cancer. He joked that his odds of beating the cancer were better than the odds he faced when he was running for governor against Anthony Brown.
On his Twitter account, Brown wished Hogan "a swift recovery as he fights this terrible disease."
When asked how he felt, Hogan said he did not have many symptoms and said that he felt pretty well. According to Hogan, he recently missed some meetings in order to undergo medical tests that were important in the diagnosis of his cancer.
As for Lt. Governor Boyd Rutherford, who attended today's announcement, Hogan said Rutherford would be busier than ever.
"My thoughts and prayers go out to my friend Governor Larry Hogan and his family as he takes on this next challenge," Rutherford said on his Twitter account.
Today, marks the fifth month of Hogan's term as governor.
My thoughts and prayers go out to my friend Governor @LarryHogan and his family as he takes on this next challenge. https://t.co/1hmcXxzyCU

— Boyd Rutherford (@BoydKRutherford) June 22, 2015
Wishing @LarryHogan strength and a swift recovery as he fights this terrible disease. You and your family will be in my prayers, Governor.

— Anthony G. Brown (@BrownforMD) June 22, 2015
I've relied on to climb every hill & overcome every obstacle that I've faced in my life. (3/3)

— Larry Hogan (@LarryHogan) June 22, 2015
I will face this challenge with the same energy & determination (2/3)

— Larry Hogan (@LarryHogan) June 22, 2015
Thank you to the countless thousands who have wished me well as I begin this journey to fight cancer. (1/3)

— Larry Hogan (@LarryHogan) June 22, 2015
Maryland Gov. Larry Hogan announced that he has "a very advanced and very aggressive" form of cancer http://t.co/HiQyeJHGLi

— Washington Post (@washingtonpost) June 22, 2015