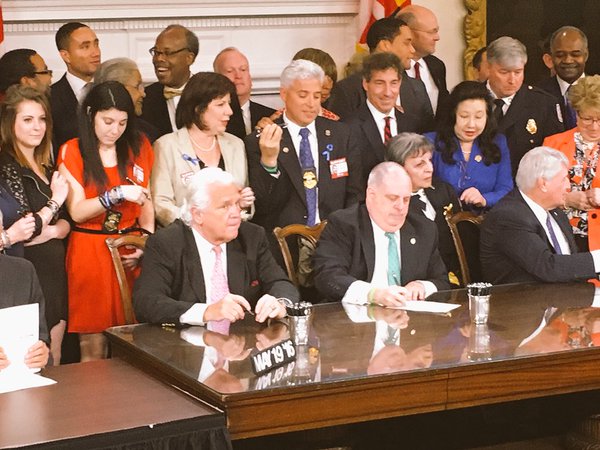 Governor Larry Hogan Signs Noah's Law (PHOTO & VIDEO)
Maryland Governor Larry Hogan held a bill signing ceremony at the Maryland State House in Annapolis on Thursday to sign a series of bills into law. The Governor was joined by Senate President Mike Miller, Speaker of the House Michael Busch and members of the Maryland General Assembly.
The family of Officer Noah Leotta also joined the Governor for the signing of SB 945, also know as Noah's Law. The law requires the use of ignition interlocks for convicted drunk drivers.
"I was proud to strongly support Noah's Law, and I want to thank everyone involved who helped get it passed," said Governor Hogan. "This, along with the bill we are signing to dedicate a portion of Maryland Route 924 as Heroes Highway, is an important way to honor the incredible legacy and sacrifice of our brave heroes. I am also incredibly proud to sign the Justice Reinvestment Act today, which will help transform and modernize our state's criminal justice system."
You can view a list of all 144 bills that Governor Hogan signed into law today online.
Related: