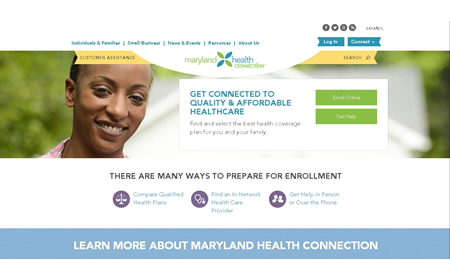 Governor, Lt. Gov. Release Joint Statement on Health Board Vote
Maryland Governor Martin O'Malley and Lt. Governor Anthony Brown issued the following joint statement on the Maryland Health Benefit Exchange Board's recommendation to upgrade the exchange's IT system: 
"Thanks to the incredible hard work and commitment of hundreds of consumer assistance workers, brokers, carriers, Exchange staff, and many other stakeholders — Maryland exceeded our goal and has so far enrolled more than 295,000 people during this first open enrollment period. That means a lot to these families who have the security and peace-of-mind that comes with having quality, affordable health care. And it means a lot for the long-term affordability of our healthcare system.
The hard work of getting so many Marylanders enrolled was made even tougher because Maryland's health exchange website did not meet expectations — a source of great frustration, especially for those who were trying to obtain healthcare for the very first time.
Our Administration has not succeeded at every first try, but we have never given up. We learn from both success and failure. The vendors we hired failed to build us the platform they promised. So now that the first open enrollment period has ended, we've decided to upgrade our website.
The Health Exchange Board selected a partner with a proven track record to upgrade our website using a platform that has an established record of success. We're confident that this partner will have the website upgraded by the time the next open enrollment period begins in November.
The Maryland Health Exchange is much more than a website. It's the board, policies, connector entities, call center, other consumer assistance networks, staff, and many other aspects that have allowed the state to exceed its enrollment goal despite the IT challenges. All of this will all remain in place. The website is one piece of the Exchange, and that piece is being upgraded."
Click here to see the memo to the Maryland Health Benefit Exchange Board of Directors: http://governor.maryland.gov/documents/033114healthitmemo.pdf.
#