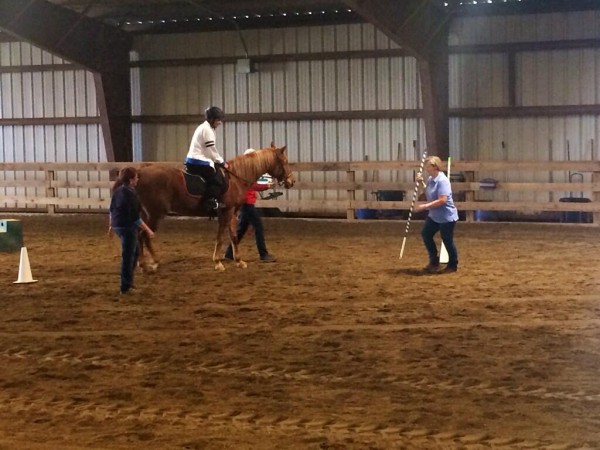 Great and Small Gives Hope Through Therapeutic Riding (Video)
With the help of horses, students at Great and Small in Boyds are learning how to walk again through therapeutic riding lessons led by specially trained instructors.
MyMCMedia's Valerie Bonk visited the farm in Montgomery County to see the students and horses in action.
He traveled with his family from Ecuador to the United States when he was a teenager.
Born with Cerebral Palsy, David Godoy and his family were in search of therapies and medical treatments to help him walk and navigate his daily life.
Therapeutic riding was his ticket to improvement.
"Now I'm able to sometimes be walking around my house without using braces or without using my sticks around my house. Before I couldn't do that," said David Godoy, a student at Great and Small.
David is one of more than 50 students who take therapeutic riding lessons each week at Great and Small, using the movement of the horse to train and strengthen their muscles.
"The motion that the person's pelvis goes through when they're sitting on a horse is the same motion that your pelvis goes through when they're walking so for someone with a physical need," said Rachel Neff, Center Director at Great and Small. "You're strengthening the same muscles and getting the same sensory input as if you were walking in a balanced fashion."
The non-profit program operates on property donated by the County and is dependent on donations and rider fees to keep running. The horses themselves are either donated or on lease from their owners.
Therapy sessions are run with the help of close to 100 volunteers who spend time preparing and assisting riders during lessons.
"It's absolutely the most rewarding thing I think I've ever done," said Linda Aitken, a volunteer at Great and Small. "I've assisted with kids where at first you have to hold them in the saddle and toward the end they were sitting up straight, they were able to stay in the saddle and all you had to do was keep an eye on them maybe put a hand on their foot, something like that but it's extremely rewarding."
"It's such an amazing job to get to see all of these transformations," Neff said. "We have parents who come in and say 'my kid is walking now and they weren't walking until we started riding' so it's incredible"
For Godoy, he's grateful for the opportunity to try something new and grow in the process.
"This has been a joyful experience for me because I didn't have the same opportunity in my country," Godoy said.
For more information, visit the Great and Small website here.