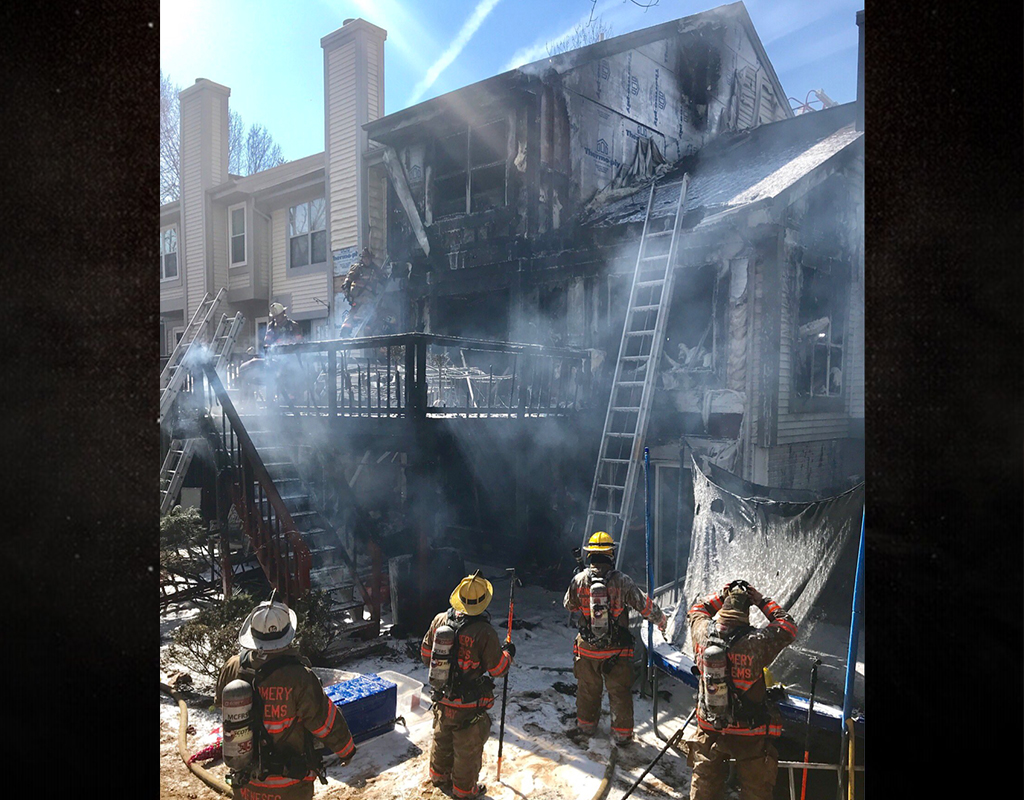 Grill Fire Displaces 'Dozens' in Wheaton Area Neighborhood
A fire in the Wheaton area has displaced "dozens," according to Pete Piringer the spokesperson for Montgomery County Fire & Rescue. Piringer said on Twitter that firefighters responded to calls of a fire at a townhouse in the Ingram Terrace neighborhood at around 2:15 p.m. Thursday afternoon.
Piringer said that the fire was caused by a "propane grill … on [the] patio next to [the] house."
Although Piringer said there were no injuries, seven of the occupants of the townhouse will be displaced, as well as "several" of their neighbors.
Piringer said that all pets are accounted for, including a pet lizard, who firefighters rescued and helped reunite with the owner.
According to Piringer, the damage from the fire is "significant."
Take a look at Piringer's tweets for more details about the fire.
1500blk Ingram Terrace, propane grill fire on patio next to house

— Pete Piringer (@mcfrsPIO) March 14, 2019
Update – Ingram Terrace, propane grill fire on patio next to house, House on fire, second alarm requested https://t.co/zKDM4cEJHl

— Pete Piringer (@mcfrsPIO) March 14, 2019
Update – Ingram Ter, Wheaton, EOR TH, 2-Alarm, fire under control, no injuries, all pet animals accounted for, significant damage, 7 occupants from TH of origin & several neighbors will be displaced pic.twitter.com/oi1682MTLD

— Pete Piringer (@mcfrsPIO) March 14, 2019
ICYMI (~215p) 2-Alarm, Ingram Ter, EOR TH, ~dozen people displaced, no injuries https://t.co/KC1SCw6Spd

— Pete Piringer (@mcfrsPIO) March 14, 2019
Update – Initial dispatch ~215p, 1524 Ingram Ter, EOR TH, heavy fire upon arrival, several families will be displaced, BTW @mcfrs retrieved/rescued a pet lizard (evaluated & ok) which as been reunited w/ owner/occupant pic.twitter.com/cipuHDfHgd

— Pete Piringer (@mcfrsPIO) March 14, 2019
Update – Ingram Ter, Wheaton-Glenmont, 2-Alarm TH fire; Cause, improperly discarded smoking materials; Area of Origin, outside IAO rear deck; Damage, total $600K, incl $425K structure & $100K contents (TH of origin), $75K (collateral damage); pet🦎rescued; ~10 people displaced pic.twitter.com/IPNKzSTkgz

— Pete Piringer (@mcfrsPIO) March 14, 2019
Reminder @mcfrs crews plan to return/re-visit the Glenmont neighborhood tomorrow 3/15 as part 'After the Fire' initiative ….. 2-Alarm Townhouse Fire which displaced about 1 dozen residents, no injuries, significant damage, cause-under investigation pic.twitter.com/Hdx502QFSH

— Pete Piringer (@mcfrsPIO) March 14, 2019