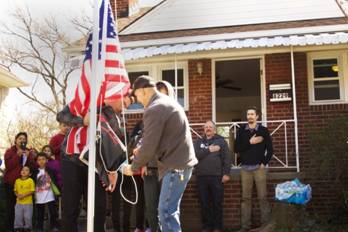 Habitat for Humanity Metro Maryland Celebrates Repair of Local Veteran's Home (PHOTO)
Habitat for Humanity Metro Maryland (HFHMM) held a celebration event in honor of completing a major repairs of a local Veteran's home on March 26.
HFHMM repaired the home of Fred Nordhorn, who served a tour in Germany during the Vietnam war. Nordhorn's home is located in Hyattsville on New Hampshire Ave.
According to a news release this was the organization's most "extensive" repair to date. Repairs to the home included; replacing windows, doors, floors, cabinets, appliances, hot water heater, furnace, and air conditioning unit.
The ceremony ended with Nordhorn raising the American flag with volunteers.
When asked what he was most excited about, Nordhorn said, "Honestly, enjoying a stove, there hasn't been a working stove in this house for over ten years," the news release stated.
For more information about HFHMM, visit the organization's website.