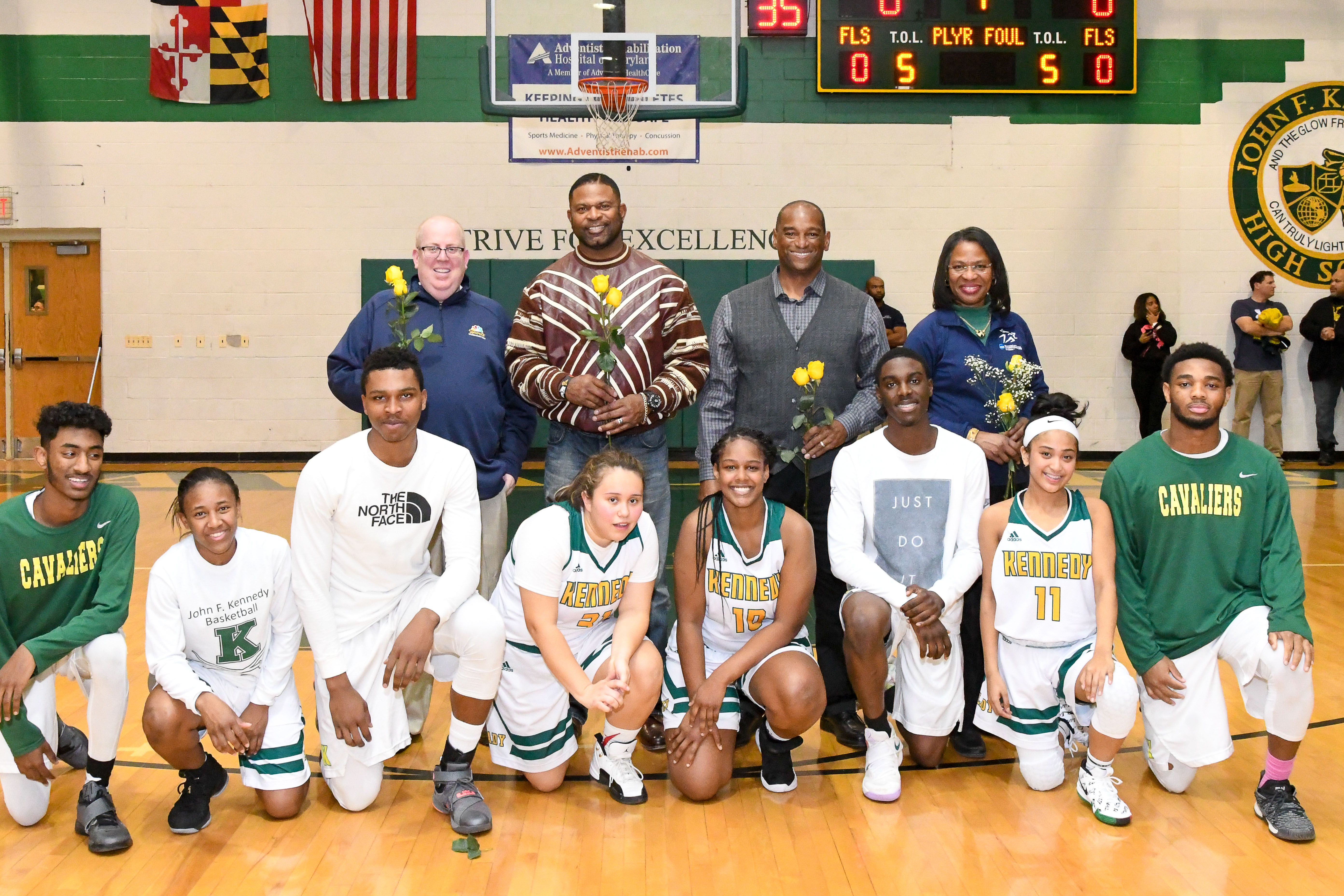 Hall of Fame Night at John F. Kennedy High School
Athletic Director George Awkard's return to his alma mater, John F. Kennedy High School, has brought along a few new wrinkles.  One such wrinkle is the first inductees in JFK's Hall of Fame (HOF) for 2017-2018. Four alumni graduates were introduced on Friday evening to a nicely packed Kennedy Gym between the Girls and Boys Varsity games against Damascus.
Thea LaFond ('11), Erik McMillan ('83), Curtis Pride ('86) and Eric Shuster ('92) was on Saturday, February 10, 2018 officially inducted at a dinner in their honor.  LaFond, a Triple Jumper at the Rio de Janeiro Olympics 2016 is a 2015 graduate of the University of Maryland and is now on staff at Kennedy. Erik McMillan, after six years in professional football (Jets and Eagles) works near Atlanta in the public sector and is a high school football coach.
Curtis Pride played 23 years in professional baseball (Mets, Tigers and Braves) and is head baseball coach at Gallaudet University.  He also works for the MLB commissioner as an ambassador for inclusion of people with disabilities.  Lastly, Eric Shuster works locally for NBC Sports as a Director, Strategic Planning and helps out the Kennedy community as well as provides funding for MCPS athletic facilities through the Elaine Shuster Foundation.
Awkward loves the Kennedy community and seems to have reconnected with his home after a number of years as Athletic Director at Quince Orchard.  Currently, the Kennedy Boys Varsity team has an 8-game winning streak that began shortly after the new year.  The Cavaliers are 13-8 thus far this  season and look to be a serious contender in the upcoming MPSSAA 4A West playoffs after having defeated both Clarksburg and Paint Branch in their current run.
The Lady Cavaliers, whom I had an opportunity to watch while waiting on the HOF ceremony, has some ground to cover and this year may be more rebuilding than dominating.
Pictures from this past Friday night's event at Kennedy follow:
All images copyrighted 2018 © Phil Fabrizio | PhotoLoaf® for MCM