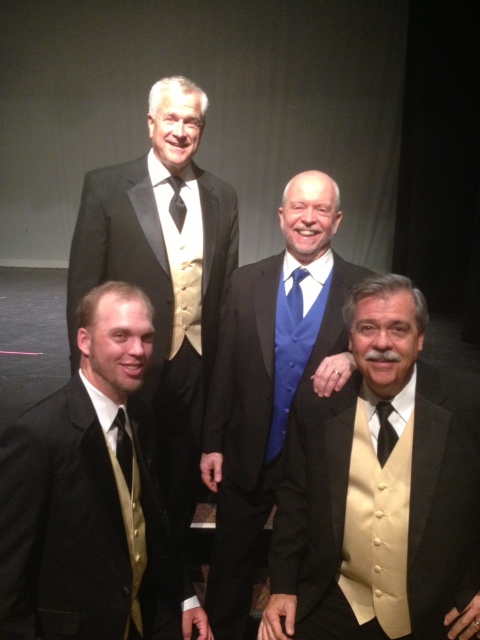 Handsome Reward
Most barbershop choruses have embedded quartets that perform with the chorus and on their own.   Singing in a chorus requires some natural gifts, and some skill and training.  Singing in a quartet is a step beyond, requiring skill plus the commitment to spend hours every week refining your craft.
Harmony Express is fortunate to have two elite quartets, Handsome Reward and the Glen Echoes.  I'll talk about the former today, and give an account of the Glen Echoes in a future post.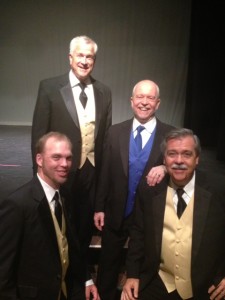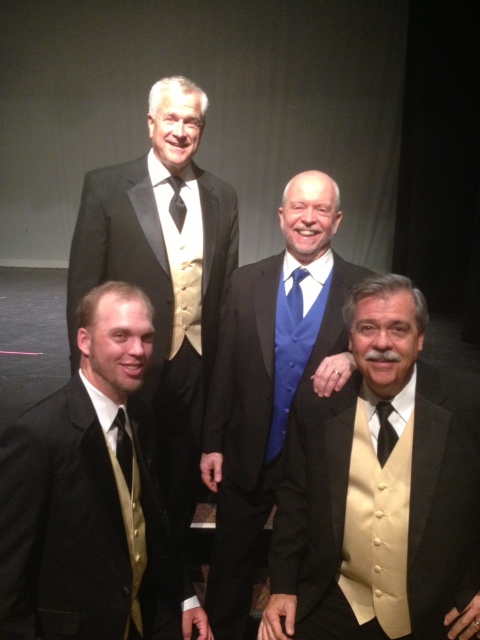 Handsome Reward was formed just three years ago and is on a rapid rise.  Last year, the quartet finished 11th in International Prelims, a Barbershop Harmony Society contest that serves as gateway to performance at the elite level.   The men are currently preparing for another round of competition.
Mike Edison, lead, is Harmony Express' founder and first president, so his commitment to a cappella singing in the barbershop style obviously runs deep.  The owner of his own tech company in Frederick, Mike sings with two choruses, besides his appearances with Handsome Reward.
Dave Bonnell, tenor, is a State Farm agent in real life.  He is Mike's neighbor, and the two discovered a joint love for singing over the back fence.  Dave is Harmony Express' Vice-President for Chapter Development, which means "chief recruiter."  So far in 2014, he has signed up three new members, and is working with four other interested candidates.
Vincent Lynch, baritone, is the chorus' Vice-President for Music.  An accomplished graphic designer and carpenter, Vince also serves as webmaster with responsibility for maintaining our website, Harmony-Express.org.   He built the box risers Harmony Express uses in its shows, literally supporting the chorus from the bottom up!
Mike Gilmore, bass, is an "import" from the Alexandria Harmonizers.  (It's routine for distinguished quartets to draw members from more than one chorus.)  Mike and Mike first met when doing The Music Man for Potomac Theatre Company.  He supports his barbershop habit by working in learning and development at the U.S. Department of Energy.
That's Handsome Reward.  Learn more on the quartet's Facebook page, https://www.facebook.com/HandsomeRewardBarbershopQuartet.