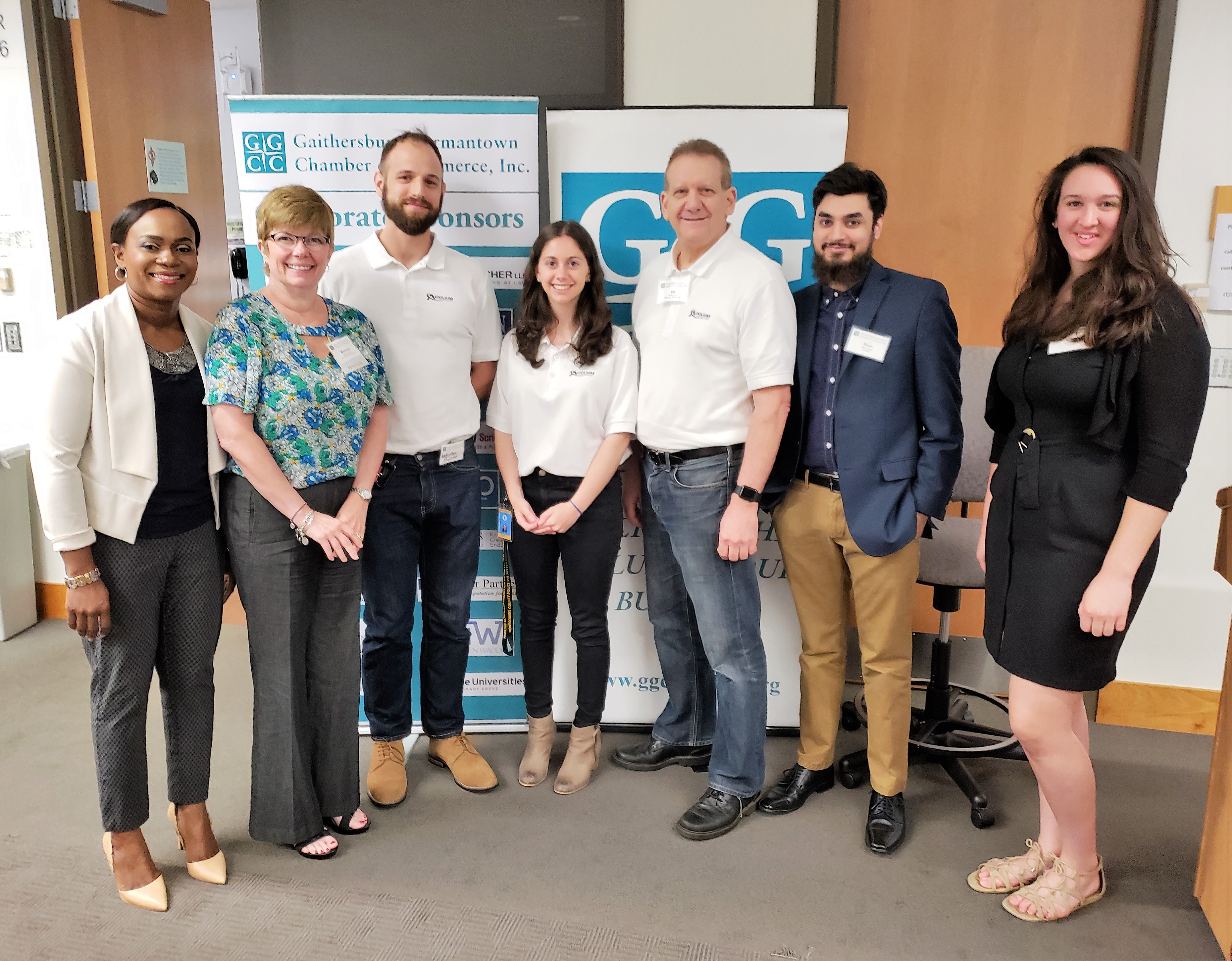 What Happens on Social Media Stays on Google Forever!
Business networking is not about collecting contacts, it's about being engaging and planting relations. On Wednesday, June 13, the Gaithersburg-Germantown Chamber of Commerce (GGCC) members and guests learned social media is a lot like that. The key to social media is to listen, engage, and build relationships.
The Chamber held its "Let's Get Social" Seminar at Johns Hopkins University Montgomery County Campus affording attendees the opportunity to discover how to best use social media marketing, to connect with customers, drive traffic, and increase sales.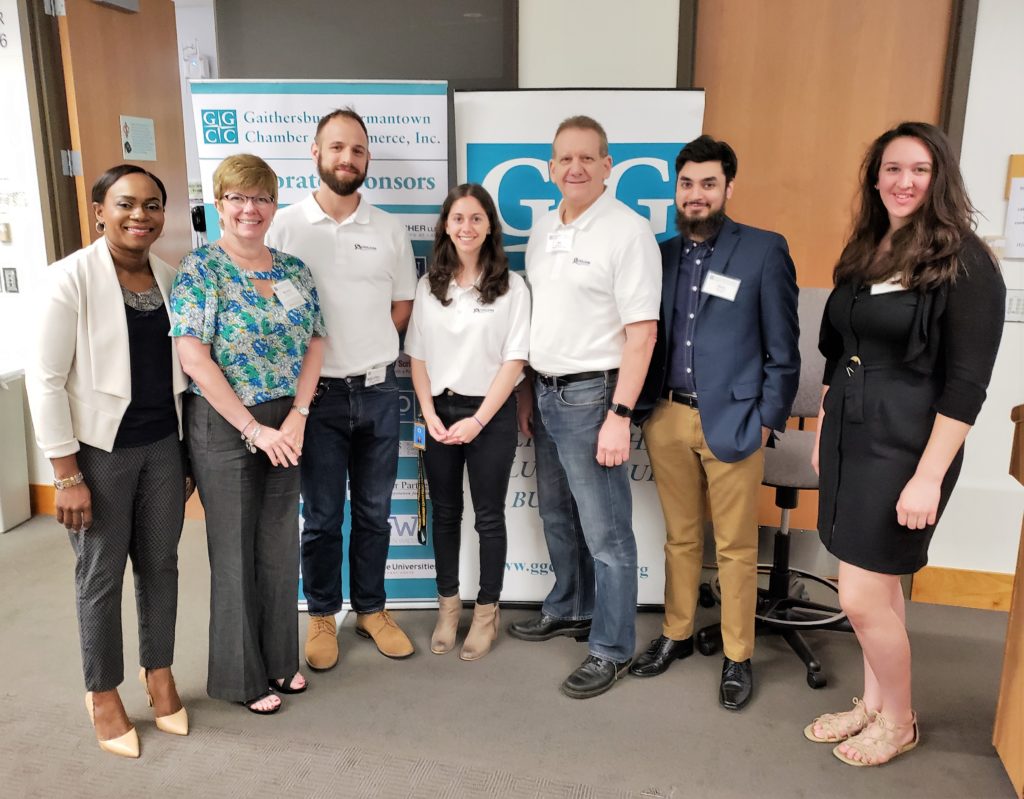 "I found the session to be an eye-opening experience and look forward to implementing many of the items discussed," said Sherry Wilcox, Office Manager, Smokey Glen Farm Barbequers, Inc.
We redefined what social media means for business and brand. Experts from Auxilium Technology and Ironistic taught the latest tactics and shared social tips.
The presentation from Shah Faridi and Kayla Waring of Ironistic showed how to take your social media strategy to the next level. Entitled "The Latest Trends & Opportunities for Business in Today's Digital Marketplace", attendees were able to take a look at YouTube, Twitter, Facebook, Instagram and LinkedIn; experience the ever-changing social media landscape; and get insider information on the latest trends.
"I was able to absorb a ton of info", said Alexis Andrukat-Price, Marketing Manager, Maryland SoccerPlex.
Did you know that as of February, 2017 there were 65 million business pages on Facebook? That 481,000 tweets are sent, 2.4 million snaps are created, 18 million text messages, and 174,000 are scrolling on Instagram in 60 seconds, 60 seconds!
Ironistic taught us that LinkedIn is a place you definitely need to be. Ninety-four percent of Business-to-Business (B2B) marketers now distribute content via LinkedIn, more than any other network. And eighty percent of social media B2B leads come from LinkedIn.
Faridi & Waring also suggested that every business use video, stating "87% of online marketers use video content". They continued stating "the average adult consumes more than five hours of video per day". Instagram alert! Did you know photo engagement has increased to 46.4%? The average engagement for video posts have increased by 53% (2016 vs. 2017). On Twitter, 82% of users watch video content on Twitter.
They also stressed the importance of 'engaging with your followers, establishing & maintaining a clear & consistent voice and to measure your success'.
The Ironistic team was followed by Ed Samuels, Chief Technology Officer, of Auxilium Technology. He presented "How Can I Use Social to Move Up in SEO Rankings?"  Samuels discussed search engine optimization (SEO) for social media marketing and taught how to design and market profile pages that are unique to a business.
"SEO & Social can no longer be separated," Samuels said. "They need to work together."
He shared the "4 Pillars for SEO": please users, satisfy search internet, build your website, and optimize and amplify.
Did you know that the folks that are referred to your website – by referrals -, 36 percent of them click on your logo to get back to the homepage? Is your logo anchored correctly? This is just one of the many tips and tricks Samuels shared at the Chamber's "Let's Get Social" seminar.
Most importantly, he said "local SEO matters more now than ever before".
"Thanks so much for the wonderful seminar", said Melanie McAuley, Assistant Property Manager, The Daley at Shady Grove "It was a pleasure to attend!"
Attendees left the JHU campus feeling empowered to make better digital decisions and had an immediate action plan to implement.
The event sponsors were Johns Hopkins Montgomery County Campus and M&T Bank.
This seminar is a part of the Chamber's new annual series entitled "REAL" Seminars. "REAL" is "real" solutions for "real" problems. The GGCC is active in providing business-to-business networking opportunities throughout the year: a collective voice in local, regional, and state legislative affairs, professional development opportunities and other services that enhance the business environment.
The GGCC is located at 910 Clopper Road, Suite 205N, Gaithersburg, MD. To learn more about the GGCC visit us at www.ggchamber.org.
Find us on Facebook at: http://www.facebook.com/pages/Gaithersburg-Germantown-Chamber-of-Commerce/64339954570. Or on Twitter at: @GGCCNEWS.