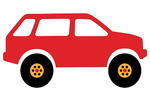 Happy SUVersary
My Dearest Yukon,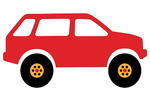 They said we would never last. We were headed for a few good years at best, if statistics were any indication.
On paper, we were a match made in heaven. I had three boys under five years old. You had three rows and a rear that would make any mother swoon.
When I think about the junk I got in that trunk. I just can't take it.
The reality of our partnership on the open road was rough.  Bumps, dents and kids wreak havoc and test loyalty.
Oh, we each had disappointments. I am sure you never imagined the puke, crumbs, close calls and temper tantrums that we encountered. Or the times you needed attention and I kept putting it off. I was too busy or too overwhelmed to fit your needs into my schedule.
You in turn were often unreliable. Without a word of warning, you simply would not be there for me when I needed you. Sure, there were probably red flags or indicators but some things you can't cover in a manual. I hadn't counted on that.
I would be lying if I said I never considered trading you in for a younger model.  There were times we were out and about together; I would sneak a look at another and feel guilty.
I was momentarily distracted by a shiny exterior and the thrill of a new adventure. Then I would catch a glimpse of the kids; so comfortable and happy as they watched videos and ate snacks. I would remember all the good times we had.  So, we stuck it out and are still going strong.
Well, not strong exactly. But not completely broken either.
We are both showing signs of mileage. I have gray hair now, you have age spots on your upholstery.  You have seen me at my worst and know my secrets. Like the fact that I have no sense of direction. Or that I talk to myself and other drivers. As long as I can still rev your engine, though, I know we will be alright.
Even after a decade you can take me from 0-60 faster than any of my exes ever could. Whether it's a quick spin or a long slow one, it is a smooth and comfortable ride every time. It's easy to take these things for granted.
Instead, I have penned this letter to show my appreciation as we celebrate our ten years. It is fitting that metal is the designated gift for this anniversary.  You are a steel superhero in my book and a gift to our family.
What the auto gods have brought together, let Carmax not tear asunder.
With unleaded love,
Mo