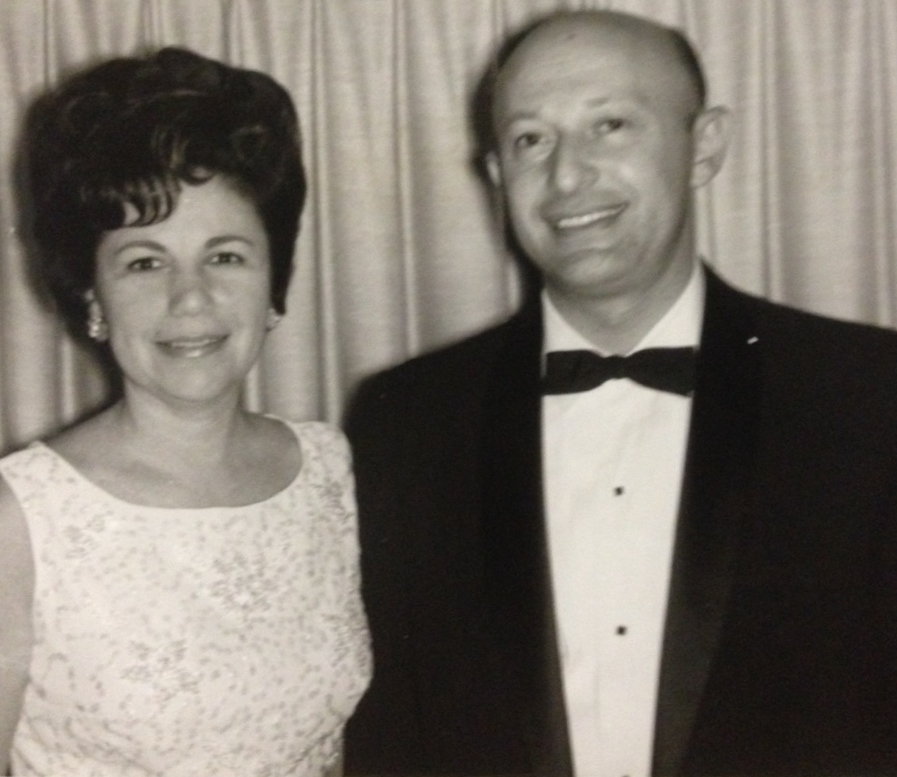 Harry the Poet — Yes, He was That, Too (PHOTOS)
How long do you save old letters and poems from others? (Or emails in today's world.) When I started this blog, several of my dad's friends told me they would look for the poem he'd written in their honor, "if I can find it," they said. Sure enough, I found a copy of their poems in his files. Yes, Harry Zubkoff saved them all — poems he'd crafted for countless friends on a variety of occasions (birthdays, anniversaries, retirements, fundraisers), for submission to publications, and in honor of hundreds of people and events in his workplace, where he was dubbed the "Pentagon Poet Laureate."
I discovered in Harry's keepsakes that he wrote poems as far back as 1945, so it's likely he rhymed even before then. Below are five of the earlier poems.
This first one caught my eye in a pile of yellowed, delicate news clippings, in a folder with various Army memorabilia.
September 1945 – USO Newsletter – "G.I. Journal"
POET'S CORNER
Written by Pvt. Harry Zubkoff
When I was a civilian,
And it seems so long ago
I always used to wonder
Where the soldiers used to go.
And then I used to wonder
If the folks who didn't know
Were doing all they could
To help some G.I. Joe.
The average civilian
Is the same as I was then.
He really doesn't understand
But he wonders now and then.
But there are some civilians,
A special kind I guess,
For whom I call on God above
To cherish and to bless.
They didn't stand and wonder
The way some others do,
If a soldier had a place to go
Or anything to do.
No, they arranged a place,
Where all G.I.s could go;
They arranged a darn good place
And called it USO.
So, I no longer wonder
The way I used to do,
If soldiers have a place to go
Or anything to do.
For whenever we're in town
And have no place to go,
We know we're always welcome
At the SA-USO.
And of one thing I'm certain,
This I surely know,
There's a special kind of Heaven
For the FOLKS of USO!
---
An obituary in Harry's memory, in the June 5, 2014 Greenbelt News Review, displayed the next poem. The obituary said: "… vandalism by local youth was a recurring problem in Greenbelt's early days and Zubkoff was particularly provoked by random acts of destruction. In addition to editorials bemoaning these occurrences, he expressed his ire and wit in columns" such as this one in 1950:
Revenge
This is to advise a guy
In no uncertain terms,
That I will catch him, by and by,
And feed him to the worms.
For pranks are pranks, and jokes are jokes,
And boys are always boys,
But you will agree, wont' you folks
That clotheslines aren't toys?
Yet every time we look around
(It's happened once or twice)
We find our clothesline on the ground,
I ask you, Is that nice?
I am sure that everyone in town
Will wish me all the best,
The day that I catch up with,
And eliminate this pest.
This I say and this I mean
And you can mark it down,
That someday I will catch the guy,
Who cuts my clothesline down!
Does anyone know if they caught the bandits?
---
This one (actually two, titled "I" and "II") is on thin carbon paper–  a few readers may remember carbon copies! Harry's penciled note at the bottom says: Sat. Eve. Post 9/2/55
I
I cannot see why it should be,
I cannot understand it,
Your constant use of clamjamfry,
Must be because you planned it.
How frequently, increasingly,
I find upon these pages,
Incessantly, distressingly,
No "wisdom of the ages."
II
A pseudo-dialectologist
Appears with regularity,
A semi-semasiologist
Who deals in slangularity.
And magazinistic essayists
Who dabble allegorically,
Discursive dissertationists
Who write commontatorially.
While readers and semanticists,
Reject them categorically!
---
It looks like Harry submitted this one to FLYING magazine, which still publishes, in 1960.
On Zero Defects
The question that I often hear,
I've asked myself the same.
Is Zero Defects' meaning clear,
Or is it just a name?
Can this apply to us? I said,
Or should we pass it by?
Is this alive or is it dead?
I wonder – so said I.
I pondered it, by day and night,
And really thought it through,
And in the end I thought, they're right.
This is the thing to do!
For none of us is perfect, see?
This thought occurred – in rhyme,
Not him, or her, or you, or me,
We're not right all the time.
We make mistakes, we're sometimes wrong.
We're human, but, good grief,
This poor excuse won't last for long,
Let's turn a brand new leaf.
And leave us all get on the ball,
Let's shift our gears to high.
And let's support it, one and all,
Let's do it right – let's try.
---
Finally, in January 1966, Harry submitted this poem for publication in Poet Lore, also still in publication.
The Brink of Space
Let sailors spin their wondrous tales,
Of ships and storms and shining seas,
Of winds from hurricanes and gales,
Of waves as high as redwood trees;
Let sailors spin their wondrous tales.
But when an airman's contrails track the sky
And leave his crinkled lines on God's own face,
The magic stirs men's minds and hearts – they sigh
For mankind trembles on the brink of space.
Aye, mankind trembles on the brink of space.
---
Harry's talent rubbed off on some of us. Yes, he and I wrote  poems to each other. So, too, his granddaughter, who says it was easier to write poems to eulogize her grandparents (in 2013 and 2014) than to write the ordinary way. And, his grandson, who penned lyrics for his movie musical score. I think you'll agree when you've seen more, however, that Harry's poems are in a league of their own — and some might blow your mind.
Next week, I'll post one of Harry's annual "Season's Greetings" poems that I found in his Department of Defense files. Its sentiments ring true today.