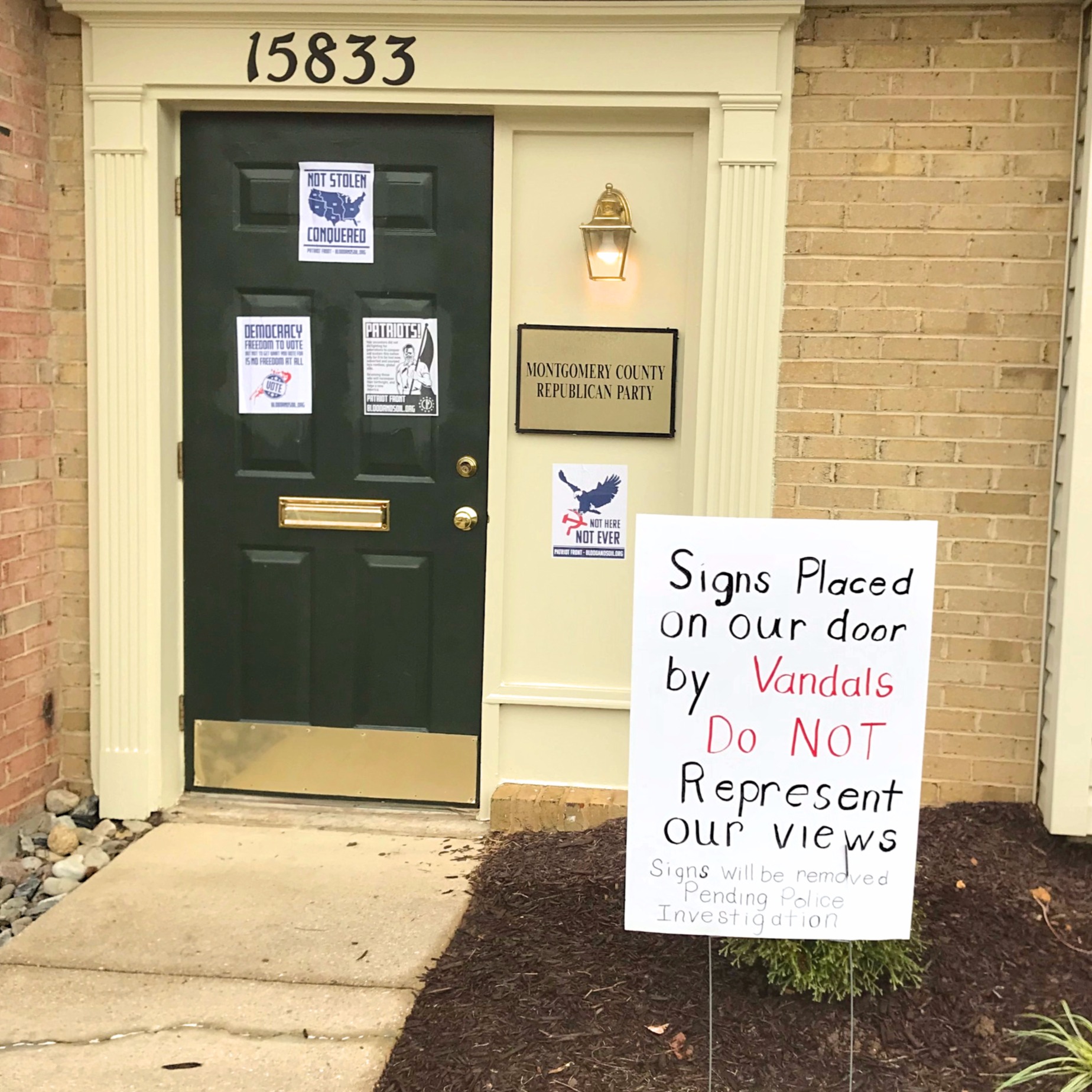 UPDATED: Hate Messages Plastered on GOP Headquarters' Front Door
The Montgomery County Republican Central Committee headquarters were vandalized Saturday night with hate messages apparently from a neo-Nazi group.
"We believe this was a hate crime intended to smear our party with an implication that we support the beliefs expressed in these posters which we definitely do not believe in or support in any way," said Richard Jurgena, chairman of the county central committee.
The messages, in the form of fliers, were pasted to the front door of the committee's offices on Crabbs Branch Way, using wallpaper paste or wallpaper glue, Montgomery County Police Sgt. Rebecca Innocenti said.
The fliers apparently come from the "Patriot Front" and the website "bloodandsoil.org." Bloodandsoil.org is based in Scottsdale, Ariz., according to internet records.
Innocenti said police have had reports of similar fliers referencing the website, but not the images on the fliers. In other instances, the fliers were taped to a wall or found on the ground, she said.
Jurgena said Monday that the signs were discovered about 10 a.m. Sunday. He said surveillance video shows the perpetrators putting the signs on the door.
"They must have known we had a camera. They looked at it a couple of times but they had their faces completely covered," Jurgena said.
Outside the headquarters is the GOP's own sign: "Signs placed on our door by vandals do not represent our views." The sign also says they'll be removed pending a police investigation.
Rockville District officers are investigating the incident, Innocenti said.
Anyone with information about the incident is asked to call 301-279-8000 or the Rockville District number at 240-773-6070.