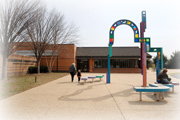 Have a Ball at Germantown Recreation Center
Germantown Community Recreation Center
18905 Kingsview Drive, Germantown 20874
240.777.8095
The Germantown Community Recreation Center is a multi-purpose recreational facility for all ages, located a short distance from the intersection of Germantown and Clopper Roads. The Center strives to promote health, physical fitness, learning, growth and opportunities for socialization. One important component of the Center is its Seniors Program:
MCR 55 + Program – Free
Limited Ride-On Transportation Provided – Call for details – 240.777.8095
Mondays     10 a.m. to 2 p.m.
Thursdays   10 a.m. to 2 p.m.
Arts and Crafts, Walking to Music, Indoor Games, Bingo, Wii Bowling
Special Events Luncheons
Birthday Celebrations
Lunch and a Movie
Mini Trips – Minor Cost
Enjoy the Game Room – Pool, Ping Pong
Other Programs for Seniors
Senior Fit – (Free) Tuesdays 1:45 p.m. to 2:30 p.m. and Thursdays 11:30 a.m. to 12:15 p.m.
55+ Dancing – (Free) Mondays 1 to 3 p.m.
Language Class – upon request
Senior Sneakers Program – Weight Room Membership – Monday through Friday – 9 a.m. to 2 p.m.  Cost $50 a year
The Center is looking to start the following:
Looking for Bridge Players
Looking for 55+ Basketball Players
Looking for suggestions for other activities
Visit Germantown Community Recreation Center and have a ball!