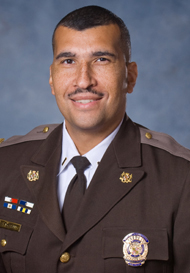 Here's What You Probably Don't Know About Takoma Park Police Chief Antonio DeVaul
The first thing you notice when walking into Takoma Park Police Chief Antonio DeVaul's office is his collection of police car models. Some of his replicas date back to the early 1940s.
"It's always been a hobby of mine since I was a kid," DeVaul said jokingly.
And speaking of his childhood, DeVaul said he wanted to be a police officer since he was 11 years old.
"There was a sergeant that was my baseball coach when I was about 11 years old, and just hearing him tell stories about how he ran calls and hearing how he interacted with youth and just seeing what kind of influence he was on me, I knew I wanted to be a police officer," he said.
He just had no idea that he would be serving in the same community that he grew up in.
"This community is near and dear to me. I want to be able to have the same influence on youth in this community that I grew up experiencing in the city."
After graduating from Montgomery Blair High School, he obtained his bachelor's degree from Johns Hopkins University majoring in management.
Education is very important to him and that's why he's currently enrolled at Hopkins for a master's degree in organizational leadership.
Here's three more things you probably didn't know about him:
After spending more than 25 years with the Maryland-National Capital Park Police, DeVaul was sworn in as Takoma Park's chief earlier this month.
One of his initiatives include transparency between the police department and city residents.
So where does, DeVaul see Takoma Park's police department in the next 10 years?
"I would like to see more diversity in the police department," he said. "It's very important that the police department reflects the demographics of this community which we serve."
Hear more below: